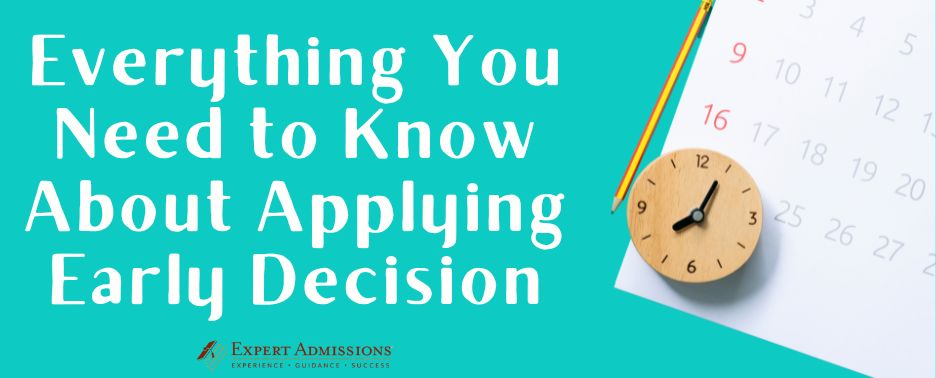 College applicants often have a dream school in mind. It could be one they've wanted to attend for years. Or, they've recently discovered that this college has the perfect courses in their major of choice. Either way, applying Early Decision is a way to show your dream school that it's your number one choice.
Early Decision (ED or ED1) is a binding policy that asks students to commit to the school if they are accepted. As you can probably guess from the name, you need to submit your Early Decision application before you submit your Regular Decision (RD) applications. ED applications are typically due on November 1st and admissions decisions are made by mid- to late December.
Early Decision is different from Early Action (EA), another term you might hear floating around when it comes to application rounds. Most Early Action applications are due around the same time as ED deadlines, but students are not required to commit to their EA school.
Some colleges also offer an Early Decision II (ED2) option. This allows students to apply in January—usually around the same time as the Regular Decision applications. One difference between RD and ED2 is that colleges notify ED2 applicants in February, rather than March or April. When you apply ED2, you sign the same binding Early Decision agreement as ED1 students.
A lot of small liberal arts colleges, such as Wellesley College, Middlebury College, and Colby College offer ED2. Some larger universities that offer ED2 include University of Chicago, Baylor University, Brandeis University, New York University, Johns Hopkins University, Tufts University, and Washington University in St. Louis.
You can apply to only one school ED1, and if you are denied admission in the ED1 round, you cannot apply to the same school ED2. Students who apply ED1 or ED2 are also sometimes deferred to the RD pool. This often means that you are qualified and a good fit for the college, but the admissions officers may want a little more information, such as midterm grades, or they're waiting to see what the RD pool looks like so that they can ensure a balanced incoming class. In either case, you are freed from the binding contract and can apply somewhere else ED2. If you are deferred, you should definitely submit a letter of continued interest!
Pros and Cons of Early Decision
Finishing your testing and essays by November 1st definitely adds a lot of pressure to your college application process. However, there is the advantage of getting a large chunk of your application out of the way if you do apply ED. Since you won't hear back from your ED1 school until December 15th, you have to continue working on your RD applications. However, if you apply ED1, you'll have your Common Application and personal statement done, so you can focus on writing great supplemental essays for the rest of the schools.
And if you get into your ED1 school, you'll have the peace of mind of knowing where you're headed in the fall. But remember, your ED school will still see your final transcript, so it's important that you still do your best in your senior year..
An advantage of Early Decision over Early Action is that your commitment to attend the school is seen in a favorable light. Colleges want to improve their yield—the number of admitted students who actually enroll. So, if a student is applying ED, the school knows that the student is dedicated, while EA schools might worry that a student is merely choosing them as a safer option.
Another advantage of applying ED is that admit rates tend to be higher than in the RD round.Since fewer students apply ED to a college than they do RD, and the binding agreement helps colleges predict their yield, your chances of admission increase. For example, this past cycle Brown University accepted nearly 13% of their ED applicants but their overall acceptance rate for the class of 2027 was only 5.08%. Many
However, don't take the higher ED acceptance rate for granted. You still need to work hard to prepare the best application you can!
How to Choose Your Early Decision School
Early Decision is a big commitment. You're deciding to commit to one school for the next four years of your life and let go of any other options. As a result, it definitely helps to do a lot of research. Make sure you have toured the school in person or virtually. Talk to current students and professors. Take advantage of any information sessions and YouTube videos.
Don't go by name alone! You have to be a strong fit for the ED school you're applying to. Take a look at the course offerings and extracurricular availability. If you're only applying to a specific school because it's prestigious, you run a real risk of enduring four unhappy years (or deciding to transfer). Consider all factors.
Another factor to consider is your admissions profile. You want to apply to a college where there's a real chance you'll be admitted, based on both fit and academic success. If you are choosing between two Early Decision schools, for example, ask yourself if your GPA and test scores line up better with admitted student data at one over the other. Yes, the chances are higher when you apply ED—but you also have to be realistic about your chances.
Early Decision is a big commitment. If used strategically, you could be done with your college applications in December. However, proper consideration and strong application preparation are both key in making sure you maximize your chances. Work hard and choose wisely, and hopefully you'll find yourself at your dream school in the fall!