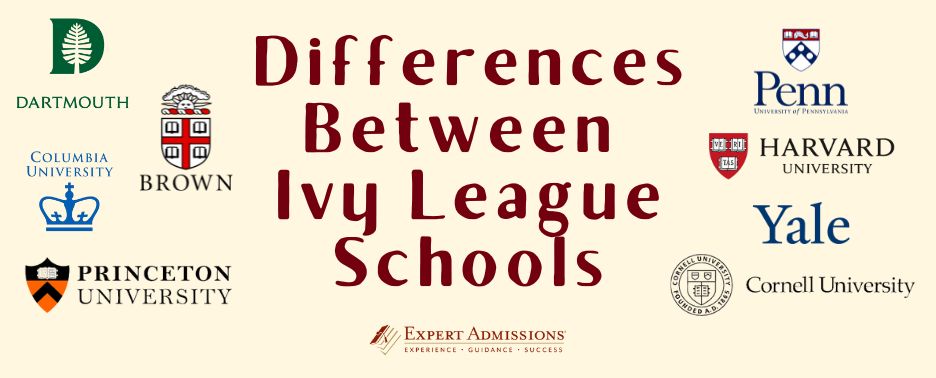 If you're a stellar high school student, you may be considering applying to every Ivy League school, just hoping to get into any of them. Each Ivy has a reputation for academic excellence, and with admissions being so competitive, getting in can seem like a matter of luck. With record-low admit rates, it's not surprising that students are feeling more pressure and less control over the admissions process.
But highly selective colleges and universities don't admit students by drawing names from a hat! In fact, the more selective the school, the more the question of fit becomes absolutely essential in helping admissions officers determine which of their many outstanding applicants to admit. And demonstrating fit in your essays is one aspect of the application process that is entirely within your control.
That said, you have to really understand what makes these schools different from each other in order to demonstrate why you're a great fit for one (or more) of them. We're breaking down the Ivy League schools so you'll get a sense of what makes each Ivy unique.
The fact of the matter is that the Ivy League colleges are not interchangeable. Whether you're looking for a large urban campus, or a high degree of curricular flexibility, or a school that downplays Greek life, there may be some Ivies that are a great fit and others that aren't. If you do your research and are thoughtful about where you apply, you'll be better equipped to demonstrate fit and position yourself for success.
What is the Ivy League?
These days, the Ivy League is best known for academic and social prestige, exceptional research facilities and faculty, and low admit rates. But in fact, what defines membership in the Ivy League comes down to sports.
All eight members of the Ivy League—Brown, Columbia, Cornell, Dartmouth, Harvard, Penn, Princeton, and Yale—were founded between 1636 and 1865. And though the schools had long been connected, often by rivalry, the term "Ivy League" wasn't used until the 1930s. Sports writers began using the term in articles about the eastern football league, but which schools were considered Ivies varied until the official formation of the Ivy League athletic conference in 1954.
All of the Ivy League schools are private research universities in the northeastern United States (Cornell is actually a hybrid institution—a private university with some New York State-funded undergraduate colleges).
| School | Location | Undergraduates | Required Courses | Campus |
| --- | --- | --- | --- | --- |
| Brown | Providence, RI | 7,639 | None | Urban |
| Columbia | New York, NY | 6,716 | Specific Courses Required | Urban |
| Cornell | Ithaca, NY | 15,735 | Flexibility within Categories | Rural |
| Dartmouth | Hanover, NH | 4,556 | Flexibility within Categories | Rural |
| Harvard | Cambridge, MA | 7,153 | Flexibility within Categories | Urban |
| University of Pennsylvania | Philadelphia, PA | 10,412 | Flexibility within Categories | Urban |
| Princeton | Princeton, NJ | 5,548 | Flexibility within Categories | Suburban |
| Yale | New Haven, CT | 6,645 | Flexibility within Categories | Urban |
Geography
Most of the Ivy League schools are on urban campuses, but there are significant differences among them. Columbia, for instance, is in a highly walkable neighborhood of New York City with subways allowing easy access to everything the city has to offer. Brown, by contrast, has more of a "town" feel with excellent local shops and restaurants, but it's a bit of a trek to downtown Providence.
Harvard's campus has been described as feeling like a public park, with the main campus in Cambridge, MA. The campus itself is the hub of social life at Harvard, and Cambridge is home to many bars, restaurants, coffee shops, and parks. With Boston just across the Charles River, all the cultural amenities of a big city are easily available to Harvard students.
Yale is in New Haven, CT, which is sometimes compared to a "mini-NYC." Though slightly smaller than the island of Manhattan, New Haven has the museums, theaters, and concert venues—almost all centered around Yale's campus—to make it a cultural center.
The University of Pennsylvania boasts a large urban campus in West Philadelphia, PA. Philadelphia may be one of the largest cities in the country, but good public transportation makes getting around relatively easy. The city offers a wide variety of opportunities for historical and cultural exploration.
Cornell and Dartmouth are the true rural campuses, with beautiful natural surroundings. But each maintains a college-town feel that makes the immediate campus feel more suburban.
Cornell is in Ithaca, NY, known for the natural beauty of lakes and gorges. Within a short walking distance of the campus is an area known as Collegetown that offers a variety of dining options, shops, and even some college apartments.
Dartmouth is nestled in the White Mountains of New Hampshire (great for skiing!). The town of Hanover has everything students need, from banks and pharmacies to restaurants, coffee shops, and even a small movie theater. The Dartmouth Coach, which offers daily trips directly to Boston and NYC, leaves from the center of campus and makes weekend trips to bigger cities simple and relatively inexpensive.
Princeton has the most suburban campus with tree-lined blocks, a seasonal farmers' market, and upscale shops and restaurants. Free shuttles connect students to areas around Princeton with larger supermarkets and retail outlets. There is a highly acclaimed regional theater in Princeton, and it's a quick train ride away from Philadelphia and New York City.
Academics
Ivy League schools are known for their academic excellence, but that doesn't mean you'll get the same experience across all schools.
Depending on what you think you might major in, you'll want to do some digging to see what's available at each school. Penn, for example, has a renowned business school, while Cornell is famous for its school of hospitality. You'll want to research which schools might offer the best selections of coursework in the fields you want to explore.
Whatever your major, general education requirements are relevant to all undergraduates, and there are some major differences across the schools on this front.
Most of the Ivies require something like distribution requirements, though the specific terminology varies from one school to another. Distribution requirements offer flexibility in choosing specific courses while fulfilling requirements in specific categories. You'll usually find categories like quantitative reasoning, natural and physical sciences, art, literature, writing, and assorted others that vary among schools (like non-Western cultures, a language requirement, ethical and moral reasoning, etc.).
The schools that stand out for their requirements (or lack thereof) are Brown and Columbia, which sit on opposing sides of the spectrum.
Brown is famous for its lack of requirements. The Open Curriculum allows students to build their own educational path. Though most students do take a variety of courses before settling into a major (or, at Brown, a "concentration"), the only requirement is to take two writing-intensive courses. Brown takes its Open Curriculum very seriously, including requiring applicants to submit a supplemental essay articulating how they will use the Open Curriculum in a thoughtful and meaningful way.
Columbia, by contrast, requires undergraduates to take very specific courses in their Core Curriculum. Courses are generally taken at a specific time in your undergraduate career. While this may not appeal to everyone, benefits of the Core include ensuring a broad, foundational education and uniting the undergraduate student body in a tradition of shared knowledge. The Core includes two year-long courses on Western literature and philosophy, as well as semester-long courses on writing, art history, music history, and science. There are also required categories for elective courses in non-Western culture, foreign language, science, and physical education. Depending on whether they test out of the foreign language requirement or play on a sports team, students will have between 11 and 15 courses they are required to take outside of their majors.
It's worth noting that Dartmouth has some features impacting academics that set it apart from the other Ivies. Dartmouth is on the quarter system, meaning that the year is divided into four ten-week quarters, all of which can be used to take a standard course load. In fact, Dartmouth students are required to spend at least one summer (traditionally sophomore summer) enrolled and studying on campus. This quirk has some benefits: students have more opportunities to engage in research or take popular courses that fill up quickly when there are fewer students on campus in the summer; and it means students will be taking their "summer" break in the fall, winter, or spring, when applying for internships is much less competitive.
Student Life
There are so many factors that will determine whether a school's campus culture is right for you—the amount of support for LGBTQ+ students, the diversity of the student body, opportunities for religious fellowship, the political climate, whether students tend to be competitive or collaborative, and so much more. It's important that you dig deep and ask yourself what will be important to you in your social life on campus and research every college on your list thoroughly. Here are a few noteworthy features of the Ivies that impact student life:
Columbia students are known for their activism and political engagement. There is some Greek life, with a block of Greek houses just off the central campus, but this is not a major component of social life for most Columbia students. Dorms on campus are the usual gathering places for first-year and sophomore students, while older students tend to frequent the many bars and restaurants in the area, as well as clubs in lower Manhattan and Brooklyn.
Cornell and Dartmouth have thriving fraternity and sorority scenes. About 35% of Cornell students are affiliated with a Greek house, and at Dartmouth, the social scene is positively dominated by Greek life. In fact, 60% of Dartmouth students are in a Greek house (including three co-ed houses); and since Dartmouth students can't join until their second year, that actually puts the number closer to 80% of all eligible students! But also take into consideration the fact that on rural campuses, Greek houses are often open to all students for major social events or weekend parties—they provide a place for students to gather that might be more readily available elsewhere on an urban campus.
Harvard and Yale both operate on house systems that emphasize living and learning. At Harvard, each residential house has its own library, dining hall, gym, and other facilities. Houses host unique programming, including lectures and weekly meetings for interest groups. They also provide opportunities to engage in film, art, music, and physical wellness. At Yale, the residential colleges offer similar opportunities, with the addition that the head of each college is a senior member of the faculty.
Harvard does not officially recognize any fraternities or sororities, though there are several nationally affiliated Greek houses that operate as off-campus social hubs. Though Yale does have officially recognized fraternities and sororities, only about 10% of students join a Greek house.
Princeton likewise has no Greek life on campus. Instead, eating clubs are the foundation of social life, with about 70% of eligible students joining (students can join starting in the spring of their sophomore year). Eating clubs host weekly parties, many of which are open to all Princeton students. All eating clubs are co-ed, though about half require students to apply to join, much like the selection process in fraternities and sororities.
Finally, you've probably heard some stereotypes about what type of student attends each Ivy League school. While some may be more accurate than others, it's important for you to do your own research and get to know the schools you're interested in. To find out what life is really like on campus, seek out unfiltered views by talking to current students or even reading the school newspaper.