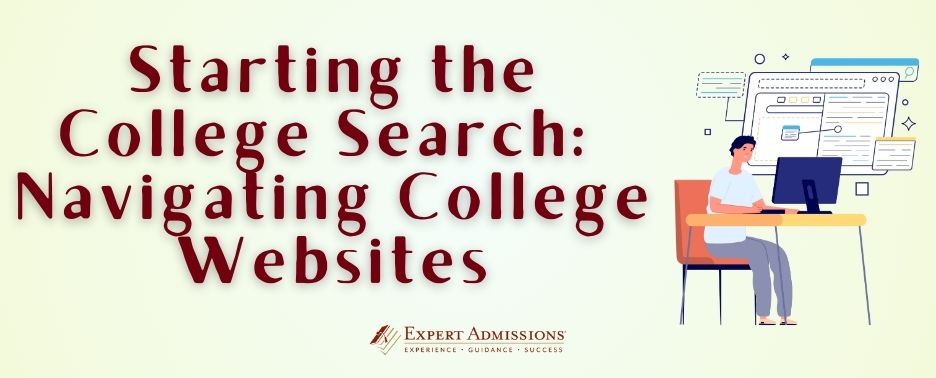 As you start to think about where you want to go to college, you'll hear a lot of people (including us) tell you that you need to do your research. But how exactly do you do that? College websites can be tricky to navigate, with important information often several clicks deep. Of course, you'll start with the homepage, but it's crucial that you don't stop there. Here's a list of tips for efficiently gathering the info you need most.
First, create a list of information you need. This list won't be quite the same for any two people. You'll need to think about what's most important to you in your college experience (see our guide to college fit for some inspiration). Some items on the list might include:
Qualifications for admission
Application deadlines
Cost and availability of financial aid
Size and location
Required courses for your intended major
Contact info for admissions officers and the financial aid office
Housing options
Student activities and organizations
Start with the homepage. Although the information on the homepage may not be specific to your interests, it can tell you a lot about the college itself. Check out their taglines and mottos—you'll gain insights into their values and how they view themselves. Notice what they're highlighting as the first thing they want people to see, whether it's research, academics, innovation, diversity, community events, etc.
Find the admissions page. Here, you'll discover admissions statistics, deadlines, requirements, and more about the college's admissions process. It's on the admissions page that you'll find information about on-campus and virtual tours. Definitely take advantage of the virtual tours as you're narrowing down the list of colleges that might make your final list. While virtual tours may not capture the same vibe as actually being on campus for a college tour, they can give you a sense of what the college is most proud of and what the campus is like.
Find the financial aid page (which is often a link from the admissions page). Here, you should be able to find the cost of attendance (per term or per academic year), as well as the average cost per student once financial aid is factored in. Some schools will have a financial aid calculator where you can enter your financial and family information and receive an estimate of what your out-of-pocket expenses would be.
Search the Academics page. Here, you'll find a list of majors, departments, or schools (depending on how the college or university is organized). If you think you know what you want to major in, find the link to that major and look into what the degree requirements are. Look carefully through any specialized tracks that might be offered within a major to see if they pique your interest.
Remember that there can be related majors with different names, e.g., you might find engineering and biology right away but overlook bioengineering. Or if you're interested in math and head straight for majors beginning with M, you might miss the applied mathematics major in the A section. Take your time and explore the options thoroughly.
If you're not sure what you want to major in, look at everything that's offered and see if any of it stands out to you. You can also look into what policies the school has about declaring an undecided major. Some schools might require you to declare a major right away while others don't require you to declare a major until after your sophomore year. Find out when you need to make that decision and make sure the timeframe feels comfortable for you.
Learn about student services. Websites may have a page on student services that's easy to find, or you might have to do a search for it, either on the website or through your browser.  Make sure you're looking for anything that will be important to you later, like physical and mental health services, career counseling, academic advising, tutoring, and more. You can learn more about some of these services here.
Look into student life. Events, activities, and organizations outside the classroom are a huge part of the college experience. You want to make sure that you land in a place that will support your personal, as well as academic, growth. Think about the communities and activities that are important to you, and see what the college has to offer. Many colleges will list their student organizations on their website, including information for current students to contact about each one. Or, if you already know you're interested in joining an a cappella group, robotics club, or other specific group, you can perform a search on the website or through your browser.
Community spaces are another important aspect of student life that shouldn't be overlooked. Check out the websites for the library, student center, and other community spaces. Do they feel accommodating, based on their online presence? Does it seem like students really use them? Do any of them host regular events that are exciting to you?
General Tips:
If you can't find the information you're looking for just by clicking through the website, try Googling it. Most of the time, the information you want is somewhere on the website, even if it's not obvious where to find it.
Follow social media. Most colleges will have a general campus account and an admissions account on major platforms like Twitter, Instagram, and Facebook. Keep tabs on these accounts to learn more about what's happening on campus and what the school takes pride in.
Once you've done your own deep dive on the website, write down any questions you still have, and contact the college admissions officer responsible for your area. Admissions officers are usually very happy to answer questions from prospective students, but you also don't want to waste their time by not checking the website first. And now you know what to look for!
For more tips on starting your college search, check out our advice on first steps and college fairs.