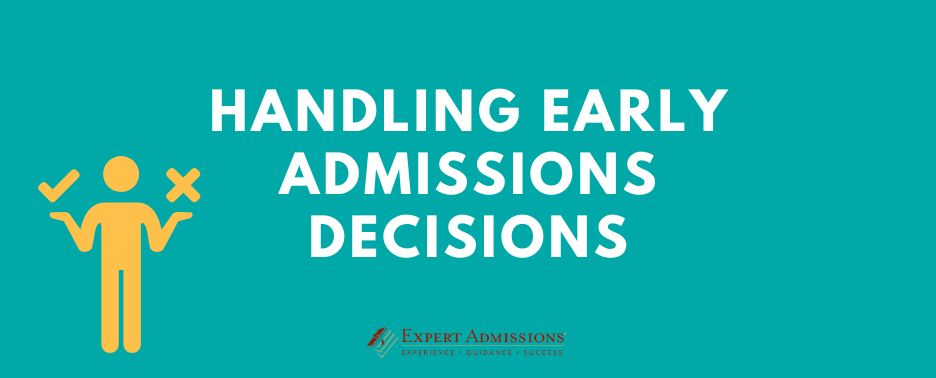 With Early Decision and Early Action notification dates just weeks away, now is a good time to prepare yourself for the results. You've put a lot of effort into your early applications, and hopefully you'll hear good news from colleges!
But whether you're accepted, denied, or deferred, we've got some advice to get you through the coming weeks.
Accepted
Congratulations! You've worked so hard, and it's paid off. Celebrate your success!
If you were admitted under an Early Decision plan, remember that this is a binding agreement. You will need to withdraw your applications to other colleges. Then send your enrollment deposit and enjoy the moment.
If you were admitted under an Early Action plan, prepare to be recruited. When a college admits you, they want you to enroll, and they will do their best to make you feel wanted. Schools that are offering in-person visits might send you invitations to admitted student events on campus, and some will even send t-shirts or posters.
If you have the opportunity to speak with current students or spend time on campus, take advantage of it, and don't be afraid to ask tough questions!
Deferred
If your application is deferred, it means that a final decision will be made at a later date, probably in early spring. The admissions office will re-review your application and consider offering you admission for Regular Decision.
There are many reasons applications get deferred. The admissions committee may want to see your fall semester grades, or they may need more time to review your application in the context of the Regular Decision pool based on institutional needs. But the great thing about a deferral is that it usually gives you the opportunity to provide the college with additional information.
First, determine if the college is still your first choice. Having had more time to think about your college options, you may decide to put more energy into other applications. Next, find out what the college wants to see from you. Some colleges will explicitly state that deferred students should not submit additional application materials. If that's the case, follow their instructions!
But many colleges will ask you for specific information like an updated grade report, and others will encourage you to submit new information like updates on awards or achievements. If allowed by the college, we recommend that you write a letter of continued interest that updates the admissions committee on successes you've seen in your grades and extracurricular activities.
At the same time, make sure you're still putting maximal effort into your Regular Decision applications so you're more likely to have at least a few options when you receive your decisions in the spring.
Denied
Unfortunately, you might also receive a deny letter, maybe even from your first-choice school. While you're likely to be disappointed, keep in mind that most students end up having a great time at whatever college they attend.
And above all, remember that this doesn't take away from your accomplishments; you are the same motivated, talented student you always were!
Shift your focus to your Regular Decision schools. Every school on your list was there for a reason, so get excited about the possibilities that await you!
No matter what admissions decisions you receive in the coming weeks, no admissions decision defines you. You still have a full semester to go, and you want to stay focused on the present. Don't let an acceptance give you senioritis, and don't let a deferral or denial throw you off track!