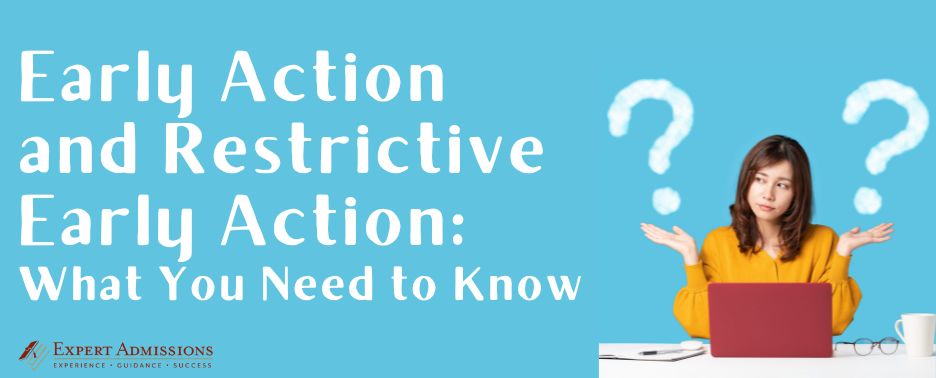 As you prepare to apply to college, one of the most important questions to ask yourself is when you should apply. Most schools offer different admissions rounds that allow students to either submit their materials earlier—which can typically provide an admissions advantage—or the more common Regular Decision (RD) round.
There are also differences in the ways colleges define their early application routes. You might see that one university offers Early Decision (ED) while another college has an Early Action (EA) route. A third college could have both. Then, things can become even more confusing when a different college offers Restrictive Early Action (REA).
It might seem overwhelming to discern between all of these options. But, if your plan is to apply and hear back early, it's important to understand each school's early application policies. Below is everything you need to know about the Early Action and Restrictive Early Action options.
Early Action
You've probably heard of applying to college Early Decision. Early Decision admissions are binding, requiring students admitted under this plan to withdraw their other applications and enroll in their ED school. Not all colleges offer ED. Some schools—for example, the University of Michigan and the University of North Carolina Chapel Hill—offer Early Action policies. Similar to ED, EA plans allow students to apply early to the college, usually around November 1st, though some schools will have even earlier deadlines.
What distinguishes EA from ED is that EA is non-binding—you do not have to commit to the school if you are admitted. Students are generally notified around mid- to late January for most EA applications and have until May 1st to decide whether they wish to attend.
An advantage of the EA route is that you can still apply to colleges in the Regular Decision (RD) round and wait to hear back from them before deciding where to enroll. ED students, on the other hand, are notified in mid-December and are bound to commit, unless there is a significant extenuating circumstance, usually financial. Students can apply to multiple schools under the EA plan, as compared to just one school under an ED plan.
A possible disadvantage of EA is that because you aren't bound to commit if you are admitted, there can be a greater chance that colleges will defer or deny strong applicants because they want to protect their yield—the number of admitted students who enroll. Many large universities offer Early Action and don't want students to see them as safety options. In recent years, colleges like the University of Maryland and the University of Wisconsin  have tended to deny very strong applicants who have applied EA because they want to accept students they're more confident will attend if admitted.
It can also get tricky if you're applying to a school that has both ED and EA. Examples of schools that offer both plans include the University of Chicago, Colorado College, and  the University of Richmond. At these schools, applying ED gives you a better shot. UVA accepted 24.4% of ED applicants for the Class of 2027 while only 16.6% of EA students were admitted. Students might apply EA to these schools to keep their options open, which the university could see as a sign of a student who's not prepared to commit if accepted.
Restrictive Early Action
Now that you know all about EA, you might be wondering what Restrictive Early Action is. As the name implied, REA is more restrictive than Early Action, but it still requires less commitment than Early Decision.
Also called "single-choice Early Action," students can only apply REA to one school. In general, REA candidates can't apply ED to another school, but they can apply to other non-restrictive EA public schools. Some schools will have slightly different restrictions for their REA plans, so make sure you read up on each school's rules carefully before deciding to pursue the REA route. If admitted, applicants are not bound to enroll, and have until May 1st to decide.
Colleges that offer REA include Harvard, Stanford, Princeton, Yale, Georgetown, and the University of Notre Dame. Each of these schools detail their policies, including what the exceptions are, on the early admission pages of their websites.
Let's take a look at how Harvard phrases the allowances and restrictions within their REA policy to understand better:
If you are applying to Harvard under Restrictive Early Action, you may not apply to any other private institution under an Early Decision, Early Action, or Restrictive Early Action plan, or to a binding early program at a public university.
You are welcome to apply early to any public university, military academy, or university outside of the United States under a non-binding program.
Additionally, you are able to apply to other universities under their Regular Decision or Early Decision II programs.
If your application is deferred in the Early Action round, you may apply to a binding Early Decision program at another college (i.e. Early Decision II).
You may apply for scholarships or special academic programs with an early deadline at another institution, public or private, if the timing is proven to be a necessary aspect for consideration, and the outcome is non-binding.
So, you're welcome to apply EA to any public university such as University of Michigan or University of Illinois Urbana-Champaign. But you wouldn't be allowed to apply EA to MIT or Colorado College, for example.
Whether you will apply Early Action or Restrictive Early Action to a school is something you'll need to decide carefully. If you have your eyes set on a certain school and EA/REA is the ideal way to apply, prepare the best application you can in the fall so you can get one step further to your dream school.