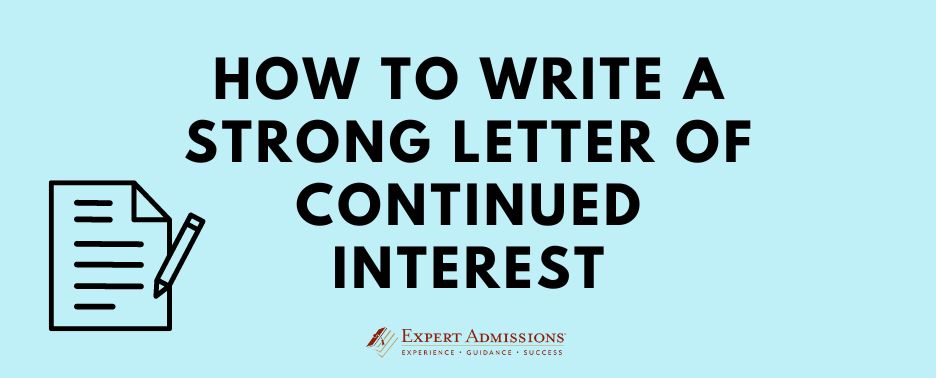 If you've been deferred or waitlisted at your top-choice college, you may be wondering what to do next. One proactive step you can take to communicate your commitment to attending a particular college is to send a Letter of Continued Interest (LOCI). As you take a deep breath, navigate your waitlisted status, and weigh your options, here are some guidelines for writing a strong LOCI.
Follow directions.
Your waitlist offer letter contains key information about how to accept your waitlist offer and, importantly, whether the college encourages the submission of additional information for consideration. If the letter states that additional information is welcome, go ahead and write a LOCI, and send new materials if you have them (more on this below). If you're not sure based on what the letter says, look for a policy on the admissions website. It's also a good idea to email or call the admissions office and ask if you can send a LOCI. Some colleges may have a policy that specifically asks waitlisted students not to send additional materials. If this is the case for the college where you've been waitlisted, do not send a letter. You want to demonstrate to the college that you can read and follow directions, after all!
Be clear—and brief.
In your letter, mention your admission status (waitlisted or deferred) and include your reference number if you received one. If you received your letter from a particular person in the admissions office, address your LOCI to that person (and make sure to spell their name correctly!). A letter addressed to the proper person comes across as much better thought out than one addressed to "To Whom It May Concern." Your letter should also be fairly brief—somewhere between half a page and a full page, but no longer. A few well-worded paragraphs should do the trick. And as with all your college admissions materials, proofread your letter carefully!
Focus on the positive.
If the college is still your top choice, say so in the opening paragraph of your letter. It can be reassuring to colleges to know they'll be making admissions offers to students who are likely to accept. In the body paragraphs of your letter, provide some details about why the school is still your top choice, affirming that the school is a perfect fit for you. It can be challenging to do this without repeating what you said in your supplemental essays, but it's important not to waste the admission committee's time rehashing things you've said before. In your letter, make sure to keep the tone positive, and avoid sounding like you're making excuses or taking offense at your current admissions status. You want your letter to exude confidence! Before signing off, thank the admissions committee for their effort and consideration.
Bring in the new.
Have you retaken the SAT or ACT since sending your application and received higher test scores? If so, mention that in your letter, and have those official scores sent to the school if they'll accept them. The LOCI is also a good place to discuss new projects, awards, achievements, or other milestones you've had in the months since sending in your application (you can also have your school or other organization send official notice of awards—but don't bombard the admissions office with materials). If your grades have gone up, or if you've gotten involved in an interesting new extracurricular activity that speaks to your strengths, mention these in your letter. Make a clear connection between the new endeavors you're undertaking and your potential to thrive at the college. This will help the admissions committee envision you on their campus.
Keep in mind that writing and sending a LOCI doesn't guarantee that you'll be accepted, but if the college invites LOCIs or additional materials, sending a letter certainly can't hurt. Demonstrated interest is a factor in admissions at many colleges, and it's entirely possible that a well-written LOCI will help your case by affirming that you're a match for the college of your choice.