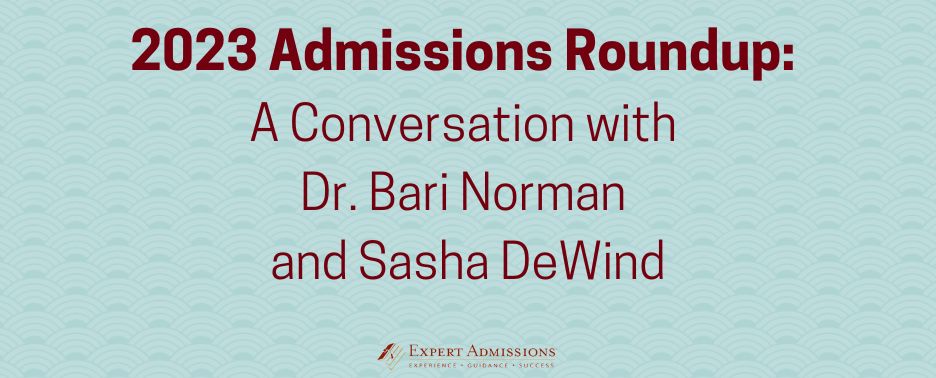 Expert Admissions co-hosted a webinar to discuss the current state of admissions and standardized testing with an eye toward next year's application cycle. We answered questions about 2022-23 admissions data, building your college list, upcoming changes to the SAT, and more. Keep reading for highlights from the conversation, and watch the webinar above.
Reflections on 2022-23
Admissions
We've continued to see overall increases in applications and corresponding decreases in admit rates this year. And even where the number of applications decreased slightly, it didn't result in significant increases in admit rates. For example, Columbia, Duke, Boston College, and others saw decreases in overall applications, but minimal movement in admit rates.
Some members of the Ivy League saw the largest applicant pools in their history: Yale, Penn, Dartmouth, and Brown. We've seen an increase in schools with over 100k applications, including NYU, UCLA, and UC Berkeley (and Northeastern clocking in at around 96k). We've also seen more schools with sub-10% admit rates, including Amherst, Barnard, Bowdoin, Colby, and more. This is indicative of a trickle-down effect in selectivity.
We won't have a good sense of waitlist movement until after the May 1st deadline for students to make their enrollment decisions, but in general, waitlists are hard to predict. Last year's waitlist activity isn't an indication of what will happen this year. Some colleges are very deliberate about their waitlist and expect to admit waitlisted students, while others don't necessarily want to go to the waitlist but will if they don't hit their yield— the number of students who enroll after being offered admission.
Generally speaking, there is an advantage to applying to a school in an early round of applications, whether it's Early Decision (ED), Early Decision 2 (ED2), or Early Action (EA).
It's common to see around half of an incoming class admitted ED (57% at Boston University and Boston College, over 50% at Barnard). We're also seeing an increase in denials (rather than deferrals) in early admissions rounds. Brown (ED) and Yale (Restrictive EA) both denied 67% of their early pools. While this may seem harsh, it's actually beneficial to students who can now make strategic decisions about whether they may want to apply ED2 to another school on their list.
Testing
Test-optional policies have continued to shape the admissions landscape, considerably narrowing the range of scores that students report. Compared to pre-pandemic numbers, schools are reliably reporting 100+ point increases in the middle 50% of admitted students' scores for the SAT. For the ACT, the increases are often two or three points higher than pre-pandemic scores. Students should broaden their sense of which schools are target schools and which are reaches in light of these new numbers.
While many colleges continue to go test optional, students are still submitting test scores to highly selective colleges. Duke's class of 2027 admissions data is a case in point for a national pattern: 60% of Duke's applicants in Early Decision submitted scores, while 70% of admitted students overall submitted scores. The middle 50% of students admitted to Duke had SAT scores of 1520-1570. Similar to last year, this year's numbers show that while applying without test scores is possible, applying with test scores makes admissions results more predictable.
Looking Ahead
Admissions
Despite recent years of all-time low admit rates at highly selective colleges, there is much about the admissions process that remains predictable and within your control. Building a college list that's right for you in terms of numbers and fit is essential and will let you utilize your supplemental essays to your best advantage.
When building your college list, and crucially when you're writing your supplemental essays, you have to keep in mind the question of fit. Admit rates, average test scores, and GPAs can give you some context. And your grades and the rigor of your curriculum are foundationally important to demonstrating academic preparedness. But whether you're a great fit for the school can add predictability to the process even when colleges have admit rates in the single digits. You'll want to craft your list to have a range of schools (reach, target, and safer options), giving heavy consideration to fit at every level.
Fit is about knowing the culture of a school and demonstrating that your personality, story, perspective, and personal growth come together in a way that a particular school is likely to find compelling. Really get to know all the schools on your list: ask yourself how they differ from one another, and determine how they view themselves by talking to current students, reading the school newspaper, and visiting campus, etc.
Fit will come across best in your essays—the one place where applicants get to speak for themselves. You'll certainly devote a lot of time to your personal statement, but keep in mind that supplemental essays can be just as or even more important. We've seen supplemental essay questions change in specific ways in recent years. Even before your senior year, you can look at supplemental essay questions for colleges you think you may be interested in. These prompts have built-in assumptions and expectations that give students control over how they might want to plan their extracurriculars and how they engage in those activities.
Your chances of admission can change, sometimes dramatically, depending on which round you're applying in. In fact, we've seen more unpredictability in schools that would once have been considered "safer" options for students. For example, a safer school might be a slam dunk for admission if you apply ED, but you may be denied in RD if the school gets the impression that you're not likely to enroll if admitted. This is where there can be a significant amount of strategy in terms of choosing where to apply EA, ED, and ED2.
Testing
Standardized testing has always been a highly individual process, and the rise of test-optional admissions policies has only made the landscape more subjective. As more colleges become test optional (and more competitive at the same time), students are finding that they have higher expectations in terms of what test scores they'll send to schools—and whether they'll send them at all.
When students should begin preparing for standardized tests depends on the student. Whether a student plans to take the ACT or SAT and test in their junior or senior year, sophomore year is an ideal time to begin planning. Current high school sophomores who live in the US should be aware of the new digital SAT rollout in the spring of 2024, and the corresponding new PSAT in the fall of 2023. These students will have the choice of taking the old SAT in the fall, the new SAT in the spring, or taking the ACT, which is a more predictable option.
There are numerous factors to consider when choosing between the SAT and the ACT, the most important being what works best for individual students. The ACT has become more popular in recent years because of its predictability. Colleges, however, view the tests as interchangeable. Once you've determined the best test for you, stick to that test and do your best to prepare for it.
It's also important to be strategic about the number of times you test. A concise testing portfolio–that is, testing two or three times at the most–is going to be the most advantageous option for those planning to submit test scores. Students should be deliberate and thoughtful about testing when they feel most confident and prepared so they can aim for strong scores on a single test date. Keep in mind that even schools that superscore—taking the highest section scores across test dates—might still see all the scores across those dates; a weak section score can be a red flag even if your superscore is at the top of a school's range.
Anticipation of the new digital SAT has people wondering if the ACT will also go digital. The ACT is already digital internationally, and there are some circumstances where students in the US can take the test digitally. It's likely that there will be more digital options for the ACT in the future, but there's no official word on when that might take place.
For all the details on these topics and more, watch the webinar above.