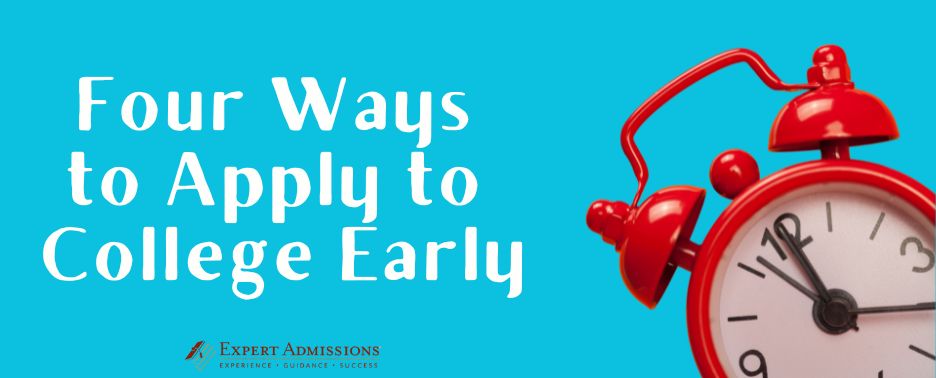 "The early bird gets the worm": we've all heard the adage, but what does it mean when it comes to applying to college early? Many colleges offer options for early admission, and applying early can come with major benefits. Submitting an Early Decision (ED) or Early Action (EA) application can be an excellent strategic move for communicating to your top schools that you're serious about attending. Completing an application early is also a great way to build confidence and momentum in your college admission journey.
But navigating the complexities of ED and EA options can be tough. Knowing the ins and outs of early deadlines can help you make the best choices about where and when to apply. Here are some key benefits and drawbacks of each option:
Early Decision (ED)
PROS:
Send a clear message to your top school.
An Early Decision application tells your top school that, if admitted, you will enroll. In some cases, the likelihood of acceptance increases for Early Decision applicants. For example, in 2022, Brown University admitted 14.6% of its ED applicants, as opposed to just 3.7% of its Regular Decision (RD) applicants.
Get a jumpstart on your applications.
Since applications are due in November (either on the 1st or the 15th of the month), ED applicants can enjoy the assurance that one of their major applications is complete well in advance of the RD application deadline of January 1st.
Admission takes the stress off of senior year.
Since ED applicants also hear back earlier (usually by December 1st), accepted students can relax knowing that they've already been admitted to their top-choice school.
CONS:
ED applications are binding.
If admitted, you must withdraw your other applications and commit to enrolling in that school. You can only apply ED to one school.
The binding nature of ED applications means that you won't be able to compare financial aid or scholarship packages (or anything else) from other schools you might be admitted to; for this reason, an ED application should be very carefully considered, and made with the understanding that your ED school is indeed the school you'd most like to attend.
Before considering applying ED to a school, make sure you've visited and toured the school's campus, talked to current students about campus culture, are familiar with the financial aid process, and feel confident that the school is the right fit for you. It's not a bad idea to familiarize yourself with departments you're interested in working in, sit in on a class or two, and talk with professors about the academic life of the school as well.
Early Decision II (ED2)
PROS:
ED2 applications are due around the same time—January 1st or 15th—as some RD applications.
A great option for students with clear #1 and #2 choices.
If you apply ED to your #1 school and aren't admitted, applying ED2 to the next school on your list is a good way to communicate that you're serious about attending.
Get a slightly earlier result.
ED2 applicants usually hear back about their application in mid-February, which is still earlier than many RD decisions come back.
CONS:
Like ED, ED2 applications are binding.
Admissions can be more selective.
ED2 doesn't always come with the same increase in admission rate as ED. The pool of applicants for ED2 can be more competitive for a given school than for other rounds of admission, and admissions may be more selective than for ED.
Not all schools offer ED2— those that do include Colgate University, Occidental College, Northeastern University and University of Chicago.
Early Action (EA)
PROS:
Like ED, EA applications are due in November, on the 1st or 15th. You can head into the holiday season with much of the work of applying to college already done.
EA applications, unlike ED, aren't binding, and students can apply EA to as many schools as they like (unless the school has EA restrictions—see below!).
More time to make a decision.
If accepted to an EA school (or schools), you have until the universal reply date of May 1st to decide if you'd like to attend or not. You'll have the freedom to compare aid packages and other factors before making a choice.
Although this is not always the case, EA admissions rates can be less selective than RD. In 2022, Colorado College accepted 15% of the early action applicants, compared to just 3% of their RD applicants. The difference between EA and RD acceptance rates is not always this dramatic (Colorado College's RD rate was also impacted by admitting students under EDI and EDII plans). For colleges offering EA plans, there is less incentive to admit rather than defer students who apply early because there is no guarantee of enrollment.
CONS:
If you take the ACT or SAT exams in October or sooner, you'll be able to submit those scores for an EA application, but not all schools will accept November scores for EA applications.
If you know you need more time to complete your college applications, and the rush of an earlier deadline would diminish the quality of your work, then EA may not be for you.
Restrictive/Single Choice Early Action (REA/SCEA)
PROS:
Similar to EA, REA/SCEA applications aren't binding; if admitted under such an application, you still have until May 1st to make a decision, with all of the freedom of comparison that comes with that timeline.
Send a clear message to your top school.
Because of the restrictive nature of these early action plans (see below), the school you apply to REA/SCEA will know you're serious about attending.
CONS:
Limits on where you can apply early.
The "restrictive" and "single choice" elements of these applications mean that you need to choose which REA/SCEA schools you apply to carefully. Most colleges that use these applications have restrictions on early applications to other private colleges (they often allow students to apply early to public colleges, however).
Different rules for different schools.
The colleges that offer REA/SCEA admissions options are: Georgetown, Harvard, Princeton, Stanford, Notre Dame and Yale. Each of these schools has their own policies regarding REA/SCEA, so if you're interested in this option, be sure to check out the rules of your school of choice.