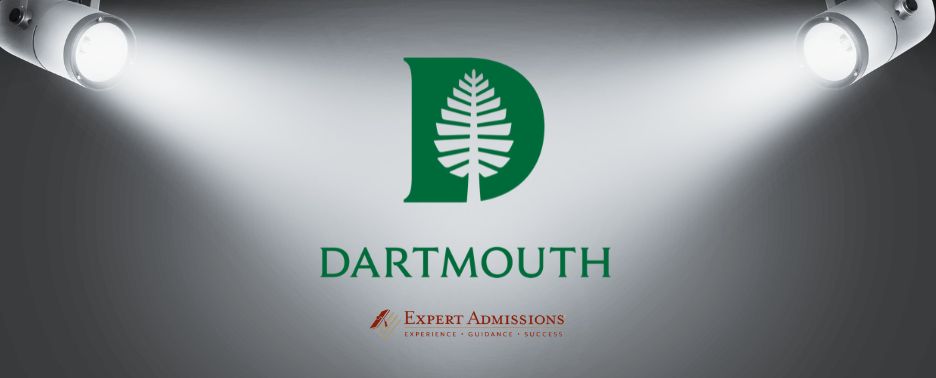 Location: Hanover, NH
Undergraduate Population: 4,556
Demographics: 
White 49.5%
Asian/Asian American 14.1%
Latinx 9.9%
Multiracial 6.1%
Black/African American 5.3%
Native American 4.4%
Most Popular Majors: Economics, Government, Computer Science, Engineering Sciences, English
Motto: Vox Clamantis In Deserto ("The voice of one crying in the wilderness")
History: 
Dartmouth College is a private Ivy League research university, founded in 1769, though it retains the name "Dartmouth College" to emphasize its focus on and commitment to undergraduate education.
Dartmouth was founded by Eleazar Wheelock, a Congregational minister, with the intent to educate clergy and Native American missionaries. Dartmouth has since largely acknowledged the missteps of its past relationship with the Native American community and worked to correct it, including creating one of the first departments of Native American Studies in the country and repatriating ancestral remains and historical documents.
In 1819, Dartmouth was the subject of a US Supreme Court case that continues to impact the relationship between private institutions and the state. The case arose when the State of New Hampshire sought to amend Dartmouth's charter and turn it into a public institution. It is a matter of campus pride that Dartmouth's case was defended by politician, statesman, and Dartmouth alumnus Daniel Webster. His remarks in arguing on behalf of his alma mater have become an informal motto on campus: "It is, Sir, as I have said, a small college, and yet, there are those who love it."
Dartmouth underwent a revitalization in the early 1900s, expanding and improving campus facilities, hiring more faculty, and adopting a selective admissions process. It was during this time that Dartmouth became a highly regarded institution of higher education. Originally serving only men, Dartmouth became co-educational in 1972, at which point it adopted its iconic "D-Plan" and quarter system (see notable features below).
Dartmouth is now known as a top-tier research university with a unique focus on undergraduate education and opportunities for undergraduate research as well as the development of innovative techniques in education, such as the Rassias Method for language instruction.
Notable Dartmouth alumni include author Theodor Geisel (aka Dr. Seuss), actress Aisha Tyler, screenwriter and producer Shonda Rhimes, US Vice President Nelson Rockefeller, and US Secretary of State and campus hero Daniel Webster. 
Traditions:
Homecoming Bonfire: The highlight of Homecoming weekend is certainly the giant bonfire that's lit on the central campus Green. This tradition dates back to 1888, and just as spectacular as the bonfire itself is watching the entire first-year class run around it! Though the tradition had long been to run around the bonfire a number of times based on class year, rules were implemented in 2022 to limit first-years to walking one lap around the bonfire.
Winter Carnival: A tradition that's over 100 years old, the Dartmouth Winter Carnival is the major event of the winter term. You can expect snowball fights, a celebration of winter sports, and an absolutely enormous snow sculpture based on the theme of the year. Past years' themes have included "Snow Wars: May the Frost be with You," "20,000 Leagues Under the Snow," and "Oh the Places it Snows: A Seussentennial."
DOC Trips: Every year, before first-year students even begin their on-campus orientation, the Dartmouth Outing Club (DOC) leads first-year trips into the beautiful mountains and woods surrounding the campus. There's an appropriate level of intensity for everyone, ranging from local excursions and nature writing outings to the "don't say we didn't warn you" trip that's affectionately known as "Psycho Hiking." Trips are led by current students, who teach the first-years the campus lingo, the lyrics to the alma mater, choreographed dances, and more.
Noteworthy Features:
D-Plan: Dartmouth operates on a 10-week quarter system, including a summer term. Originally, the use of all four quarters allowed more students to enroll when the school became co-ed. Today, it enables students to create their own flexible schedule, or "D-Plan." Students must be on campus for three terms during their first and senior years, and for at least one summer (traditionally sophomore summer). This flexibility enables students to take their leave terms in the winter or spring and put them to good use by getting internships or research experiences that would ordinarily be more competitive in the summer.
Presidential Debates: For those interested in politics, Dartmouth's location in New Hampshire makes it a lively place to be during a presidential election. With the first presidential primary taking place in New Hampshire, Dartmouth is a key spot for debates among leading candidates and a frequent stop on campaign trails.
Greek Life: Around 60% of Dartmouth students are involved in Greek life, and when you consider that first-year students aren't allowed to join a Greek house, that actually puts the number closer to 80% of eligible students. Dartmouth is home to 14 fraternities, 10 sororities, and three gender-inclusive houses. Most major social events on campus are hosted by the Greek houses and are open to all students. However, if joining a Greek house is not your thing, there are many other opportunities for community, including the residential House system and numerous clubs and sports.
Financial Aid: Dartmouth offers free tuition and no loans to students from families with incomes below $100,000 a year and is need-blind for all applicants, including international students.
Admissions Profile
Average GPA: 4.1
Test Scores (mid-50% range): 1440-1560 SAT/32-35 ACT
Admit Rate: 6.4%
Test-optional? Yes
Offers Early Admissions? Yes — Early Decision
Supplemental Essays
Dartmouth's Prompt 1: Dartmouth celebrates the ways in which its profound sense of place informs its profound sense of purpose. As you seek admission to Dartmouth's Class of 2027, what aspects of the College's academic program, community, or campus environment attract your interest? In short, Why Dartmouth? (100 words max)
Dartmouth's Prompt 2: "Be yourself," Oscar Wilde advised. "Everyone else is taken." Introduce yourself in 200-250 words.
Dartmouth's Prompt 3: Please choose one of the following prompts and respond in 200-250 words:
Labor leader and civil rights activist Dolores Huerta recommended a life of purpose. "We must use our lives to make the world a better place to live, not just to acquire things," she said. "That is what we are put on the earth for." In what ways do you hope to make—or are you making—an impact?
What excites you?
In The Boy Who Harnessed the Wind, William Kamkwamba '14 reflects on constructing a windmill from recycled materials to power electrical appliances in his family's Malawian house: "If you want to make it, all you have to do is try." What drives you to create and what do you hope to make or have you made?
Dr. Seuss, aka Theodor Geisel of Dartmouth's Class of 1925, wrote, "Think and wonder. Wonder and think." What do you wonder and think about?
"Not everything that is faced can be changed; but nothing can be changed until it is faced," wrote James Baldwin. How does this quote apply to your life experiences?
Believe it or not, the "why Dartmouth?" essay might be the hardest to write, and that's because of its length. In 100 words, you won't have any room for filler; you must get straight to the point and make sure you're connecting your own interests and values with the resources and vibe of the college. In this essay, it's important to be specific in envisioning yourself on campus (where will we find you? what will you be doing?) so that admissions officers can envision you there too.
Looking at the second Dartmouth supplemental essay prompt, you might be thinking, "didn't I already introduce myself in the personal statement?" Take this prompt as an opportunity to mention things you haven't touched on elsewhere in your application. This could be a great chance to talk about the little things that matter to you, like how you spend your time with friends or interesting personality quirks and how they influence your outlook on life.
With so many prompts to choose from for the third prompt, you'll likely want to brainstorm a few possible responses. See which prompts jump out to you immediately, and jot down some ideas of what you'd write about. If nothing stands out, look at the Activities section of your Common App and see if any of your extracurriculars might spark some inspiration.
You might write about volunteer work in which you make an impact, an academic interest that excites you, a hobby or passion project that you can't stop thinking about, or what drives you to pursue your goals and overcome obstacles. Feel free to interpret these prompts for essay three pretty broadly and write about whatever will give admissions officers a deeper understanding of who you are.