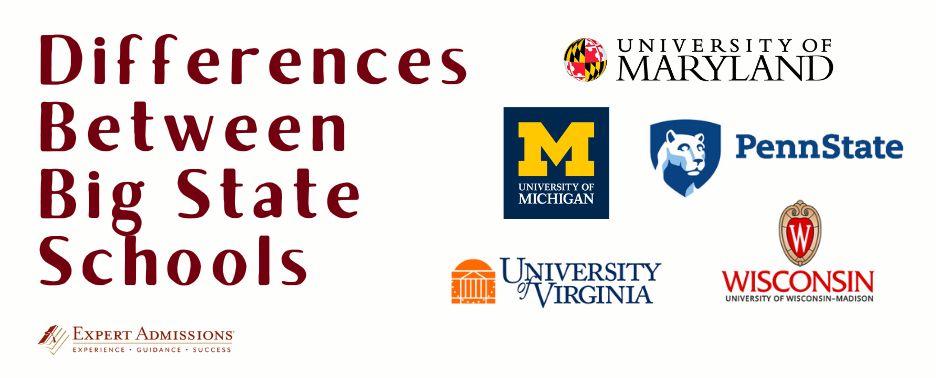 You've weighed the benefits and drawbacks of attending a big state school and decided that you're curious. According to the National Center for Education Statistics, there are 1,625 public colleges in the United States, and many of them fall under the "big state school" category. Perhaps some of the better-known universities stand out to you, like the University of Maryland, University of Michigan–Ann Arbor, Penn State, University of Virginia, and University of Wisconsin–Madison.
But what makes these schools different from each other? You may be looking for a school with a large athletic presence or be more interested in a state-of-the-art engineering lab. To support you in your search, we've taken a look at where these large state schools fall within categories such as population, location, academic offerings, and student life.  
Student Population
A university is considered "large" when it has over 15,000 students, but above that number, campuses vary on how large they are. Penn State has a population of 41,745 undergraduate students. UVA's population is on the lower side when it comes to large universities, with 17,299 undergrads. In the middle, University of Michigan–Ann Arbor has an undergraduate student body of 32,695, while University of Wisconsin–Madison has an undergraduate population of 35,184, and the University of Maryland has an undergraduate enrollment of 30,875. The relative size of the student population affects factors like class size, housing, and even parking. When considering a big school, think about how a large population might impact you.
Location
Location is an important factor when it comes to deciding where you want to apply to college. You might be a city person in search of campus attractions as well as fun ways to spend weekends off campus, or you could be someone who wishes to spend the next four years in a quieter setting.
Penn State's main campus is in University Park, PA, a small college town. University Park contains small cafés and shops that line the street marking the border between downtown and campus. Located near the base of Mount Nittany, the campus' surrounding area of central Pennsylvania is known as "Happy Valley."
Ann Arbor, home to the main University of Michigan campus, is a city an hour west of Detroit. The city life is bustling, particularly in arts and culture—there are theaters, performance halls, libraries, and galleries that showcase talent both from the college and from around the world. Art enthusiasts can venture into Detroit and visit the Diego Rivera murals at the Detroit Institute of Arts, while music fans can check out one of the 300 musical performances that take place each year at The Ark.
Madison, home of the University of Wisconsin, is the state's capital and its second-largest city. There is a lot to do around town, from visiting the domed state capital on the isthmus between lakes Mendota and Monona, to touring the Wisconsin Historical Museum, which documents Wisconsin's immigrant and farming history.
Thomas Jefferson designed the core campus of UVA in Charlottesville, located in the eastern foothills of the Blue Ridge Mountains in Central Virginia. Charlottesville offers an abundance of museums, galleries, wineries, shops, restaurants, and outdoor recreation options. You can also visit historical sites such as Thomas Jefferson's Monticello, James Monroe's Highland, Historic Court Square, and the Michie Tavern.
The University of Maryland is located in the city of College Park, about four miles from the northeast border of Washington, D.C. It features Lake Artemisia, a 38-acre lake with a fishing pier and aquatic garden alongside walking and biking trails, an aviation museum, and many community and regional parks. During the summer, you can enjoy the Ellen Linson Splash Park, a seasonal outdoor swimming pool and home to the College Park Farmer's Market.
Academics
It's important to carefully research a school's curriculum and majors before deciding to take the plunge to apply. Luckily, large state schools often have a wide variety of academic programs as well as niche majors.
At Penn State, all students complete general education requirements. Students can choose from one of the 275 majors offered across 12 undergraduate colleges. You can find unique majors such as Turfgrass Science, Professional Photography, and Advertising/Public Relations.
At the University of Michigan, the core for all students includes eight courses for a total of 16 academic credits. UMich has eight undergraduate colleges dedicated to various fields, such as The School of Music, Theatre & Dance, The School of Kinesiology, and The Taubman College of Architecture and Urban Planning, along with its renowned colleges of business and engineering.
All undergraduate students at UW–Madison must complete the university-wide general education requirements. These requirements "establish a foundation for living a productive life, being a citizen of the world, appreciating aesthetic values, and engaging in lifelong learning in a continually changing world." There are eight undergraduate schools and colleges that are home to 130 undergraduate majors. At UW, you can major in areas such as Consumer Behavior and Marketplace Studies, Personal Finance, and Textile and Fashion Design.
All students have to complete the core requirements at the University of Maryland as well. These courses aim to help students succeed in academic careers and in their professional lives. Within the University of Maryland's 12 colleges and schools, you can choose from more than 100 majors. Unique major offerings include Central European, Russian, and Eurasian Studies, Community Health, and Real Estate and the Built Environment.
At UVA, students at the College of Arts and Sciences—the university's biggest college— complete General Education requirements. There are seven undergraduate colleges, including the School of Nursing and the prestigious Darden School of Business. There are 49 major options at UVA, including uncommon offerings such as Kinesiology and Exercise Science, Child Development, and Urban, Community, and Regional Planning.
Campus and Student Life
Most big state schools offer plenty to do for students on campus, from Greek life to student organizations that cater to common and uncommon interests alike. You can find student clubs dedicated to different careers, hobbies, identity groups, and club sports on all campuses. Alongside organizations, large campuses often feature theaters, galleries, museums, and more that allow you to explore a multitude of interests.
Students are often attracted to large state schools due to their strong athletic presence and community. Fans of collegiate sports get excited about their teams and cheer them on with shared campus pride.
On Penn State's campus, there are a number of attractions, such as the Old Main Daily, the administrative center of Penn State, which was the first Penn State building (completed in 1867). The campus also features an art museum, a sports museum, and the Nittany Lion Shrine, a statue of the University's mascot. Penn State has over 1,000 student organizations along with 44 fraternities (two of which are co-ed) and 27 sororities.
University of Michigan's campus features numerous museums, galleries, observatories, planetariums, and special collections libraries. The university's Museum of Art is home to the second largest collection of art in Michigan. UMich has over 1,600 registered student organizations and 49 chapters of national fraternities and sororities.
UMich's Wolverines have made a name for themselves in football, men's swimming and diving, and ice hockey. Part of the Big Ten Conference, UMich has 27 varsity sports teams and over 900 student athletes. Fans can enjoy Wolverine games at various facilities across campus, including the Big House, a football stadium with a capacity of over 100,000.
On campus at the University of Wisconsin–Madison, students can visit the Henry Mall Historic District, any of the university's 30 libraries, the main concert hall at the Hamel Music Center, The Chazen Museum of Art, or the fortress-like Red Gym. UW–Madison has nearly 1,000 student organizations and 60 fraternities and sororities. Located on the south shore of Lake Mendota, one of four Madison-area lakes, University of Wisconsin's most successful athletics program is rowing. Badger men's rowing has won nine national championships.
At the University of Maryland, students can visit The Stamp Gallery, attend events at the Clarice Smith Performing Arts Center, or make a trip to the David C. Driskell Center for the Study of the African Diaspora. The university has over 800 student organizations and 53 recognized Greek chapters. The University of Maryland Terrapins field hockey team is among the most accomplished field hockey programs in the country. Fans can also watch the school's basketball team, which plays at the famous 17,950-seat XFinity Center.
The Rotunda at the University of Virginia, one of the colleges' signature buildings, is a hub for student life. In addition to attending guest lectures at the Rotunda, students also use the lounges, study spaces, and classrooms inside the building. You can also check out the messages on the Beta Bridge, Fralin Museum of Art, and the food trucks by The Amphitheater. There are 700 student organizations, 32 fraternities, and 15 sororities on campus. UVA has won 81 Atlantic Coast Conference championships since 2002, more than any other ACC school. The national championship-winning men's basketball and men's lacrosse teams are popular among fans of the Virginia Cavaliers.
Keep in mind that while big state schools can offer attractive in-state advantages, including tuition reductions, acceptance rates tend to be lower for out-of-state students. Make sure you do your research to decide if there's a big state school that's right for you, and look into what the differences might be for in-state and out-of-state applicants. Knowing what differentiates one state school from another is a key first step in building your college list and writing supplemental essays that highlight why you're a good fit for the schools you're interested in.