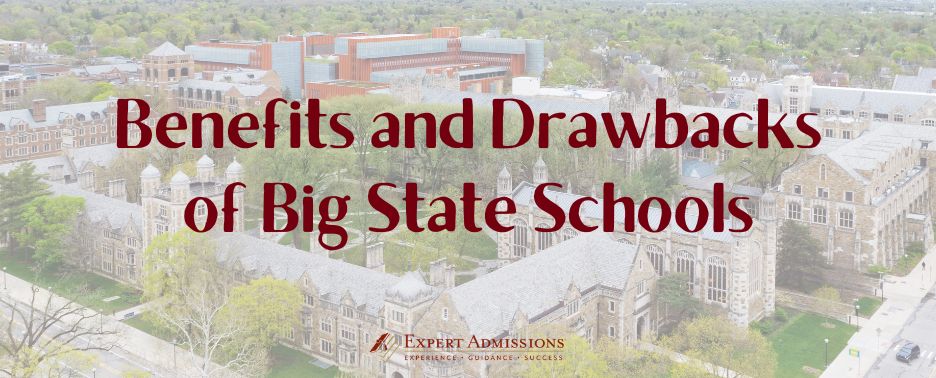 As you narrow down your college list, the size of a school is an important criterion to consider. There are different types of schools—big state schools, which are public; medium-sized colleges, which are a mix of public and private; and small colleges, which are most often private. If you're considering public universities but aren't sure they're the right environment for you, go through the list of pros and cons below to make an informed decision.
Benefits of Attending a Big State School
Wider Academic Options
Larger public universities often have a greater number of academic offerings than smaller schools. Majors tend to be more specifically tailored to student interests as well. For example, Penn State offers unique majors such as Turfgrass Science, Agribusiness Management, and Recreation, Park and Tourism Management. Meanwhile, University of Maryland offers concentrations in Central European, Russian and Eurasian Studies, Community Health, and Real Estate and the Built Environment.
Big state schools are often divided into smaller schools within the institution to support student interests. University of Michigan, for instance, has eight undergraduate colleges dedicated to various fields, such as The School of Music, Theatre & Dance, The School of Kinesiology, and The Taubman College of Architecture and Urban Planning—alongside its own colleges of business and engineering. If you wish to major in architecture or musical theater, having a college dedicated to that discipline can definitely be appealing! 
Larger Student Body
If you're particularly excited about the social aspect of college, it's worth knowing that big state schools understandably come with a larger student population. This not only means that there are more people on campus, but chances are, you'll be able to find people who have things in common with you more easily. There are more opportunities to find friends who like the same niche band you like, explore student organizations that interest you, and attend large social events from parties to theater shows. Big state schools also often have a large sports culture. There is always plenty to do on any given day.
Availability of Resources, Facilities, and Academic Opportunities
Big state schools typically have facilities and resources, such as specialized buildings, labs, and research centers, that can help take your academic interests to the next level. There will likely be more opportunity for on-campus employment and internships in your subject. For instance, if you're an aspiring engineering major, you'll be happy to know that University of Michigan, University of Texas – Austin, and University of Illinois – Urbana Champaign are some of the best universities in the world for engineering. At UIUC, you can find a large network of research internship opportunities, both on- and off-campus, such as the Research Park internships where students collaborate with faculty and technology-based businesses, and the Naval Research Enterprise Internship Program (NREIP), which provides an opportunity for students to participate in research at a U.S. Navy laboratory over the summer.
Alongside state-of-the art facilities that you might not be able to find at smaller universities, such big institutions also support students in finding opportunities outside of school. For example, 91% of UIUC's Agricultural and Biological Engineering students reported completing an internship or co-op during their undergraduate career. Meanwhile, UT Austin's Cockrell School of Engineering has 16 on-campus research centers, including a Center for Additive Manufacturing and Design Innovation and Center for Space Research. 
Higher Acceptance Rate and Reduced Tuition for In-State Students
If you're an in-state student, there are advantages when it comes to admissions at a public university. State schools have a higher number of seats reserved for in-state students and therefore have a higher in-state acceptance rate. At University of North Carolina – Chapel Hill, the in-state acceptance rate for fall 2022 was 43%, which is stark compared to the out-of-state acceptance rate of 8%.
Tuition is also cheaper for in-state students. At University of Wisconsin – Madison, Wisconsin residents pay $10,796 annually compared to the out-of-tuition of $39,427/year. Big state schools often have merit scholarships specifically set aside for in-state students.
Drawbacks of Attending a Big State School
A Larger Student Body Can Be a Disadvantage
Let's face it, it can be very easy to feel lost in a sea of thousands of students. Especially if you come from a small high school where you know everyone, the student population at a big state school can become overwhelming. Smaller schools tend to have more tight-knit communities— given the population size, you may even know everyone you pass by on campus, at least by face. If things like crowded dining halls, rowdy sports games, and hunting for a seat at the library don't appeal to you, a big state school might not be the best social environment for you.
Larger Class Size
The larger student bodies at big state schools can also mean larger class sizes, which is not for everyone. It can be hard to pay attention with many people in a room, and you won't get as much individualized attention. You might be someone who thrives in small, discussion-based classes or seminars. If you know you benefit from small class sizes, a smaller school is probably a better bet.
Access to Professors
At big universities, there are far more students than there are professors. The higher student-to-faculty ratio means that some courses are held in large lecture halls instead of smaller classrooms. It can be difficult to stand out in your classes, find a free spot for office hours, or get a recommendation from a distinguished faculty member. TAs might grade your papers, and your professor might not always know your name!
As you decide what type of college is best for you, you might be surprised by the benefits of being at a big state school. Just because a school is big, that doesn't mean you can't make your mark on the campus community. Weigh the pros and cons carefully, visit campuses, and talk with current students to determine whether you want to put a school like UMichigan, Penn State, or UVA on your list.