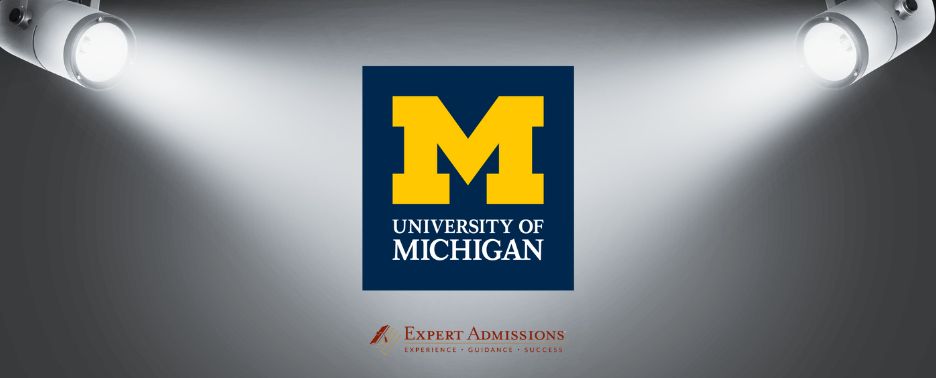 About the University of Michigan
Location: Ann Arbor, MI
Undergraduate Population: 32,695
Most Popular Majors: Computer Science, Business, Economics, Psychology, Sociology
Motto: Artes, Scientia, Veritas ("Arts, Science, Truth")
Demographics:
White 51.0%
Asian/Asian American 17.9%
Latinx 8.3%
Black/African American 4.1%
Multiracial 5.0%
Native American less than 1%
History:
Founded in 1817—before Michigan itself became a state—the University of Michigan's origins are unique among American institutions of higher education. In the early part of the 19th century, Augustus Woodward, then the Chief Justice of the newly-formed Territory of Michigan, drafted a territorial act establishing the "Cathloespistemiad, or University of Michigania," the former term translating to mean, roughly, "school of universal knowledge."
The university was envisioned not as a single college but as a system of schools, libraries, and other public institutions. Woodward and the other founders modeled the public university concept on Napoleon's Imperial University of France, making the school a particular example of French influence on American institutions during this period. The original location of the main campus was on the corner of Bates and Congress streets in Detroit. The school's name was officially changed to University of Michigan in 1821. In 1837, the year Michigan entered the Union, the University's Board of Regents voted to move the school to Ann Arbor, then a town of 2,000 people.
The university functioned as a pioneer for American higher education as it grew, being the first in the west to offer professional programs through its medical, engineering, and law schools. It was the first university in the U.S. to offer seminar-style classes, an educational model that had been adopted from German schools. The university was one the largest colleges in the U.S. throughout the 19th and early 20th centuries–only Harvard was bigger than UMich in 1900–and maintained this position until the rise of large state university systems after WWII.
Even as other public university systems surpassed UMich in terms of size, it continued to innovate in the higher education field. Many UMich alumni went on to found significant institutions within other universities: Edwin Francis Gray founded Harvard Business School, Jerome Wiesner founded the Media Lab at Massachusetts Institute of Technology, and Cornell's Law School was founded by Charles Kendall Adams and Harry Burns Hutchins. The University of California system was also modeled on the University of Michigan. Today, UMich consists of 19 colleges, offering degrees in 250 different fields.
Notable University of Michigan alumni include Google co-founder Larry Page, actress Lucy Liu, playwright Arthur Miller, pro wrestler Brandi Rhodes, and iconic American actor James Earl Jones.
Traditions:
Students looking to make their mark–even temporarily–paint UMich's Michigan Rock, a large boulder originally placed on the UMich campus to commemorate George Washington's 200th birthday. Athletic teams, fraternities and sororities, social justice organizations, and others have all been known to paint the rock with colorful messages that stay until the next person paints over them.
Division I football is big at UMich, and enthusiasm for the game reaches its peak with the annual Little Brown Jug competition between the UMich Wolverines and the Golden Gophers from the University of Minnesota. The "little brown jug" in question is a trophy in the form of an actual earthenware jug, which bears the distinction of being the oldest FBS college football trophy in the U.S.
Aspiring green engineers will want to get to know the University of Michigan Solar Car team, a project of UMich's College of Engineering that was started in 1989. The project is considered the most successful solar car project in North America, having won the North American Solar Car Challenge (NASC) nine times out of twelve, as well as placing highly on the global stage in the World Solar Challenge. 
Noteworthy Features:
All incoming UMich students join First Year Experience: themed living communities that are paired with an introductory course hosted within the school's residence halls. First Year Experience students also join forces for team-building activities, like trips to Michigan's Upper Peninsula to learn dog sledding.
UMich's College of Literature, Science, and the Arts (LSA) is home to LSA Honors, one of the best-known college honors programs in the nation. LSA Honors students participate in seminars and academic research and have dedicated faculty mentors.
UMich's Undergraduate Research Opportunities Program (UROP) allows students to work outside of the classroom on individual and group research projects, many of them located within the Ann Arbor community.
Admissions Profile
Average GPA: 3.90
Test Scores (mid-50% range): 1350-1530 SAT/31-34 ACT
Admit Rate: 17.7%
Test-optional? Yes; however, UMich recommends submitting scores
Offers Early Admissions? Yes–Early Action
Supplemental Essays
University of Michigan's Required Essay Prompts:
Essay #1
Everyone belongs to many different communities and/or groups defined by (among other things) shared geography, religion, ethnicity, income, cuisine, interest, race, ideology, or intellectual heritage. Choose one of the communities to which you belong, and describe that community and your place within it. (300 words)
Essay #2
Describe the unique qualities that attract you to the specific undergraduate College or School (including preferred admission and dual degree programs) to which you are applying at the University of Michigan. How would that curriculum support your interests? (550 words)
The first of these prompts is a classic example of a "community" essay prompt; when responding to this prompt, it's best to be yourself and write about your role in a community that truly means something to you.
The second prompt asks for a "why this school" essay, but at 550 words, it's almost as long as your personal statement! Responding to this prompt will require plenty of research on your part into which college or school you're applying to—do a deep dive into the program that most interests you, and make sure to make a clear connection between your background, interests, and goals and that particular program. If you're able to visit the UMich campus and tour the department where you'd most like to study, information gathered on your visit might come in handy here. No matter what, don't let your "why UMich" essay be generic or stuffed with "filler" language—make the most of those 550 words! For more advice on these and other supplemental essay prompts, see our blog post here.