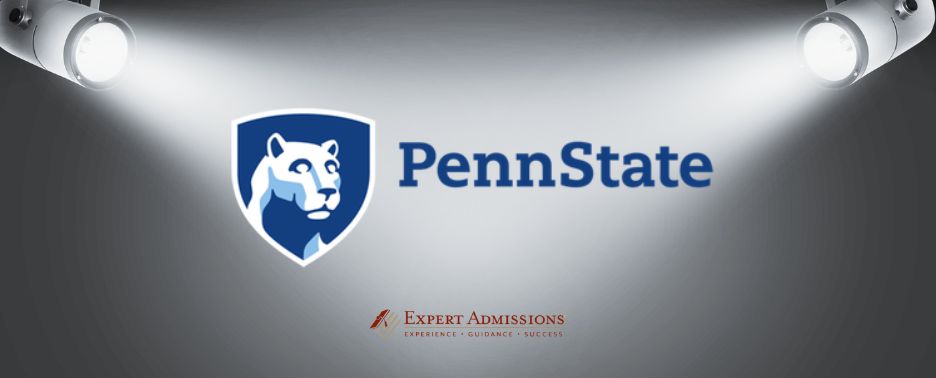 Location: University Park, PA
Undergraduate Population: 41,745
Most Popular Majors: Business, Engineering, Computer and Information Sciences, Sociology, Biology
Motto: "Making Life Better" (on seal: "Virtue, Liberty, and Independence")
Demographics:
White 62.7%
Latinx 8.3%
Asian/Asian American 7.0%
Black/African American 4.4%
Multiracial 3.6%
Native American less than 1%
History:
The Pennsylvania State University, or Penn State, was founded in 1855 by the Pennsylvania State Agricultural Society as a degree-granting institution. Local suspicion about colleges and universities being impractical institutions led the school to originally be named Farmer's High School of Pennsylvania. As the name suggested, the school focused primarily on agricultural studies and changed its name to Agricultural College of Pennsylvania in 1862. With the passage of the Morrill Land-Grant Acts in 1863, the school became Pennsylvania's only land-grant college. It shed some of its agricultural focus when it changed its name to Pennsylvania State College in 1874 and began to integrate more classical education into its curriculum.
The expanded curriculum led to the school becoming one of the biggest engineering colleges in the nation toward the end of the 19th century; by 1936,
Penn State was Pennsylvania's largest grantor of undergraduate degrees. Penn State's current system of commonwealth campuses was created during the Great Depression by college president Ralph Dorn Hetzel, aiming to accommodate students who were economically unable to leave home to attend college. Penn State president Milton S. Eisenhower–brother of then-president Dwight Eisenhower–brought the school to university status in 1953, changing its name to The Pennsylvania State University. In the latter part of the 20th century and the beginning of this century, Penn State grew into a powerhouse public institution, incorporating Penn State Dickinson Law and the Pennsylvania College of Technology—and becoming one of the biggest sources of revenue for the state. Penn State is currently the home of 18 colleges—including, true to its roots, a College of Agricultural Sciences—and hosts numerous NCAA Division I and Big Ten Conference athletic teams.
Noteworthy Penn State alumni include New York Giants running back Saquon Barkley, National Women's Soccer League and Olympic soccer player Ali Krieger, former Nike CEO and current Walt Disney Company Chairman Mark Parker, journalist Lisa Salters, and aerospace engineer Guion Bluford, the first African-American to go to space.
Traditions:
Penn State's mascot is the Nittany Lion, named for the wild mountain lions that once roamed Mount Nittany, near the University Park campus.
Athletic events at Penn State are livened up by Blue Band, the college's renowned marching band, which features drills, drum majors, and baton twirling.
Penn State hosts the world's largest student-run philanthropic fundraising event: Penn State THON, a 46-hour-long dance marathon! The event has raised over $219 million dollars for pediatric cancer research and to cover medical bills for families facing pediatric cancer.
Noteworthy Features:
In addition to being a land-grant college, Penn State also has sea-grant and space-grant status. That means the school works with the National Oceanic and Atmospheric Administration (NOAA) to conduct ocean research and conservation projects, and with the National Space Grant College and Fellowship program to conduct aeronautics research. It's also one of only seven universities in the world that participates in sun-grant research consortia through the Sun Grant Initiative, an initiative started by the U.S. Congress to research and develop sustainable energy alternatives.
Students at Penn State's College of Engineering are eligible to earn credit through internships or work co-ops, which are paid and pave the way for excellent employment opportunities after graduation.
Penn State's College of Agricultural Sciences hosts large livestock barns; milk from the college's cows can be purchased on-campus, and students can take courses on ice cream-making in Penn State's Food Science program.
Admissions Profile
Average GPA: 3.68
Test Scores (mid-50% range): 1220-1380 SAT/ 26-31 ACT
Admit Rate: 55.2%
Test-optional? Yes
Offers Early Admissions? Yes–Early Action
Supplemental Essay
Penn State's Optional Essay Prompt: Please tell us something about yourself, your experiences, or activities that you believe would reflect positively on your ability to succeed at Penn State. This is your opportunity to tell us something about yourself that is not already reflected in your application or academic records. We suggest a limit of 500 words or fewer.
This essay prompt is Penn State's invitation for you to tell them how you would thrive at Penn State in particular. When approaching this essay, consider experiences you've had or activities you've been involved in that have had an impact on you—whether a community service commitment, an eye-opening trip you took, or a significant connection with a family member or friend. Reflect on what this experience tells readers about who you are. Lastly, connect these insights into who you are to Penn State—what values will you bring to the college? Let the reader picture you on campus. Importantly, make sure your essay isn't about anything else you've covered in your application. For more tips on supplemental essays, see our blog post here.