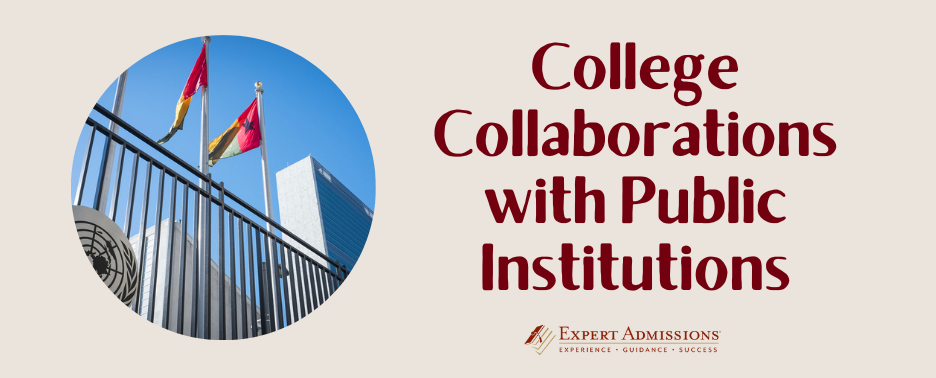 Future career options are a major factor when contemplating your options for college. One incredible way to gain experience in college that will inform what you'll eventually do as a career is to take part in an internship or research opportunity at a public institution. Many universities in the US partner with institutions–museums, hospitals, libraries, research facilities and NGOs, to name a few–to offer learning experiences to undergraduate students. These experiences take students in exciting directions and provide exposure to the public-facing side of working in various disciplines. Here, we explore some fascinating and impactful collaborations between universities and public institutions.
United Nations Columbia is the Columbia University chapter of the larger United Nations foundation, and instrumentalizes the close proximity of the university to the UN headquarters. Officially one of Columbia's student groups, UN Columbia invites students to apply to be student ambassadors and work with the UN alongside faculty mentors and other group members. Notably, UN Columbia students engage in projects to help promote the UN's Sustainable Development Goals (which encompass economic and social welfare, humanitarian projects, human rights, environmental health and sustainability). Students from a range of disciplines participate in UN Columbia, including economics, international finance, political science, international relations, STEM fields and humanities fields.
The North Carolina Research Campus (NCRC) is a nutrition science research center in Kannapolis, North Carolina that shares partnerships with eight North Carolina universities, including Duke, UNC and North Carolina State University. Opportunities for students to engage with NCRC range from food security seminars through UNC to participating in community-engaged research through the Social Science Research Institute at Duke University. Students who are passionate about the intersections of STEM and food science, nutrition, sustainability and community engagement can find meaningful opportunities for learning in these fields at the NCRC.
The  Center for Space Research (CSR) at the University of Texas at Austin has longstanding partnerships with numerous public research institutions, including NASA. Students at UT Austin's Cockrell School of Engineering have opportunities to work through CSR at the Mid-American Geospatial Information Center (MAGIC), participating in projects to collect data used by NASA and the National Oceanic and Atmospheric Administration (NOAA), as well as by governments and state and federal agencies. Known for its strong space science programs, UT Austin's partnerships with these institutions–as well as its famed McDonald Observatory–mean students can gain experience they wouldn't find elsewhere.
For those eager to dive into innovation in the medical field, the University of Minnesota Rochester (UMR) offers a unique collaboration with the School of Health Sciences at the nearby Mayo Clinic. UMR students who join the Mayo Clinic's program can learn in the Clinic's simulation classrooms, be mentored by Mayo Clinic practitioners and faculty, and participate in conferences and clinical practicum experiences. The Mayo Clinic Invest in Success Scholars Program even offers undergraduates scholarships to support their education in the field of health research.
Opportunities to gain experience as an undergraduate at museums and cultural institutions abound in the US, and one especially exciting program is the University of Maryland's Center for Art and Knowledge at the Phillips Collection. Known as the first museum of modern art in the nation, Washington, DC's Phillips Collection is home to work by artists such as Vincent Van Gogh, Claude Monet, and Georgia O'Keefe. University of Maryland students in the fields of art history, cultural diplomacy, museum studies, conservation science, and other fields within the humanities can carry out projects at the interdisciplinary Center for Art and Knowledge, including research, writing for publication, and participation in humanities seminars.
Completing an internship or research project in affiliation with a public institution as an undergraduate is more than a stellar item for your resume; it's also a one-of-a-kind chance to make connections with the peers and mentors who will likely play a role in your future career path. Joining a program that brings you outside your college classroom will also give you key insights into the kinds of issues and challenges that are pertinent to the field you want to pursue. If real-world experiences and valuable connections are your thing, don't pass up an opportunity to collaborate with an exciting public institution!