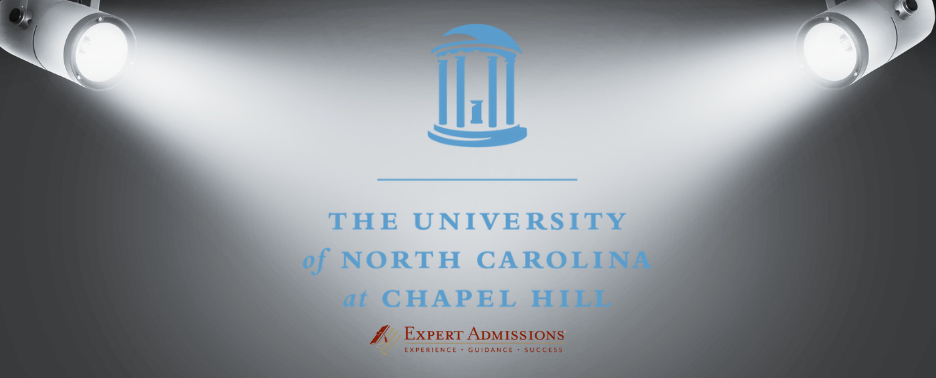 About University of North Carolina Chapel at Hill
Location: Chapel Hill, NC
Undergraduate Population: 19,897
Most Popular Majors: Communication and Media Studies, Business Administration, Chemistry, Sociology, English
Motto: Lux libertas ("Light and Liberty")
Demographics:
White 55.5%
Asian/Asian American 12.6%
Latinx 9.6%
Black/African American 8.5%
Multiracial 5.2%
Native American less than 1%
History:
The first constitution of the state of North Carolina, adopted in 1776, included provisions for the establishment of affordable schools and universities for young residents. The University of North Carolina at Chapel Hill (known as the University of North Carolina at the time) became the first  public university in the country, chartered by the North Carolina General Assembly on December 11, 1789. Classes began in 1795. The university opened in a single building, the Old East, which is still used as a residence hall. It started with 41 students, which then rose to 100 in the second term, with a faculty of five.
During the Civil War, the university was among the few in the Confederacy that kept its doors open. However, by 1864, there were only 47 enrolled students remaining. After the war, the university's reputation was restored through growth and innovation, as well as continuing to develop scientific programs, such as a program to support farmers by conducting scientific analyses of fertilizers' impact on various crops and soil types.
In 1915, the mission of the university was broadened to include research and public service. The 20th century saw the advent of various schools within the university, including the School of Education, the Kenan-Flagler Business School, and the Gillings School of Global Public Health. The first Black students were admitted to the university in 1955. In 1963, the first Black woman enrolled as an undergraduate at UNC.
Today, UNC offers 78 majors through 15 schools. It has also developed a history of national championship-winning sports teams across basketball, field hockey, lacrosse, soccer and more.
Notable University of North Carolina at Chapel Hill alumni include former US President James Polk, NBA player Vince Carter, two-time FIFA Women's World Cup champion Mia Hamm,  YA author Jenny Han, and actor Billy Crudup.
Traditions: 
UNC is the home of the Tar Heels. Students show up for Division I games—particularly rivalry matches against Duke and North Carolina State—in team colors and celebrate game days in a number of ways, from tailgates to painting the horns of real Dorset sheep (in honor of the Tar Heel mascot, the ram) Carolina Blue.
Arts Everywhere Day features more than 30 performances by student groups, exhibits, installations and hands-on activities, including an opportunity to digitally paint using virtual reality headsets.
On the first day of classes, students line up to take a sip from the Old Well on campus. A tradition dating back to 1793, legend has it that a sip from the well brings students luck in the form of good grades.
Noteworthy Features:
More than 85% of students take advantage of undergraduate research opportunities at UNC. They present their findings at professional conferences, publish results in academic journals, and earn fellowships to support summer research. Off campus, the Research Triangle Park, a nearby research and corporate community, employs many students as research assistants.
UNC's Summer School, including the two-week "Maymester," offers undergraduate classes featuring off-campus travel or research opportunities not possible during the academic year.
UNC is known for Honors Carolina, its four-year honors program. The top 10% of undergraduates at the school are invited to take advantage of the opportunities available, which include study abroad, research work with faculty mentors, and designing an individualized educational experience.
Admissions Profile
Average GPA: 4.42
Test Scores (mid-50% range): 1330/1500 SAT/29-33 ACT
Admit Rate: 19.2%
Test-optional? Yes
Offers Early Admissions? Yes—Early Action
Supplemental Essays
University of North Carolina at Chapel Hill's Required Essay Prompts:
Discuss one of your personal qualities and share a story, anecdote, or memory of how it helped you make a positive impact on a community. This could be your current community or another community you have engaged. (250 words) 
This essay has two parts—it asks you to elaborate on a personal characteristic, and it also invites you to discuss how the trait has helped you make an impact on a community you belong to. UNC uses this prompt to gauge what kind of community member you are and how you'd contribute to the campus environment. With that in mind, use the essay to highlight what you want admissions readers to know about you, whether about your leadership or teamwork abilities or how you work well under pressure.
Start brainstorming your response by writing down the important  communities you belong to. Then, consider which one you can write about in greater detail, focusing on a story or anecdote that illustrates the personal quality you'd like to showcase. As you're drafting the essay, make sure that both the personal quality and the community are clear, as is the connection between them..
Discuss an academic topic that you're excited to explore and learn more about in college. Why does this topic interest you? Topics could be a specific course of study, research interests, or any other area related to your academic experience in college. (250 words)
The main takeaway from this response shouldn't be just what your chosen academic topic is, but also how you imagine yourself engaging with it in the future.. Explain why you love this specific field and how it has influenced your worldview. Through anecdotes, discuss the ways in which you've already explored the subject. Have you taken challenging courses in the discipline? Have you conducted research? Have you started any initiatives related to the field? Write about how you've explored the topic so far and what you look forward to learning more about in college.
For more tips on common supplemental essay prompts, see our blog post here.