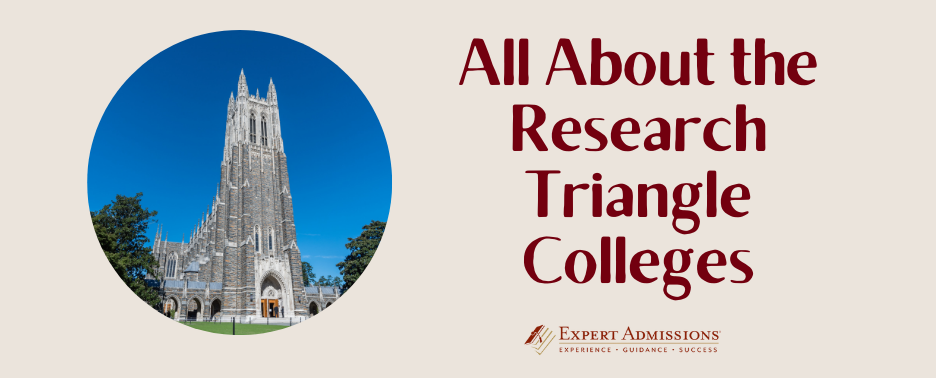 The Research Triangle colleges, an unofficial trio of Research 1 universities, are located in the Piedmont region of North Carolina. The "triangle" is made up of Duke University in Durham, North Carolina State University in Raleigh, and the University of North Carolina in Chapel Hill.
Situated within the geographic triangle formed by these three schools is Research Triangle Park, a 7,000-acre research park that is home to over 300 companies. These include tech and biotech companies like GlaxoSmithKline and Cisco, as well as the National Humanities Center, the National Institute of Environmental Health Sciences (NIEHS), and a campus of the Environmental Protection Agency (EPA). Considered collectively, the institutions that form "The Triangle" (as it's often called) form one of the biggest intellectual and high-tech research powerhouses in the nation.
Although the three Research Triangle colleges are distinct from each other and aren't part of a consortium, they share some similarities and overlap in terms of their academic offerings and campus cultures. Notably, athletics are a major, national focal point for these three colleges. Here, we take a closer look at each of the colleges, what they share, and what distinguishes them from each other.
Academics
Although there are a total of 17 higher education institutions within the Triangle region–including several community colleges, technical colleges and religiously affiliated schools–Duke, UNC and NC State are the only large research universities in the area.
Duke, a highly selective private research university, is known for being strong in engineering, economics, computer science, the natural sciences and the humanities. Undergraduates at Duke enroll in either the Pratt School of Engineering or the Trinity College of Arts & Sciences, which offers numerous academic pathways for individualized study. Aspiring leaders can realize their visions through a major at the Sanford School of Public Policy. The world-class medical centers at Duke provide undergraduates with unique opportunities to study topics like global health and biochemistry. Duke is also home to a large number of interdisciplinary centers, such as the Duke Global Health Institute and the Nicholas Institute for Environmental Policy Solutions, where students contribute to cutting-edge climate innovations (and even travel with a delegation of students to the United Nations' Climate Change Conference).
UNC-Chapel Hill, the oldest of the Triangle schools–and, in fact, the oldest public university in the nation–offers over 75 undergraduate degree programs. Considered one of the "Public Ivy" schools, students are drawn to UNC to study a range of subjects, including communication, business administration, economics, biology and political science. The research focus is central at UNC, and students in various disciplines can complete fellowships and internships within the business and institutes at Research Triangle Park (such as the National Humanities Center and the Triangle's EPA campus). UNC also teams up with North Carolina State University to offer its Biomedical and Health Sciences Engineering major to students through a joint degree program.
North Carolina State University boasts a renowned focus on professional studies, including engineering, the sciences, agriculture, architecture and business. Within these broader academic fields, students at NC State have opportunities to study in specialties such as genetics, biomedical engineering and forest management. Research also features prominently at the school, which offers internship research opportunities with Triangle companies. The school is one of the universities with programs in the North Carolina Research Campus (NCRC) in Kannapolis, NC, near the city of Charlotte (Duke and UNC are also NCRC participants). There, students can engage in research into human health and nutrition through programs like NCRC's new NC Food Innovation Lab, which focuses on working with commodities that are grown in-state. Members of the NC State Wolfpack also have access to a robust co-op education system, and can alternate semesters of coursework with semesters working full-time in their chosen field.
Campus and student life
Sports are practically synonymous with Duke, UNC and NC State; the schools' teams are standouts in NCAA Division I and Atlantic Coast Conference athletics, and school team spirit is an integral part of campus life for each school. But beyond the roar of fans cheering in the stands, these colleges feature vibrant campus cultures encompassing everything from creative gathering to community-oriented service initiatives.
Undergraduates are required to live on Duke's campus for at least three years, and many students enjoy the university's well-appointed residence halls and special-interest dorms. As with the other Triangle schools, Greek life is big at Duke, with 29% of men and 42% of women pledging to fraternities and sororities. Service-minded Dukies can join DukeEngage and complete service-learning projects both locally and internationally; Duke is also home to over 400 student clubs and organizations. Men's basketball is a centerpiece of student life at Duke. Legions of creative, enthusiastic Blue Devils fans–known affectionately as "Cameron Crazies" after Duke's Cameron Stadium–can be found cheering at basketball games, especially during games with the rivaling UNC team.
School spirit is also paramount at UNC-Chapel Hill. Incoming freshmen live in one of eight First Year Experience residence halls, and about half of UNC students continue to live on campus beyond the first year. The adjacent city of Chapel Hill offers an abundance of fun and interesting ways to get involved; UNC also hosts a number of annual festivals that get students out and about, such as FallFest and the North Carolina Literary Festival. At the end of the day, however, Carolina Tar Heels are united in their passion for their home teams. The Marching Tar Heels marching band supports UNC's athletes as they battle it out in longstanding athletic rivalries against the likes of Duke and the University of Virginia.
North Carolina State University features nineteen lively residence villages (with themes such as Engineering, Arts, Honors, and Leadership and Impact) that house about 35% of NC State undergraduates. Student life is rich with events and offerings unique to NC State, such as the Krispy Kreme Challenge, where students race from the university's Memorial Bell Tower to a nearby donut shop, eat a dozen glazed donuts, and race back (while raising money to support the North Carolina Children's Hospital). Packapalooza, a big annual block party on Hillsborough Street that culminates in an open-air concert, kicks off each academic year. Sports fans cheer in NC State's Carter-Finley Stadium for Wolfpack teams; Wolfpacks have won a respectable number of national, NCAA and AIAW championships, and the school enjoys a healthy rivalry with UNC-Chapel Hill.
Between the world-class research opportunities and the world-famous college athletic culture, the Research Triangle Colleges offer experiences that won't be found anywhere else.