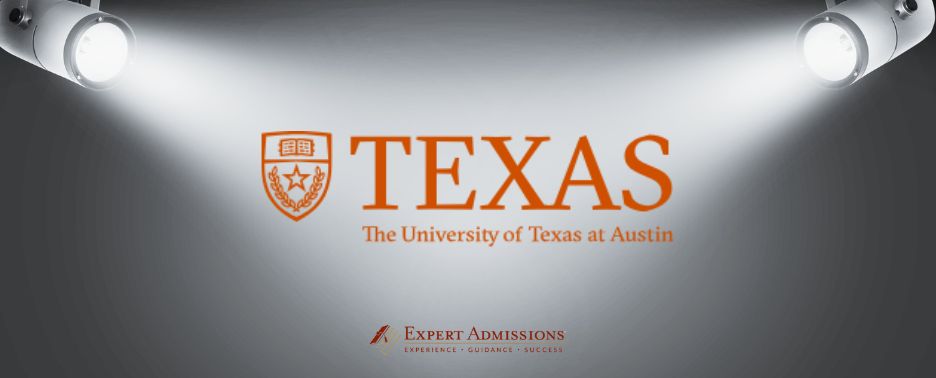 About The University of Texas at Austin
Location: Austin, TX
Undergraduate Population: 41,309
Most Popular Majors: Finance, Communication Studies, English, Social Work, Engineering
Motto: Disciplina Praesidium Civitatis ("Education is the Guardian of the State")
Demographics:
White 33.2%
Latinx 28.0%
Asian/Asian American 24.3%
Black/African American 4.5 %
Multiracial 4.0%
Native American less than 1%
History:
The history of The University of Texas at Austin goes hand-in-hand with the history of Austin, and the history of the state of Texas itself. In 1836, as Texas became a republic (independent of both Mexico and the United States), the Constitution of the Republic of Texas was written to include a provision for a public university. In 1839, the Texas Congress designated fifty leagues of land (about 288,000 acres) within the new capital of Austin for The University of Texas. The annexation of Texas into the U.S. in 1845, Texas's secession from the U.S. in 1860 during the Civil War, and several subsequent decades of turmoil with land grants, railroad construction, and constitutional revisions caused the construction of the actual university to be delayed until 1882. The Old Main building was constructed on the original site designated for the university and opened its doors in 1883.
The University continued to grow throughout the 20th century, adding numerous facilities, libraries, and the Brackenridge Field Laboratory. The discovery of oil on university grounds in 1923 led to significant growth of UT-Austin's Permanent University Fund and to further development of the school's facilities and programs. The University admitted its first Black students in 1956 and was fully desegregated in 1965. In 1971, the first Presidential Library on a university campus–the Lyndon Baines Johnson Library and Museum–opened on the UT-Austin campus. UT-Austin is now home to seven museums, including the Blanton Art Museum, as well as 17 libraries and the McDonald Observatory. It's also the home of the Texas Longhorns NCAA Division I athletics. A major public research university, UT-Austin is considered a Public Ivy.
Notable UT-Austin alumni include NBA All-Star basketball player Kevin Durant, Academy Award-winning actor Matthew McConaughey, iconic news anchorman Walter Cronkite, author and professor Brené Brown, and NFL wide receiver and Olympian Marquise Goodwin.
Traditions: 
UT-Austin's Longhorn Band, "the showband of the southwest," is the proud owner of Big Bertha, the largest bass drum in the world. The drum measures eight feet in diameter and weighs in at 500 pounds.
White fox squirrels make their homes in the trees on the UT-Austin campus; tradition has it that any student who spies one of these squirrels on the way to a test will get an A.
The famous clock tower on the UT-Austin campus is symbolically lit with colored lights to signal events, sports victories, holidays, or periods of mourning. The lights inside the tower's offices are also lit to display messages, like a number "1" when a team wins a national championship.
Noteworthy Features:
UT-Austin features the Plan II Liberal Arts Honors Program, one of the oldest honors programs in the country–and a model for other programs of its kind. Honors students benefit from a small-college experience within a large research university, with flexible curricula, small seminar courses, and mentorship from professors.
More than 200 politically-driven undergrads each year take on jobs and internships at the Texas State Legislature, which is only a short walk from the UT-Austin campus.
Co-op students at the Cockrell School of Engineering work at least one semester and one summer as full-time employees at the same company, earning college credit and a competitive salary as they gain hands-on experience in their chosen engineering field.
Admissions Profile
Average GPA: not reported
Test Scores (mid-50% range): not reported
Admit Rate: 21.2%
Test-optional? Yes
Offers Early Admissions? No
Supplemental Essays 
The University of Texas at Austin's required essay prompts:
It's worth noting the differences–and similarities–between UT-Austin's essay prompts and application requirements and those of other schools. UT-Austin joined the Common Application in 2022 and kept its unique essay requirements. Perhaps the most singular to UT-Austin is the UT-Austin essay, which is distinct from the Common App personal statement:
UT-AUSTIN ESSAY
Note: This is the only long essay UT-Austin requires. We do not require any of the Common App Personal Essays. Common App Personal Essays will not be used in our holistic review process.
Tell us your story. What unique opportunities or challenges have you experienced throughout your high school career that have shaped who you are today? (500–700 words).
While the Common App gives you 650 words to answer one of several questions–or choose a topic of your own–this essay prompt asks a specific question (and gives you a slightly longer word count). If you've already written a Common App personal statement essay that corresponds to the UT-Austin prompt, great! You can adapt that essay into a UT-Austin essay. You might need to start from scratch, however, and write an essay that speaks to the "unique opportunities and challenges" you've experienced in high school. Aim to tell a cohesive, compelling story that shows your personality and values and is, at the end of the day, your story.
Why are you interested in the major you indicated as your first-choice major? (250-300 words).
To respond to this essay prompt, you need to do some serious research into the major you're interested in at UT-Austin; explore the department's website, read up about the programs and professors–you could even visit that department on campus if you're able to! When writing your essay, aim to strike a balance between showing how your background and goals lead you to your first-choice major, and how the offerings at UT-Austin specifically are a great fit for you. Don't be afraid to let your enthusiasm show. If there's a particular opportunity within your chosen major (such as an internship, research, or mentorship program) that excites you, make that known in your essay.
Describe how your experiences, perspectives, talents, and/or your involvement in leadership activities (at your school, job, community, or within your family) will help you to make an impact both in and out of the classroom while enrolled at UT. (250-300 words).
This prompt appears to be a version of the "Extracurricular Activity" prompt used by many colleges, but if you look closely, you'll see that the question offers "experiences, perspectives, talents" as possible subjects for discussion as well. When answering this question, make sure you articulate how the life experience you write about will allow you to contribute to the UT-Austin community both in and outside of the classroom.
The core purpose of The University of Texas at Austin is, To Transform Lives for the Benefit of Society. Please share how you believe your experience at UT-Austin will prepare you to Change the World after you graduate.(250-300 words). 
Where the previous question asks you to talk about the impact you'll make on the UT-Austin community, this question is asking you to talk about the changes you want to make in the world. This is a good place to showcase your values–what you think is important–as well as your ability to think long-term about how your education will allow you to reach your goals.
For more tips on common supplemental essay prompts, see our blog post here.