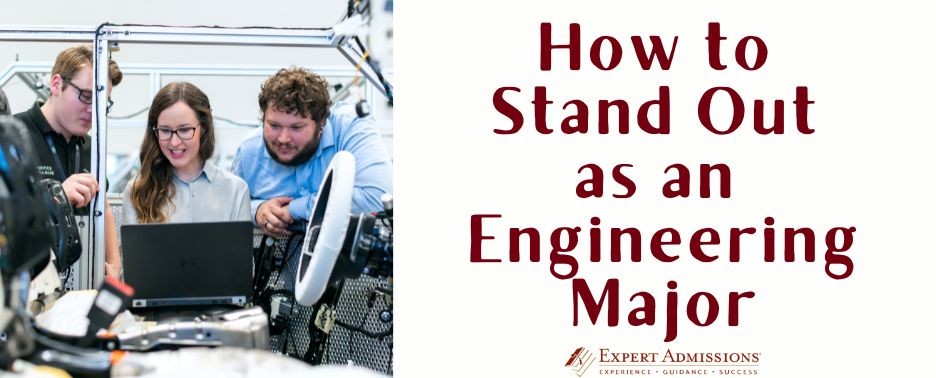 Engineering is one of the most popular majors among college students. According to the American Society for Engineering Education, around 140,000 to 200,000 students in the U.S. obtain a bachelor's degree in engineering each year. And with many universities hosting separate schools of engineering, standing out in a competitive applicant pool might seem overwhelming. Here are some suggestions to help you distinguish yourself both inside and outside the classroom.
Rigorous course load and strong letters of recommendation
Choose your classes wisely. Admissions officers will want to see you challenge yourself—particularly in STEM classes—as well as succeed in them. If your school offers AP classes, take courses such as AP Physics, AP Chemistry, and AP Calculus BC. If you're pursuing the IB diploma, take Higher Level Physics, Chemistry, and Math.
You should ask a teacher in one of your science or math courses to write one of your letters of recommendation for college. A STEM instructor can speak to your prowess in their classroom as well as talk about your potential to succeed as an engineer.
Gain research or lab experience
Research is often one of the most effective ways to immerse yourself in any field, including engineering. Seeking out research opportunities outside of school shows your initiative. Look for research internships for high school students, especially over the summer, or find a lab or a research center at a local university and talk to a professor about joining their team. You might even find an opportunity in the specific niche within engineering that interests you. Not only will you learn a lot about the topic you're researching, you'll also have an impressive experience  to add to your Common App activities list. 
Start your own initiative 
If it's difficult to find a local lab or center that accepts high school students, you can take matters into your own hands and start an initiative using the resources you have around you. You could start your own robotics club or open your own maker space in a spare room and invite friends to collaborate on projects. If you're interested in chemical or environmental engineering, carry out an experiment using samples from a local ecosystem. You can then record your findings and write a research paper. Colleges appreciate leaders who aren't afraid to take charge, so don't hesitate to think outside the box.
Attend Engineering/STEM Pre-College Programs
Engineering summer programs, usually hosted by colleges and universities, offer high school students the chance to engage in the sciences and apply their knowledge of STEM toward real-world problems. These programs are a productive way to spend your school breaks while gaining research experience. You can also receive mentorship from engineering professionals and esteemed professors. Some well-known and competitive programs include Research Science Institute, Engineering Summer Academy at Penn, Smith College Summer Science and Engineering Program, Stony Brook University Garcia Summer Research Program, and California State Summer School for Mathematics & Science (COSMOS). Applications for these pre-college programs are often due between December and February, so plan ahead!
Engineering/STEM competitions
Engineering is a collaborative field. Showcase your teamwork skills by recruiting classmates or friends interested in engineering to participate in competitions together. Engagement in such contests provides you with the opportunity to conduct research in important scientific fields of study, work together to present your results, and win prize money that can allow you to continue your research beyond the competition timeline. Some STEM competitions you can look into are Regeneron Science Talent Search, the International Science and Engineering Fair (ISEF), MIT THINK Scholars Program, and FIRST Robotics Competition. 
Be specific in your application essays
Colleges often ask you to write a "why this school?" or "why this major?" supplemental essay. Such prompts provide you a chance to elaborate on your interest in engineering. You can also use them to go into detail about how a particular school can help you in your engineering pursuits. For example, Cornell's College of Engineering asks:
How do your interests directly connect with Cornell Engineering? If you have an intended major, what draws you to that department at Cornell Engineering? If you are unsure what specific engineering field you would like to study, describe how your general interest in engineering most directly connects with Cornell Engineering. It may be helpful to concentrate on one or two things that you are most excited about.
To respond to a prompt like this, elaborate on what your interests and goals are within engineering. Connect those interests to the unique resources and opportunities available at this school. Which major stands out to you? Why do you want to pursue that major at this college, rather than anywhere else? Conduct thorough research and find facilities that only this university's engineering school can offer you, both inside and outside the classroom, and avoid general statements that can apply to any college. Make sure that you're connecting your interests in the school's engineering program to your own experiences. Diving deeper into your goals and prior activities will let admissions officers know that your interests in the field and the school are genuine.
As with any competitive major, colleges want to know that applicants have made the most of the resources available to them and honed their skills and interest in the subject. Continue working hard and taking initiative so that by application season, you can stand out among fellow engineering students.