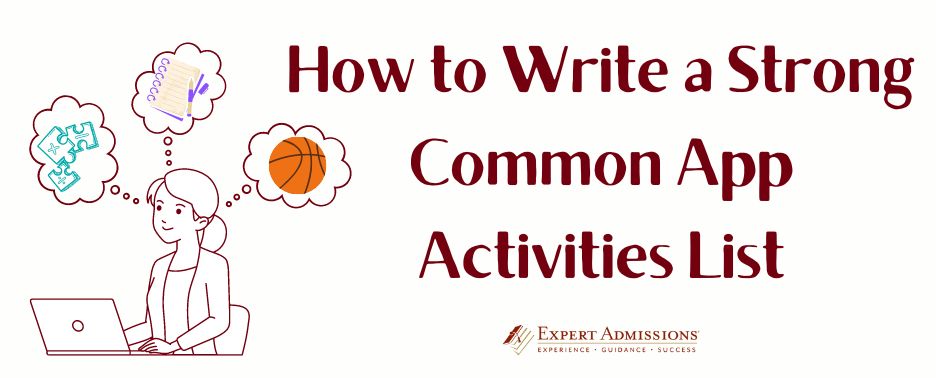 Extracurricular activities are a crucial way for colleges to get to know applicants better. On the Common App, this is known as the Activities list. The Activities section asks you to take stock of the activities you've been involved in and describe each one in a compelling and succinct way. Here are some pointers for building a strong Activities list:
Think Big.
There are plenty of extracurricular activities that are obvious shoe-ins for the Activities list. These include music, athletics, theater, and clubs (in or out of school). As you brainstorm ideas for your list, you'll want to include any of these types of activities that you've meaningfully participated in. But you'll also want to consider less-obvious activities that show who you are and what you value. For example, have you helped care for younger siblings or elders in your family? Have you had a job or volunteered with a community organization? Do you have a fascinating hobby, or speak a second language and act as a translator for family members? All of these activities count and should be included in your list.
Get to know the Activities List.
The Activities list is a bit like a resumé, in that it asks you to show what you did, for how long, and in what capacity. Unlike a resumé, it presents very strict limits on how you convey that information. There is space on the Common App for 10 activities, which you should list in order of their importance to you (from most important to least important).
When putting together your list, you'll find that you'll need really specific information about each activity. To start, you'll choose the type of activity from a dropdown list. Then, you'll write a 50-character description of your position within that activity. Next, you'll write the name of the organization, if applicable, in 100 characters (this field is optional, in case your activity isn't associated with an organization). The next part is probably the most challenging: a 150-character description of the activity. Finally, you'll check boxes and fill in fields indicating how long you've done the activity, how much time you spend on it, and whether you plan to continue participating in college.
You might find it easier to compose the descriptions in a program that allows you to count characters, like Google Docs or Microsoft Word, and then copy and paste them into the Common App. You can also write them directly into the App. You don't need to use complete sentences; a series of active-verb phrases that communicate your role within the activity will work perfectly well. (For reference, the previous sentence is 146 characters!) 
Keep the focus on you.
As you're drafting the descriptions of the activities you've been involved in, you may be tempted to simply write about the activity itself. However, what colleges want to know is what you did. And because the space for each activity description is incredibly short, there's no room for extraneous information. College admissions counselors are familiar with a lot of the activities, so unless your activity is unusual in some way, there's probably no need to describe it. The "Activity Type" field in the Common App includes 30 different types of activity, so chances are your activity type is included in that list!
In your descriptions, you need to focus on your role within the activity that you participated in. Highlight any leadership roles you've held and what you contributed. Use active verbs to talk about your involvement (examples: "coordinate monthly food drives;" "attend daily team practice;" "rehearse weekly with band.").
Know what to list and what to leave.
So you've brainstormed all of your activities and are ready to draft your list. Activities should go on your list if they've had a major impact on you, you've taken a leadership role, or you've achieved something you're proud of. After placing the most meaningful activities at the top of the list, consider other pursuits you've undertaken that contribute to the whole picture of who you are. Some of you may have more than ten activities, and others may have fewer, but don't stress about the numbers. Just be honest about how you've spent your time and why it's been important to you.
Some things might come up that actually don't belong on the Activities list, because they'll appear elsewhere in your application. These include classes you took in school or in academic summer programs (these will be listed in your Education section) and Honor societies you're a member of (these go in the Honors and Awards section). If you have received an award of recognition as a result of your participation in an activity, it's fine to include that in your 150-character description!
The Activities section may be short, but don't treat it like an afterthought! It'll take more of your time than you might realize, and you don't want to scramble to fill it out right before your first deadline. If you take your time and complete it thoughtfully, the Activities section can give colleges a great sense of who you are and what motivates you.