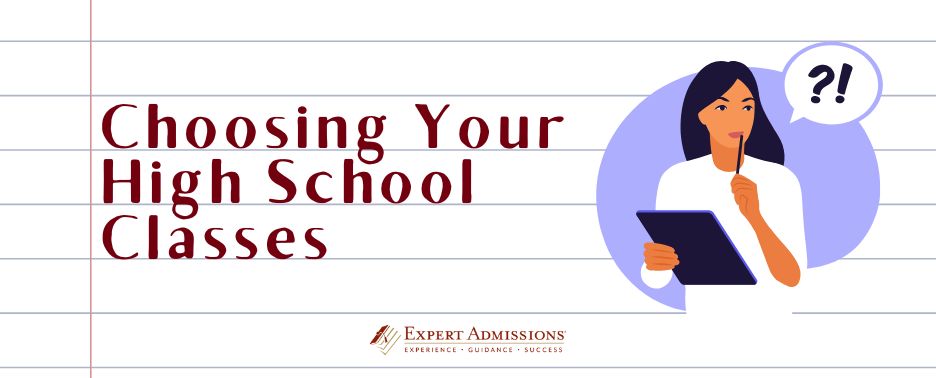 As the spring semester wraps up, it's time to start thinking about what classes you'll take next year. Whether you're about to start high school or you're a rising senior, it's just as important to consider how your course load will set you up for later success. Don't wait until your junior or senior year to think about how your classes look to colleges because your high school curriculum is one of the most important components of the application. In fact, the courses you take in high school can be as important as your grades in those courses. Colleges like to see students taking a challenging curriculum, and you'll need a solid foundation in your first and second years to take on harder classes later.
What classes should I take?
Colleges want to see you take courses in all core subject areas – that's math, science, English, social studies, and a foreign language. Your high school may not require you to take all of these courses for all four years, but you should still push yourself to go beyond the minimum requirements. So, if your school requires only two years of a foreign language, take three or four. If they only require three years of science, consider taking four.
How hard do they need to be?
You'll want to take at least some of the most rigorous courses offered by your high school, whether they're honors, AP, IB, or other advanced classes. But not all schools offer the same choices. If your school doesn't offer AP classes, you won't be expected to take them (or to take AP tests at the end of the year!). Colleges will look at your transcript in context, so if you're taking a course load that's considered rigorous at your school, that's how colleges will see it too.
The name of the game is balance. On the one hand, you shouldn't take easier classes just because you're sure you can make straight As. It will look to colleges as though you're not interested in challenging yourself. On the other hand, don't overload yourself with so many advanced courses that you can't keep your grades up and maintain a healthy lifestyle.
Ideally, the advanced coursework you take should also be balanced across the core subject areas. If that's not feasible, then take a hard look at your strengths and interests. If there's something you know you're good at or that you love enough to pursue in college, take advantage of the deeper and more difficult courses available to you in that subject.
What about elective courses?
Electives are a great way for you to discover interests you didn't know you had. They also give colleges a sense of what makes you different from your peers because you generally have more choice in your electives compared to required core courses. Not every high school will offer the same electives, but here are some typical subjects to consider:
STEM: computer science, statistics, environmental science
Humanities: creative writing, speech and debate, journalism, ethics or philosophy
Social Sciences: psychology, economics, political science
Visual Arts: art history, drawing, painting, photography
Performing Arts: dance, theater, orchestra, band
If you have a strong interest in a subject not offered at your school or want to take a more challenging class than is possible within your curriculum, you're not out of luck! Taking classes at a local college is a great way to explore niche courses that you think you'll love. You can also ask to pursue an independent project with a teacher at your school.
To make the best choices for your high school classes, you should familiarize yourself early with the offerings at your school and the requirements. When you're first starting high school, talk with the students and teachers about what to expect in upcoming years. As you get to know your school and your interests better, find healthy ways to challenge yourself across the curriculum, and especially in those areas of interest. And, of course, discuss your curricular plan with your college counselor or college advisor!