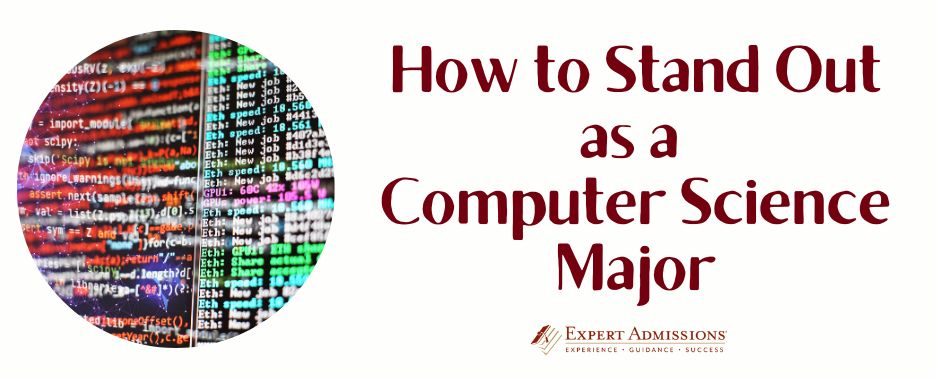 Computer science (CS) is one of the most competitive majors among college applicants. Students gravitate toward it for a variety of reasons, including future career opportunities. So, how do you stand out among peers? Here are some suggestions to help you grow as an aspiring computer science major and enhance your profile both inside and outside the classroom. 
Join CS-related clubs 
Look for clubs in your school that can help hone your skills in the field. This can include robotics club, STEM club, and coding club. Especially when you're still figuring out how you want to spend your time in high school, joining a pre-existing team can help you adjust to your new environment and provide you access to like-minded peers. These clubs can also allow you to sharpen your teamwork skills and eventually become a leader. 
Work on your own initiative or passion project
Since computer science is a highly competitive major, just having robotics or STEM club in your activities list might not help you stand out. You have to show admissions officers that you aren't afraid to step out of your comfort zone. If you have the resources, start your own CS-related initiative. This can include building an app from scratch that serves a specific purpose, hosting a tech conference at your school, helping a company build a website, designing a game, or building a robot or assistive device that solves a problem in your community.
You don't have to do these alone—encouraging friends to join can again allow you to build leadership and teamwork skills. Colleges appreciate self-driven individuals who are able to take charge. So, taking initiative can help demonstrate that you'll be an asset to a campus community.
Computer science competitions
If you have a robotics team in school, you'll probably already participate in local and regional robotics competitions. You can also take it one step further and try national or international CS competitions. They can help you showcase your teamwork skills. Recruit classmates or friends to participate in contests together. Competitions often encourage students to find technological solutions to real world issues—and you can continue working on such projects beyond the competition timeline. Some CS competitions you can look into are Imagine Cup, Congressional App Challenge, American Computer Science League, International Olympiad in Informatics, and USA Computer Olympiad.
Summer programs and classes
Summer programs are a productive way to spend your school breaks while gaining hands-on IT experience. You can also receive mentorship from professionals and esteemed professors as summer programs/classes are often hosted by colleges and universities.
You can take online classes through codeConnects, Kode With Klossy, Girls Who Code, Code Academy, and NextGen. You can also apply to residential summer programs such as Berkeley Computer Science Academy, Carnegie Mellon Computer Science Scholars, Columbia's Coding in Java Pre-College Program, ID Tech Camp at Caltech, Engineering Summer Academy at Penn and UCLA Computer Science Summer Institute. Or, you can look into non-residential, commuter options such as MIT Beaver Works, Google Computer Science Summer Institute, and MIT Women's Technology Program. 
Your options aren't limited to these! You can always register for classes at a local community college and try your hand at a new coding language.
Hackathons
Hackathons, or codefests, are hosted by tech organizations big and small. They bring coders together to build a new software or improve an existing program. These competitions provide opportunities to work as a team against others to complete projects within a time constraint. Participating in a hackathon can give you an entry to your honors section and  a chance to build community and get to know people you can work with in the future.
Study Hard and Make Sure You Have Strong Letters of Recommendation
Choose classes that will showcase your strengths. Admissions officers want to see you challenge yourself—particularly in STEM classes—as well as succeed in them. If your school offers AP classes, take courses such as AP Physics, AP Chemistry, and AP Calculus BC. If you have the opportunity to take AP Computer Science, don't miss out on it.
You should ask a STEM teacher to write one of your letters of recommendation for college. Someone who is a math or science teacher—or a faculty member who is perhaps also in charge of your robotics club—can speak to your prowess in their classroom as well as discuss your potential to succeed as a CS major.
Computer science is an industry that continuously creates new opportunities. You can always find volunteer work at a local hackathon, serve as a mentor for elementary school CS clubs, or work as a paid tutor. Whatever you choose to do, as long as you work hard to pursue your passion in the subject and continue to grow in the field, you will find yourself with an impressive application profile.