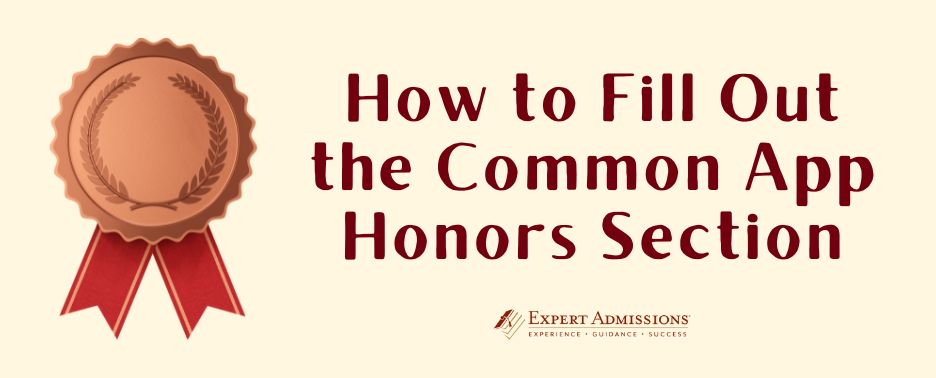 As we enter the summer, one of the ways you can stay ahead of college application season is by opening a Common Application account. Home to more than 1,000 colleges, chances are you will apply to at least one school using this portal. As you start entering your information, you might be confused as you encounter the "honors" part of the Education section.
The honors section offers the following prompt: "Do you wish to report any honors related to your academic achievements beginning with the ninth grade or international equivalent?" This is an open-ended question on purpose. There is quite a bit of flexibility in what constitutes "academic achievement."
The honors section allows you to report impressive awards and accomplishments from the past four years. Alongside the activities list, adding your honors can help admissions officers understand your prowess in different fields inside and outside the classroom.
You'll have 100 characters to describe  each honor/award in as much detail as possible. Use this space wisely. Not all admissions officers will be familiar with all acronyms, especially if it's a niche school award. So, use the character count to go into as much detail as possible with what you mention.
You're also allowed up to five honors total. So, you should list your most impressive awards and group any similar types of awards together. For example, if you've won multiple prizes in the Scholastic Art & Writing competitions, you can group them together; "Scholastic Writing Award: Gold Key x2 (2022, 2021); Honorable Mention (2020)" is a perfectly detailed way of grouping your achievements, while staying under the character limit.
If you're early on in your high school years, it's helpful to know that the Common App asks for this information. Try your hardest to find opportunities and competitions in order to stand out among your peers. It also helps to perform well in school so you can win schoolwide academic awards.
Another question students often ask is: exactly what kind of awards can go into the Common App honors section? This can be a wide range. Examples include:
If you're a STEM student, this could include research papers and journal articles, or if you're more of a writer, it might be published stories or awards from well-known publications.
Awards in prestigious competitions such as AMC, Olympiads, Decathlons, and National History Bowl.
Any schoolwide awards or competitive opportunities such campus representative, "best in Biology," prefect, etc.
Sports/athletic awards, especially if you've won championships at the state or national level or individual awards such as Most Valuable Player.
Community awards such as Eagle Scout or Girl Scout Goal awards. Your community might offer other prestigious prizes for making an impact on those around you.
Music or arts awards/achievements, for example being selected for an exhibition or chosen to perform at a concert at Carnegie Hall.
Well-known national awards, such as National Merit Scholar or AP scholar—with the caveat that these are quite common. Always aim to add more unique honors before adding these.
On that note, the order of how you list your honors matters. Make sure you list your most impressive award first.  
Alongside the title of the honor, the Common App asks you for the following information on each award:
Grade Level – Colleges want to know when you received the honor or award. You have the ability to select multiple grades for each award because you might have won MVP in both 10th and 11th grade. This question also helps you stay aware of whether your list relies heavily on things you did in your freshman year. It's advisable to have a range and add achievements from the last couple of years as well.
Level(s) of Recognition – The Common App allows you to select the scope of the award. You can check any one or more of the boxes between "school," "state/regional" "national," and "international." If you're confused which category your award falls under, you can always double check with the award organizer website or with a representative before clicking one. Don't undersell yourself!
Accomplishing impressive feats in high school isn't enough—you have to know how to articulate your achievements in an impressive way. Mastering the honors section descriptions is an effective way to optimize your profile for colleges. Don't miss out on this opportunity!