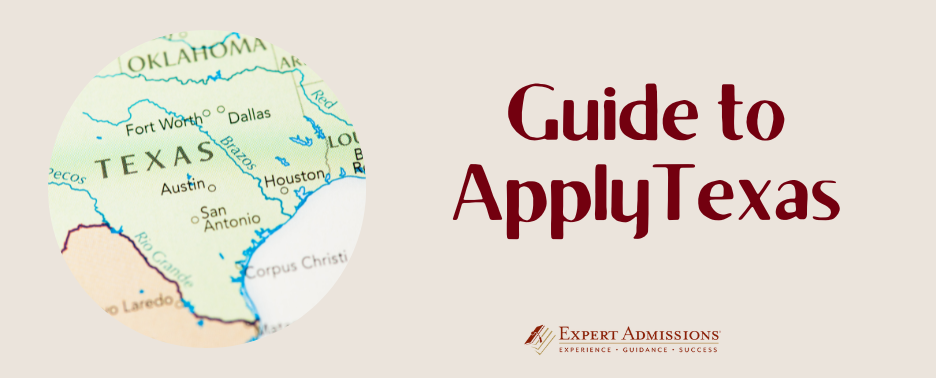 You've most likely heard of the Common Application–the most widely-used platform of its kind–and you may have even heard of the Coalition Application too. However, if you're looking into one or more colleges in Texas, ApplyTexas offers another excellent application option.
ApplyTexas is a portal that streamlines the process for applying to schools based in the Lone Star State. Although many colleges in the state also use other portals, using ApplyTexas can be useful if you are primarily applying to Texas colleges such as UT Austin, Baylor, Texas A&M, Southern Methodist University, Texas Christian University, University of Houston, and more. You can find the full list of ApplyTexas schools in the table below.
ApplyTexas School
Abilene Christian University
Angelo State University
Austin College
Baylor University
Concordia University
Dallas Baptist University
Hardin-Simmons University
Houston Baptist University
Huston-Tillotson University
Lamar University
LeTourneau University
McMurry University
Midwestern State University
Our Lady of the Lake University
Prairie View A&M University
Sam Houston State University
Schreiner University
Southern Methodist University
Southwestern University
St. Edward's University
St. Mary's University
Stephen F. Austin State University
Sul Ross State University
Tarleton State University
Texas A&M University (at College Station, Laredo, San Antonio, Galveston, Central Texas, Corpus Christi, Kingsville, Texarkana)
Texas Christian University
Texas Lutheran University
Texas Southern University
Texas State University
Texas Tech University
Texas Wesleyan University
Texas Women's University
Trinity University
University of the Incarnate Word
University of Dallas
University of Houston
University of North Texas
University of St. Thomas
University of Texas (at Austin, Dallas, El Paso, San Antonio, Tyler, Rio Grande Valley, Permian Basin)
West Texas A&M University
When you first make an account on the ApplyTexas website, you'll be asked to share all of the standard biographical and educational information that other application systems ask for, including your contact info, school, and demographic details.
Once you've filled out all of your biographical information, you can add colleges to your list. Each college then has sections divided into "Freshmen questions" that you'll fill out for most schools, as well as school-specific questions. Freshmen questions are divided into the following categories:
Biographical Information
Education Information/Test Information
Senior Courses
Extracurricular
Community/Volunteer Service
Honors/Awards
Employment/Internships
These sections help admissions officers learn more about the context in which you grew up, how you spend your time outside the classroom, how you've challenged yourself in school, and more. All of these components add up to a bigger picture of you as an applicant. Schools use all of this data to understand your background and interests.
School-specific questions vary from one institution to the next. For example, UT Austin asks about certain coursework that you're required to take in high school as well as whether you're a Texas high schooler in the top 6% of your class—and therefore qualify for their automatic admission plan. On the other hand, Texas A&M asks whether you have participated in any official events hosted by their admissions office since the eighth grade.
ApplyTexas Activities, Volunteer, and Honors Sections 
ApplyTexas allows you to list more activities than the Common App activities list does! Since you are allowed to submit up to 10 extracurriculars, and these do not include community service/volunteering or job experiences, you can strategize to include more information about your commitments. ApplyTexas splits extracurricular activities between community service and employment and internships, allowing you to describe up to eight community service activities. There are also eight slots for you to enter honors, awards, and talents—which is more than the Common App Honors section.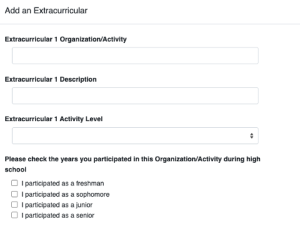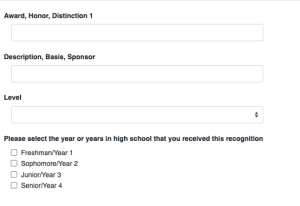 With each entry, you only have 70 characters (including spaces!) to describe your role and impact. There's only room for a single short sentence or phrase, so be very straightforward and use active verbs to highlight your leadership and contributions. Remember that you can always go into detail about your extracurricular involvement in your supplemental essays.
How to Write the ApplyTexas Essays
ApplyTexas has three unique supplemental essay prompts. Depending on the college, you will be asked to answer one or more of the following three questions:
Essay Topic A: Tell us your story. What unique opportunities or challenges have you experienced throughout your high school career that have shaped who you are today?
Essay Topic B: Most students have an identity, an interest, or a talent that defines them in an essential way. Tell us about yourself.
Essay Topic C: You've got a ticket in your hand – Where will you go? What will you do? What will happen when you get there?
Each school asks a different combination of these three prompts—some require all three, some just one or two, and others make specific ones recommended or optional. Even when the essays are optional, it's a good idea to do them—your response will convey who you are and what specific qualities you'd bring to campus. Some colleges even use these essays for both admissions decisions and scholarships. ApplyTexas recommends that you keep each essay between 500 and 750 words in length.
You may notice that these essay prompts are similar to other colleges' supplemental essay topics that ask you to write about things like community, identity, and challenges you've faced. For tips on how to address these topics, see our blog post here.
If you decide to write Essay Topic A for ApplyTexas, highlight the ways in which your chosen opportunity or challenge has shaped who you are, and how you will use your experience to continue growing as a student, classmate, and person.
Essay Topic B is a fairly open-ended opportunity to talk about who you are and convey information about your identity that's not mentioned elsewhere in your application. This could be your ethnicity, culture, languages you speak, sexual orientation, or socioeconomic background, or even an unusual hobby that defines you—anything that you believe plays an essential role in who you are, how you think, and how you act. For advice on how to approach an essay on identity, read more here.
If a college on your ApplyTexas list asks that you write Essay Topic C, use your imagination. The prompt doesn't state that you have to go to a real place—so you can even choose a fictional location! Show admissions officers your personality and how you think. For insight on answering this and other "quirky" essay prompts, see our blog post here.
Alongside four-year institutions, ApplyTexas also allows you to apply to two-year schools and community colleges—you can even return to the App you apply for graduate school in Texas!