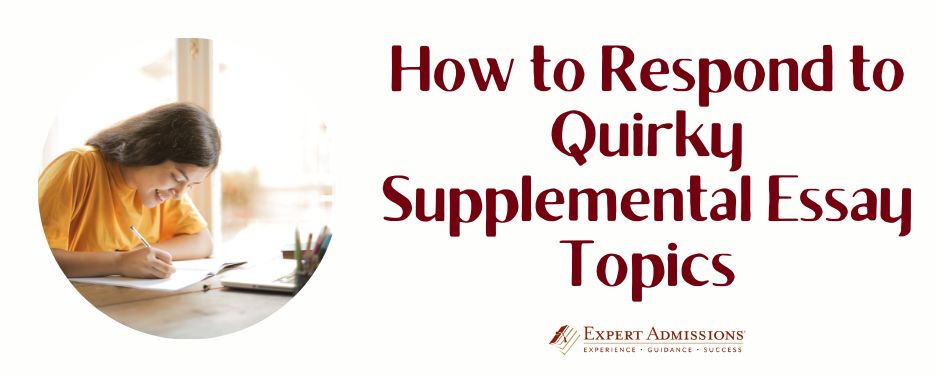 You may be familiar with the most common supplemental essay topics, such as why you want to attend the school, elaborating on an extracurricular activity, or describing a community that's important to you. But some colleges will throw a surprise your way and ask non-traditional or quirky questions. You might find yourself asking, what exactly does the school want to know? Is there one kind of answer that will paint you in a better light than others?
They might seem light-hearted at first sight, but like any other kind of supplemental essays, the quirkier prompts help provide more insight into who you are. Colleges use these responses to learn about your personality and determine whether you're a good fit for their institution. You should respond by being true to yourself and being as specific as possible. Admissions officers want to know what kind of roommate or classmate you would be and how you might gel with the culture of the school.
Let's take a look at some examples of quirky and fun prompts below: 
We're in your hometown. Where should we go and what should we do? This is a chance to tell us more about your hometown. Our staff may even take your suggestions when they are in the area! (75 words) – Elon University
What is the first song you would play for your Oxy roommate on move-in day? (150 characters) – Occidental College
Name one dish you would cook for our admission team. (One word, phrase, or sentence, 200 characters) – Chapman University
Established in Burlington, VT, Ben & Jerry's is synonymous with both ice cream and social change. The "Save Our Swirled" flavor raises awareness of climate change, and "I Dough, I Dough" celebrates marriage equality. If you worked alongside Ben & Jerry, what charitable flavor would you develop and why? (500 words) – University of Vermont
For questions such as the one posed by Elon University that ask about your hometown or a place that's special to you, colleges want to know the kind of community that matters to you. By reading more about where and how you spend your time, admissions officers can gauge how you would take advantage of different spaces on campus. By learning more about you in such an essay, colleges can determine which communities you'd engage with. Let the reader get an insight into your personality, where you like to go, and what you are interested in.
When responding to prompts about your taste in music, movies, TV shows, or food, don't overthink your answer. There's no need to shy away from what you're actually interested in (though, do try to avoid any titles that contain expletives or offensive terminology). You wouldn't be judged for saying you listen to pop music—admissions officers want to hear about what you genuinely like rather than an answer that might sound more impressive. Remember that other students will answer the same question, so try to write an answer that is out of the box and not obvious or common among peers. It's still important to be authentic because the purpose of these essays is to determine your fit. If you think a college wouldn't want the real you, ask yourself if you think it's the best place to spend the next four years.
When schools provide prompts such as the University of Vermont's, they want to see what students value and which causes are important to them. Read the prompt carefully. The question itself hints towards the progressiveness of the school. It can be helpful to look up the college's mission. Where do the school's values lie? What kind of students does it look for? If you are a good fit, chances are, you meet the criteria it looks for in an ideal student. However, don't just copy/paste keywords from the college's website. Discuss topics you genuinely care about, while maintaining consistency with the vibe of the campus community.
Tone is a crucial factor to consider when writing these essays. Research the school and the type of students who go there—look up social media profiles and get a sense of the campus vibe. Different campuses really do have different vibes, even if all colleges aim at educating their students. Some student populations will be more proactive and focus on applying what they learn, while others might be more intellectually curious, interested in learning for learning's sake, and genuinely delight in solving puzzles. Whatever vibe seems like the best fit for you, make sure the tone of your writing expresses that you have the right energy for the campus. And don't let an unusual prompt discourage you from a college that could support your interests and goals!