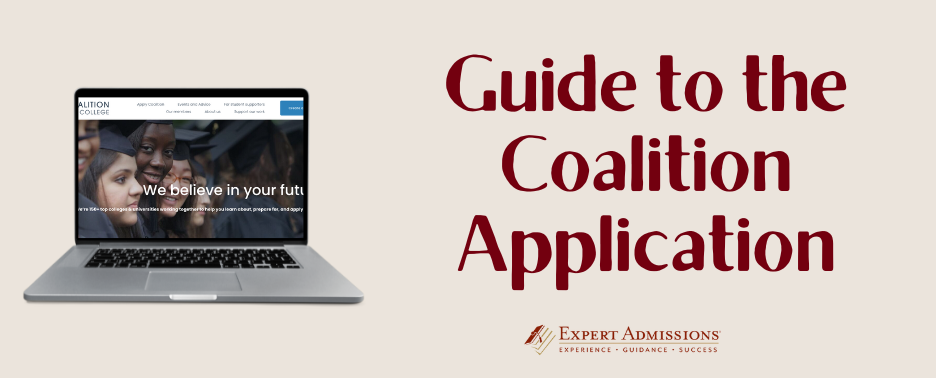 The Coalition Application streamlines the admissions process for high school students applying to  college. While the Common Application is the most well-known and widely-used application system, the Coalition Application is known for its dedication only to including schools that provide a generous amount of need-based financial aid. You can find out more about the differences between the two systems here.
Recently, the Coalition Application has partnered with Scoir, a tool aimed at connecting students, their parents and counselors, high schools, and colleges for a better admissions experience. Through the new Scoir-Coalition interface, you can not only apply to college, but virtually tour campuses, take a "Find Your College Match" quiz, and compare schools on your list. So, the Coalition Application is not just for seniors, but for any high schooler wanting to know about undergraduate options.
Thanks to Scoir, applicants on the Coalition system can also view quick data and statistics for each college, such as acceptance rates, undergraduate enrollment, and average test scores.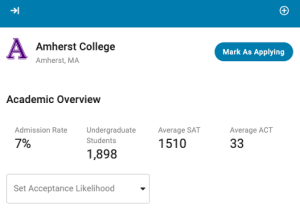 Example data from the Scior-Coalition Interface
130 public and private colleges across the US use the Coalition application, including many that also use the Common App. In order to join the Coalition, member institutions must meet certain criteria, such as a six-year graduation rate of at least 70%. The table below lists all of Coalition's member schools.
School
Allegheny College
American University
Amherst College
Arcadia College
Austin College
Bard College
Bates College
Belmont University
Beloit College
Bentley University
Birmingham-Southern College
Bowdoin College
Bucknell University
Carleton College
Case Western Reserve University
Centenary College of Louisiana
Chaminade University of Honolulu
Claremont McKenna College
Clark University
Clemson University
Colby College
Colgate University
College of the Holy Cross
College of Wooster
Colorado College
Columbia University
Davidson College
Denison University
DePauw University
Drew University
Drexel University
Duke University
Duquesne University
Elmhurst University
Florida Southern College
Franklin and Marshall College
Furman University
Hamilton College
Hanover College
Harvard University
Haverford College
High Point University
Hobart and William Smith Colleges
Hope College
Illinois College
Johns Hopkins University
Kenyon College
Knox College
Lawrence University
Le Moyne College
Lehigh University
Lycoming College
Maryland Institute College of Art
Marywood University
Mercyhurst University
Miami University (Oxford)
Michigan State University
Mount Holyoke College
Mount Marty
NC State University
Northeastern University
Northwestern University
Oberlin College
Occidental College
Oglethorpe University
Ohio Northern University
Ohio Wesleyan University
Pace University
Palm Beach Atlantic University
Pomona College
Portland State University
Princeton University
Quinnipiac University
Reed College
Rensselaer Polytechnic Institute
Rice University
Robert Morris University
Rose-Hulman Institute of Technology
Rowan University
Saint Mary's College of California
Saint Michael's College
Skidmore
Smith College
Southern Methodist University
St. John's College
St. Mary's College of Maryland
St. Mary's University
St. Norbert College
St. Olaf College
Stony Brook University
SUNY at Binghamton
Swarthmore College
Syracuse University
Texas Christian University
The College of New Jersey
The University of Tampa
Trinity University
Tufts University
Union College
University at Buffalo
University of Arizona
University of Chicago
University of Connecticut
University of Delaware
University of Illinois at Springfield
University of La Verne
University of Massachusetts (Lowell)
University of Notre Dame
University of Oklahoma
University of Pennsylvania
University of Richmond
University of Rochester
University of San Francisco
University of the Incarnate Word
University of Vermont
Ursinus College
Vanderbilt University
Wake Forest University
Washington and Jefferson College
Washington and Lee University
Washington University in St. Louis
Wellesley College
Wesleyan University
Western Carolina University
Westminster College
Wheaton College
Whitman College
Willamette University
Williams College
York College of Pennsylvania
Like the Common Application, the Coalition Application allows you to fill out information about your background—including demographics, family, and education. Start by adding a college. The window for your first school will provide you with the sections you need to complete:
1. Personal
Personal Information
Contact Information
Demographic Information
Citizenship Information
2. Family
Family Information
Disaster Impact
3. Education
High School Information
Community Based Organizations
College Information
High School Coursework
SAT/ACT
English Proficiency Tests (if applicable)
Honors & Distinctions
Activities & Experiences
While it may seem like there are a lot of sections to complete, the Coalition App is user-friendly and intuitive. The instructions are straightforward and can help set you up well for a college application process that's as stress-free as possible. However, it can be easy to mix up digits on a phone number or confuse the home address and school address prompts—so after you've filled out the boxes, review your responses before moving on.
Once you have added your information for one college, it will automatically transfer to all of the other colleges on your list that you apply to through the Coalition Application.
The Coalition Application Activities Section 
In the Coalition App, you choose from a drop-down menu of categories:
Academic
Arts
Club
Family
Sports
Volunteer
Work
Other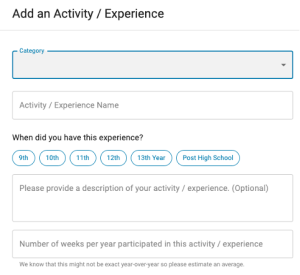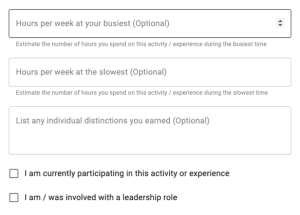 The Coalition Application asks you to start by sharing the two experiences outside of your academic program that are most important to you. It also emphasizes that you should only share experiences and activities that have been "particularly meaningful." As with the Common App,you can add up to a total of ten activities.
When considering which activities to include, think about the ones you've participated in the longest. Consider where you've had the most sustained involvement and leadership position. Even if you haven't held an explicit leadership position, think about the commitments and communities where you've made an impact. Highlight about tangible achievements within your various extracurricular activities. Quantifiable data–such as the number of members you've recruited or the amount of money you've helped raise at a fundraiser–can succinctly help admissions officers understand the results of your hard work. 
The Coalition Application also allows you to add up to five honors—including the title of the award, the grade in which you won it, and the level of the award (high school/local, state, district, regional/state, national, international). Alongside the activities list, adding your honors can help admissions officers understand your prowess in different fields inside and outside the classroom. You should list your most impressive awards and group any similar types of awards together.
Coalition Application Essay Prompts
Tell a story from your life, describing an experience that either demonstrates your character or helped to shape it.
What interests or excites you? How does it shape who you are now or who you might become in the future?
Describe a time when you had a positive impact on others. What were the challenges? What were the rewards?
Has there been a time when an idea or belief of yours was questioned? How did you respond? What did you learn?
What success have you achieved or obstacle have you faced? What advice would you give a sibling or friend going through a similar experience?
Submit an essay on a topic of your choice.
The six Coalition prompts are similar in many ways to the Common App's Personal Essay prompts. When approaching the Coalition application essays, think about which prompt will give admissions officers the best sense of who you are and what you care about. While the suggested prompts serve as helpful brainstorming catalysts and provide you with ideas of what colleges generally look for, they're not your only options. Think about who you are, how you spend your free time, and what matters to you. Don't let the prompts restrict you! You might even start writing about what excites you and end up describing a time you had a positive impact on others. Or, you might write a completely different essay that doesn't fit any of the pre-assigned prompts—in which case you ultimately have gone the "topic of your choice" route.
The Coalition Application not only allows you to apply to college—it offers a number of useful resources that can help you build your college list. Register for an account and explore the different options and search filters (by location, by majors etc.) to navigate the final steps of your list building.  If you set aside time to explore how the app works and take your application process one step at a time, you should be set to take full advantage of all that the Coalition Application offers.