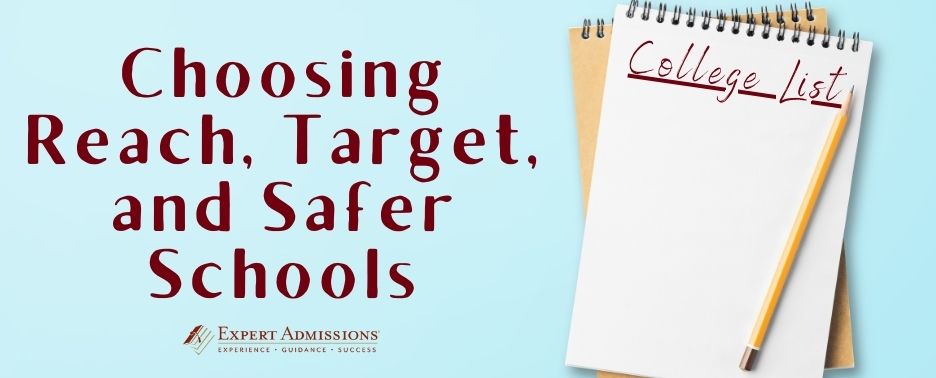 If you're a junior in high school, you're probably thinking about where you'll apply to college. Naturally, you want to choose colleges that you'll be excited about. And you've likely heard of these three categories of schools: "reach" or "dream" schools, "target" schools, and "safety" schools.
But which schools belong in these categories? And how should you begin thinking about the thousands of schools in the U.S. and deciding which ones will make your list?
Applying to college is a complex task. As you build your college list, you want to make sure that the effort you put into each application will be worthwhile. For this reason, each school that you apply to, regardless of category, should be one that you would actually want to attend–a place where you can see yourself thriving for four years. We recommend applying to 8-10 colleges total, with a healthy mix of schools in each of the three categories.
The question of fit is essential as you begin to create your list. Put simply, "fit" is how a college aligns with your academic, social, cultural, and financial needs.
Consider what you want in a college. What do you want to major in? Do you want to live in-state or out-of-state? Do you want to attend a large research university or a smaller liberal arts college? What cultural or social opportunities are meaningful to you? What's your ideal learning environment? Look for schools that offer what you want.
Once you've narrowed in on some schools you feel are a good match for you, choosing "target" schools is a good place to start. Targets are schools where you have a decent likelihood of being accepted based on a few key factors.
Check out the average GPA and standardized test scores of admitted students for the school you're interested in–this information should be readily available online. If your GPA and test scores are within the middle 50% of admitted students, that school could be a great target for you. It's a good idea to have four or so target schools on your list.
Many colleges have gone test-optional for the foreseeable future. A college counselor is a good person to talk to about whether or not to submit test scores to any test-optional schools on your list. If the target school you're looking at is test-blind–meaning they don't look at test scores at all– focus on GPA. Studies (such as this one from UChicago Consortium) find that many colleges consider GPA to be the best indicator of college readiness anyway.
Once you've found some solid target school options, consider what we like to call "safer" (as opposed to "safety") schools. These are schools where your grades and GPA make you an above average candidate for admission. Your safer schools should be those where a denial would be surprising.
So, if you're a great candidate, why don't we call them "safety schools"? We prefer "safer" because college admissions is never an exact science. One factor that impacts admissions decisions is the matter of yield (the number of accepted students who actually enroll). Colleges aim to have a high yield, and some will deny students they find to be overqualified compared to their general applicant pool if they believe there's little chance the student will enroll.
Safer schools are ones where you're more likely to be admitted, but there are no guarantees. As with all of the colleges on your list, your safer schools should be colleges you'd be enthusiastic about attending. Aim for two or three when choosing safer schools for your list.
After gathering your target and safer schools, think about schools that are in the "reach" category–and consider which might be a "smart reach." A school is a reach if your GPA and test scores aren't in the mid-50% or above for admitted students, or if the school has particularly low admit rates. Keep in mind that with more students submitting more applications, admit rates have dropped at many schools, and what might have a target school several years ago could now be a reach.
A smart reach is a school where your grades and test scores are still within the range of admitted students, and where you feel you're a perfect match for the school in terms of vibe and values. Keep in mind that the most selective schools are a reach for everyone, not just you.
If there is a highly selective school that you feel is truly a perfect fit for you, a smart reach can be a great option. Make sure you put in a lot of research so you can write excellent application essays that effectively demonstrate why you're a good fit for the school. And consider applying Early Decision (ED) or Early Action (EA) – early round applications can come with a boost in the likelihood of admission. If you find there's more than one reach school on your list, consider applying Early Action or Early Decision II for those schools, rather than in the regular admission cycle.
Once the hard work of putting your list together is complete, research the schools on your list as much as possible. The more research you do about each school, the better your applications will be. Plus, envisioning all of the different places you could end up can get you pumped for the next step–applications!