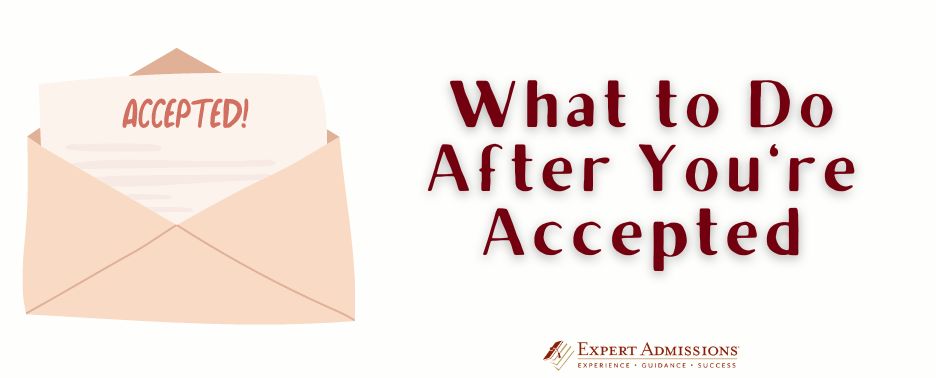 This is a thrilling moment! Your hard work has paid off, you've received offers of admission, and now it's time to take the next steps toward enrollment. Here are some important items to put on your to-do list:
1. Celebrate! You've juggled a lot in your senior year between academics, extracurriculars, and college applications. Give yourself a moment to let it sink in that it was all worth it.
2. Keep your grades up. This is no time to let senioritis set in. Colleges will still see your final high school transcript. They can rescind offers of admission if they see a major decline in academic performance or any major red flags, like disciplinary issues or academic dishonesty.
3. Visit campuses (again). Whether you feel it or not, you've probably grown and changed quite a bit since you first submitted college applications in the fall. Even if you've already visited campuses, it's a good idea to return to the colleges you're considering most seriously now.
Many colleges will have events specifically for admitted students where you'll have access to new ways to explore the campus. Admitted students are often permitted to sit in on classes, eat in the dining halls, make new connections with current students, and even spend a night on campus. Take advantage of these events if you possibly can.
And if you can't go to an admitted student event, you can still plan a productive visit on your own. Be sure to let the admissions office know you're coming and that you've been admitted. They can help you organize a trip that gives you a good sense of what life is like as a student on campus.
4. Review all your options. This includes any waitlist decisions you might have received and weighing financial aid offers, if applicable. You might still have your heart set on a school that's put you on the waitlist, and that's ok. But it's important to get excited about the schools that have accepted you and decide which of those schools best fits your needs and goals.
5. Submit an enrollment deposit. Even if you are holding out for a waitlist decision, it's important to keep in mind that the deadline to submit your enrollment deposit somewhere is May 1. It's unlikely that many schools will see movement on their waitlists before that time. It's important that you secure your spot at a school that has accepted you so that you know you'll have somewhere to go in the fall.
6. Decline other offers. While it's not required that you decline other offers, it's a nice thing to do if you're certain you know where you want to go. If you think you might change your mind before May 1, don't make any hasty decisions. But if you know exactly where you want to go and have accepted that offer, declining your other offers will free up spots on the waitlist at those schools for other students.
7. Keep track of deadlines. There will be a lot of correspondence with your college of choice in the coming months. Make sure you're paying close attention to deadlines. You'll need to accept your offer (and possibly separately accept a financial aid offer) and submit your enrollment deposit. You'll also be responsible for sending final transcripts to the college by their stated deadline.
Make sure you're also keeping track over the summer of any deadlines or forms to complete so that you can sign up for orientation, apply for housing, and take any placement exams that might affect which courses you're eligible to take in the fall.