Expert Admissions hosted a webinar to discuss admissions data and the nuances of applying to public universities. Our hosts were Expert Admissions' head counselor Bari Norman and senior admissions counselor Trish Fairweather Cody. They looked at admissions trends, analyzed the data, and offered advice for potential applicants. Keep reading for highlights from the conversation and watch the webinar above.
When you're looking at admissions data, there are different things to keep in mind with public universities compared to other institutions. Admit rates will be different for in-state and out-of-state applicants; there are often different admit rates within a university depending on the program students are applying to; and state school admissions have become much less predictable in the last few years.
Looking Back
The number of applications to public universities has skyrocketed in the last 30 years. For example, the University of Vermont went from about 8,000 to 30,000 applicants over the last 30 years, and UCLA went from about 22,650 to 150,000.
With more applications coming in, admit rates have fallen.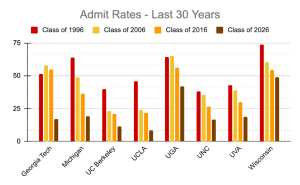 But as shocking as the last 30 years have been, the last two years have seen unprecedented changes in college admissions. There are a number of factors that went into the recent increase in applications at major public universities:
The adoption of test-optional policies (this is the biggest factor).
Because students were unsure about the course of the pandemic, many chose to apply to their local state schools.
Non-pandemic factors also played a role, like joining the Common Application.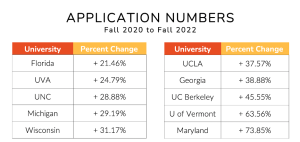 With increased applications, it's been harder for admissions officers to know who will actually enroll. For this reason, universities are being more cautious about admitting highly qualified students who are perceived to be using them as a backup option. We talked about what applicants can do with this information to best strategize for their college lists.
Advice for Applicants
If you're looking at state schools, we recommend you add more schools to your list than we might have in previous years. There's a trickle-down effect to the tightening of admit rates, so what might have been a likely or target school in previous years might be more of a reach now. Make sure you have plenty of schools on your list that are safer options, and think strategically about how you want to use the option to apply Early Decision.
There are other important things to keep in mind, too, about how state school admissions can differ from other institutions:
State Enrollment Mandates
Texas, North Carolina, and others require that a certain percentage of the class be in-state residents (this can be upwards of 90 percent). Many state schools don't have an official mandate (Vermont, Georgia, Michigan). But even without such a mandate, schools will often commit to admitting a certain number of in-state students. Be on the lookout!
It can be very difficult to find specific data for in-state vs. out-of-state admit rates, but the chart below will give you a sense of just how different admit rates can be for these different applicant pools. With an 8% admit rate for out-of-state applicants, UNC has an admit rate similar to an Ivy League university!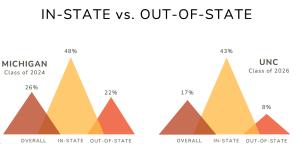 Admissions by Program
Many, if not most, public universities will have different undergraduate colleges for students to apply to (e.g., Arts and Sciences, Business, Engineering, etc.). And even within these schools, some will admit by major or program. Your choice of program can make or break your chances of admission. So, there are important questions to ask yourself before you apply: 
Is it more important to have this major or to attend this school?
How easy is it to transfer into a program once admitted?
We discussed the relative difficulty of applying to different programs, which can range from 50% for liberal arts applicants to 7% for a more competitive major, like computer science. And, yes, this is at the same university, UIUC!
Although we've shared some data here, believe it or not, this just scratches the surface. Our webinar also covered deep dives into admissions data from the University of Michigan, the University of Virginia and the University of Texas, including in-state vs. out-of-state admit rates, Early Decision and Early action admissions, automatic admit policies, and more. For all the details, watch the webinar recording at the top of the page.