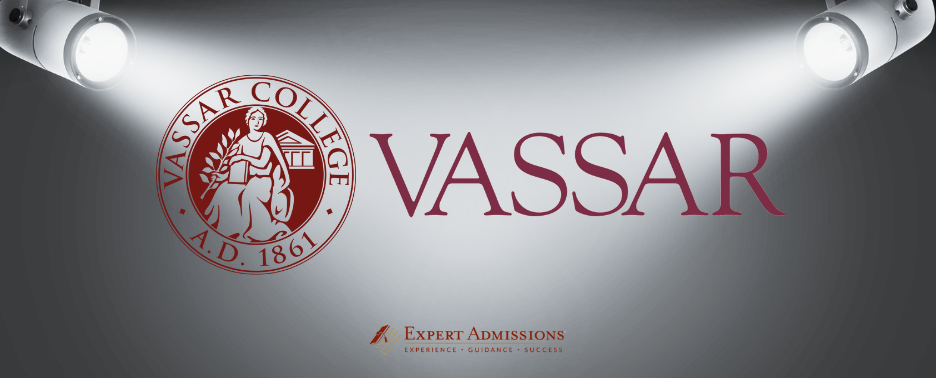 About Vassar College
Location: Poughkeepsie, NY
Undergraduate Population: 2,459
Most Popular Majors: Political Science, Psychology, Economics, Biology, Drama
Demographics:
White 53.6%
Asian/Asian American 12%
Latinx 12%
Multiracial 8.1%
Black/African American 4%
Native American less than 1%
History:
Vassar was founded in 1861 as a women's school called Vassar Female College by Matthew Vassar, an English merchant, brewer and philanthropist. It became the second school to belong to the Seven Sisters—a group of women's colleges in the northeast that includes institutions such as Wellesley and Smith. After only a year, Vassar removed the word "female" from the school's name, leaving some Poughkeepsie residents wondering whether the college would become coeducational. Vassar's first Black student was Anita Hemmings, who graduated in 1897. Despite being of African-American descent, Hemmings was admitted as white, and passed as so until weeks before her graduation. Beatrix McCleary was the first Black person knowingly admitted to Vassar in 1940.
Franklin Delano Roosevelt, who grew up in the neighboring town of Hyde Park, was a Vassar College trustee before he became president. Immediately after World War II, Vassar admitted a handful of male students under the G.I. Bill. After its trustees declined an offer to merge with Yale University, Vassar officially became coeducational in 1969.
The Main Building of Vassar College, built in 1861, is the oldest surviving building on campus. The ALANA Center, which hosts lectures and events, and provides a gathering space for student organizations that support students of color, was established in 1993. Today, Vassar offers 50 majors, 66 minors, and two dual-degree programs across 30 departments. Students may also design their own concentration through the Independent Program.
Notable Vassar College alumni include actress Meryl Streep, computer scientist Grace Hopper, poet Elizabeth Bishop, celebrity chef Anthony Bourdain, and the first Japanese woman to obtain a college degree, Princess Ōyama Sutematsu.
Traditions:
Every Founder's Day, on April 29, the Vassar community celebrates Matthew Vassar's birthday with a concert, carnival rides, BBQ, cupcakes, fireworks, and a movie.
Every year, a group of sophomores are chosen—based on leadership skills, class spirit, and willingness to volunteer—by a committee of the Senior Class Council to carry a 150-foot chain of daisies and laurel, known as the Daisy Chain, at Commencement.
At the end of the spring semester, senior College Government officials pass down a gavel to newly elected officers, and the juniors are hailed as the new seniors. The final step involves the new seniors ringing a bell on top of Vassar's Main Building.
Noteworthy Features:
Students wishing to concentrate in a language other than the ones offered through individual departments have the opportunity to participate in the Self-Instructional Language Program (SILP) which includes courses in Hindi, Irish/Gaelic, Korean, Portuguese, Swahili, Swedish, Turkish, and Yiddish.
Since Vassar doesn't have Greek life, the primary social scene on campus emerges through film screenings, lectures, concerts, and small parties hosted in senior apartments or townhouses.
The Undergraduate Research Summer Institute offers stipends for students to work one-on-one with faculty members on scientific projects either on or off campus, while the Ford Scholars program offers opportunities for student/faculty collaboration in the humanities and social sciences.
Admissions Profile
Average GPA: Not reported
Test Scores (mid-50% range): 1440-1510 SAT/32-34 ACT
Admit Rate: 18.7%
Test-optional? Yes
Offers Early Admissions? Yes—Early Decision I and II
Supplemental Essays
Vassar's Required Essay Prompts:
            We would like to get to know you better, especially on a more individual level. In replying to either prompt below, you are welcome to touch on any unique ability or aspect of your background – be it your race/ethnicity, socio-economic background, religious tradition, gender, geographic area that you have been raised in, personal interests, etc. – that demonstrates how you may contribute to Vassar. Please respond to one of the following prompts in 300 words or less.*
At Vassar, we aim to foster an inclusive community through our philosophy of engaged pluralism. Engaged pluralism is rooted in "the conviction that collaborating across differences is necessary for social transformation and critical for the well-being of any community and its members." In short, we believe it's our differences that make us stronger. Tell us a little bit about an important part of your identity and how it has shaped your life and/or interactions with others.
Vassar is a diverse community that inspires positive change through open inquiry, deep dives into society's most difficult challenges, and collaborative problem solving. We care deeply about one another, the communities that have forged us, and the community we build together on campus. Tell us about the community (or communities) you come from and how it has shaped your lived experiences and identity.
Vassar asks you to either write an essay about your identity and background or respond to a prompt about a community that has been important to you.
If there are aspects of your identity (such as race, religion, or sexual orientation) that have shaped you and who you are in meaningful ways,option one is a good choice. Consider what you want colleges to know about you. No matter what you write about your background, your response should help Vassar admissions officers understand where you come from, what experiences have been meaningful to you, and how you'll contribute to the diversity of the campus community. Don't just mention what your background is—talk about how it has shaped you and your perspective.
If you'd rather write about a community that has been formative to your experience, find ways to focus on your place within the community. How long have you been involved? What is your role in this group? Why does this community matter to you? What kind of problems have you solved? Have you learned any skills that you've applied in other aspects of your life? You could elaborate on one narrative that showcases the difference you make, or you could include a number of events that demonstrate the progression of your growth. In either case, focus on the impact that you've made on the place or the people. Vassar uses this type of supplemental essay to gauge what kind of community member you are and how you'd contribute to the campus environment.
For more tips on common supplemental essay prompts, see our blog post here.