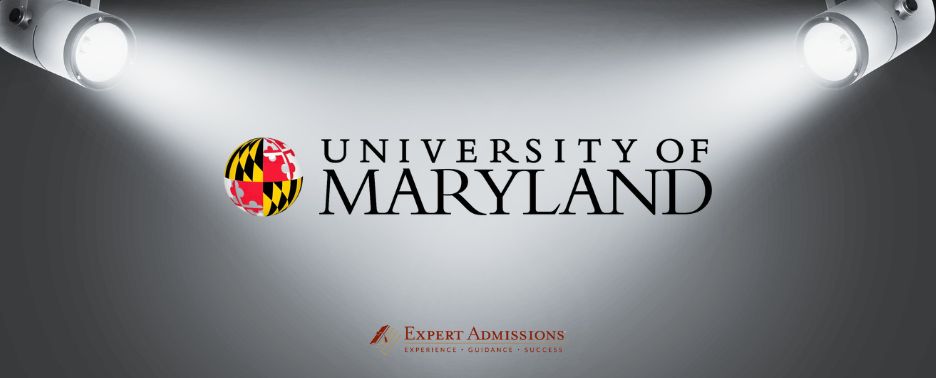 About The University of Maryland
Location: College Park, MD
Undergraduate Population: 30,353 
Most Popular Majors: Economics, Biological Sciences, Computer Science, Mechanical Engineering, Criminology & Criminal Justice
Motto: "Strong deeds, gentle words"
Demographics:
White 41.6%
Asian/Asian American 22.3%
Black/African American 12.6%
Latinx 10.3%
Multiracial 4.8%
Native American less than 1%
History:
The University of Maryland (UMD) was first chartered by Charles Benedict Calvert as the Maryland Agricultural College in 1856. Calvert, a descendent of Lord Baltimore, established the college at his estate near College Park and served as the school's first president; he later went on to represent Maryland in the United States Congress. Events surrounding the Civil War and financial issues nearly shut down the college in the 1860s, and it became partly owned by the state of Maryland in 1866 as a means of staying afloat. The state took full control of the college in 1916, renaming it Maryland State College (and opening its doors to female students).
In 1920, the college joined the already-established University of Maryland system, becoming the system's primary undergraduate campus. Enrollment at the school grew to over 10,000 students by 1951, the year Black students were first allowed to enroll (before that year, many Black students had attended the University of Maryland's Eastern Shore campus, a long-established HBCU.) In 1957, Queen Elizabeth II of England attended a football game–her first and only–at the University of Maryland, watching the Terrapins face off against the North Carolina Tar Heels (Maryland won 21-7). The College Park campus was officially designated as UMD's flagship in 1988. A record-breaking endowment of $219.5 million was given to the university in 2017 by the A. James and Alice B. Clark Foundation, one of the largest philanthropic donations to a public university. The University of Maryland is now home to thirteen colleges and schools, and its undergraduates can choose from 127 degree programs.
Notable University of Maryland alumni include comedian Larry David, puppeteer Jim Henson, broadcast journalist Gayle King, U.S. congressional representative Eric Swalwell, and NASA aerospace engineer Diana Trujillo.
Traditions:
In front of McKeldin Library, students rub the nose of Testudo the terrapin, a bronze statue and the university's mascot, for good luck on exams.
Maryland Madness, a tradition dating back to 1971, takes place on the UMD campus every October. The event features dance performances by UMD's basketball team and slam dunk and three-point shooting contests.
Each spring, UMD hosts Art Attack, a day of outdoor student activities on McKeldin Mall and in the Stamp. Vendors set up booths selling crafts and goods, and big-name concerts are held at UMD's Byrd Stadium.
Noteworthy Features:
UMD's required General Education program begins with two interdisciplinary I-Series courses, which "aim to examine the ways in which diverse intellectual traditions and disciplinary protocols" address significant social and cultural questions.
Freshman eager for research experience can join UMD's First-Year Innovation and Research Experience (FIRE) program, which lets students join faculty-led research groups for research and mentorship experiences.
The Individual Studies Program (IVSP) allows students to create their own interdisciplinary major combining three or more areas of study. Recent IVSP majors have included titles like International Relations and East Asia; Education and Social Change in Latin America; and Healthcare Management for Diverse Communities.
Admissions Profile
Average GPA: 4.43
Test Scores (mid-50% range): 1370-1510 SAT/ 31-34 ACT
Admit Rate: 44.5%
Test-optional? Yes
Offers Early Admissions? Yes–Early Action
Supplemental Essays
The University of Maryland's required essay prompts:
At the University of Maryland, we encourage our students to go beyond the classroom to engage in opportunities that further both their academic and personal growth.
To tell us more about yourself, please complete the following prompts using only the space provided (650 characters).
If I could travel anywhere, I would go to…
The most interesting fact I ever learned from research was…
In addition to my major, my academic interests include…
My favorite thing about last Thursday was…
Something you might not know about me is…
These short responses invite applications to offer–in a few short sentences–a combo-platter of information about themselves, ranging from the highly personal (what was your favorite thing about last Thursday?) to the strictly academic. These questions ask you to be candid about your personality while communicating what fires you up intellectually. Although they're short, each response deserves careful consideration. Take plenty of time to craft sentences that answer each question fully, honestly and authentically.
Because we know that diversity benefits the educational experience of all students, the University of Maryland values diversity in all of its many forms. This includes (but is not limited to) racial, socio-economic, gender, geographical, and sexual orientation. We are interested in hearing about your own individual life experiences. In a few sentences, will you please describe how you have learned, grown, been inspired or developed skills through one or more components of diversity. (650 characters)
This essay prompt, which has been added this year (and in light of the US Supreme Court's ruling on affirmative action in college admissions) asks applicants to articulate their experience of diversity, in whatever form it takes. It's a great idea to be honest and genuine for this response, and to think outside the box–diversity takes many forms, so don't feel that your experience of diversity won't fit what the college is looking for. Whether you write about your own background and identity or your experience in a diverse community and what you've learned, you can learn more about how to approach an essay prompt like this one on our blog post here. Also, check out our tips on common supplemental essay prompts.