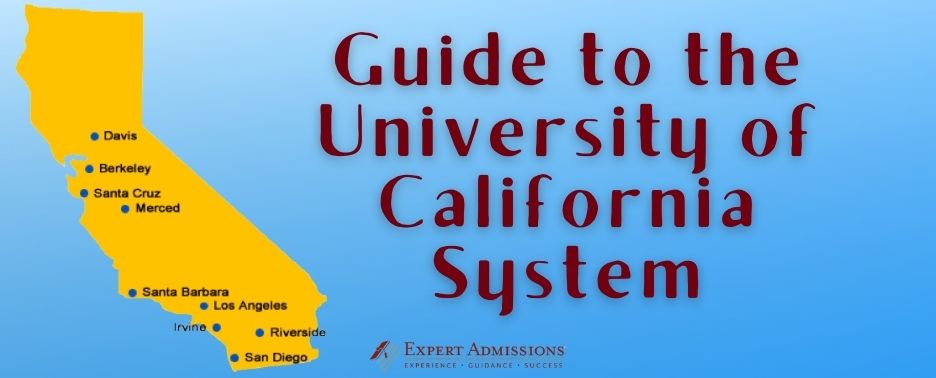 Marine Biology. Agriculture. Greek life. Surfing. Cognitive psychology. The University of California is one of the most diverse and dynamic public university systems in the world; if you can think of it, it's probably possible at one of the UC campuses. Navigating the nuances of each of these schools can feel daunting. We are here to help you get a sense of what sets the UC schools apart from each other, and what's unique about each campus.
Although each UC campus is distinct from every other, they do all share some core similarities. Nine of the ten UC schools (UCLA, UC Berkeley, UC Irvine, UC Riverside, UC Davis, UC Merced, UC Santa Barbara, UC Santa Cruz, UC San Diego) are large public research universities with both undergraduate and graduate programs (UC San Francisco hosts only graduate programs in the medical and biological field). With the exception of UC Berkeley and UC Merced, all of the UCs operate on the fast-paced quarter system. They're all governed by the Regents of the University of California, a board whose members are appointed by the Governor. The University of California system is entirely separate from California's State University system.
Another key similarity among the UCs is that they're all test-blind for 2023 and 2024; this decision by the UC Regents comes on the heels of the system's test-optional admissions policy starting in the fall of 2021. All of the UCs offer relatively affordable tuition for in-state students. Beyond those similarities, the UCs are quite diverse in terms of selectivity, school size, and popular majors.
UC Campus
Number of students
In-state admit rate
Out-of-

state Admit Rate

GPA*
Popular

Majors

In-state tuition
Out-of-

state tuition

UC Berkeley
30,005
14.47%
11.71%
3.9
Engineering Science, Computer Science, Biological Sciences
$41,034
$70,788
UC Davis
30,186
32.30%
59.33%
4.00
Biological Sciences, Economics, Psychology
$36,981
$66,735
UC Irvine
28,737
18.46%
36.96%
3.00/

3.40

Social Ecology, Health Sciences, Cognitive Science
$33,765
$63,519
UCLA
31,309
9.19%
8.89%
3.93
Social Science, Biology, Psychology
$35,516
$65,270
UC Merced
8,194
92.46%
74.83%
3.64
Biological Sciences, Computer Science and Engineering, Psychology
$37,617
$67,371
UC Riverside
22,069
66.87%
84.07%
3.94
Sociology, Biology, Business Administration
$36,867
$66,621
UC San Diego
32,305
24.13%
31.33%
4.13
Biological Sciences, Cognitive Science, International Studies
$33,317
$63,071
UC Santa Barbara

22,244

26.69%

28.79%
4.18
Mathematics, Sociology, Biological Sciences
$36,741
$66,495

UC Santa Cruz

17,087
43.06%
69.28%
3.89
Marine Biology, Computer Science, Cognitive Science
$37,189
$66,943
* Schools did not indicate if admissions GPAs were weighted or unweighted.
Beyond the statistics, these colleges offer academic, cultural, and social features that make each campus unique.
UC Berkeley: The oldest of the UCs, Berkeley was founded in 1868, and has become one of the most academically rigorous colleges in the nation. Located in a vibrant mid-sized city in the Bay Area, Berkeley is known for its world-class engineering, architecture, STEM, and business programs–and its radical political and social roots.
UC Davis: Students who are passionate about all things agricultural are drawn to Davis, where programs in viticulture, veterinary sciences, biology, and environmental science are front and center. The campus' home in a small suburb of Sacramento is known for its extensive bike paths and warm, diverse community.
UC Irvine: Irvine's inviting modern campus in Orange County hosts everyone from ambitious premed students to those seeking the school's unique Social Ecology program. One of the newer UC campuses, Irvine offers plenty of amenities, including close proximity to Los Angeles and beaches to the west, and ski mountains to the east.
UCLA: Famous for being the most applied-to college in the US, UCLA had earned its ultra-desirable reputation. Students aiming for the best education in fields ranging from STEM to the performing arts are drawn to UCLA, which is nestled in an almost ridiculously beautiful part of Los Angeles–right between Bel Air and Beverly Hills.
UC Merced: Situated in the heart of the San Joaquin Valley, UC Merced serves a diverse population in a large, mostly-rural region of Central California. Founded in 2005, UC Merced is the youngest of the UCs and has the smallest student population, but is home to more underrepresented minority and first-generation college students than any of the other UCs. Students gather at Merced's open campus to study a range of fields, from biology to computer science.
UC Riverside: If you're looking for a low teacher-student ratio, UC Riverside may be the UC for you. The student-focused curriculum at UC Riverside attracts students from diverse backgrounds to UCR's inland desert campus. Strong programs in subjects such as plant biology have allowed UC Riverside to make major contributions to California's agricultural industries.
UC San Diego: Beach lovers and budding cognitive scientists converge–and often overlap–at UC San Diego, known for its ocean vistas and challenging academic programs. Owing to its unique offerings (such as the Scripps Institution for Oceanography), excellent reputation in the sciences, and gorgeous campus, applications to UC San Diego have risen in recent years.
UC Santa Barbara: Like San Diego, UC Santa Barbara boasts exquisite beaches and renowned ocean sciences programs to match. Those seeking a party school come to Santa Barbara for its lively social scene, but the college also attracts creative types with its College for Creative Studies and those passionate about STEM subjects.
UC Santa Cruz: Following its origins as a progressive, alternative educational institution in the 1960s, UC Santa Cruz is still a draw for students interested in breaking the mold and forging their own creative educational path. The school's crunchy reputation is equally matched, however, by students' seriousness about subjects such as marine sciences and engineering.
Whether your passion is in the sciences, humanities, or something totally innovative (Dutch Studies at UC Berkeley? History of Consciousness at UC Santa Cruz?) it's likely that the University of California has something to spark your interest. The combination of academic rigor and public-school value makes the UC system truly one of the most remarkable higher education systems around.