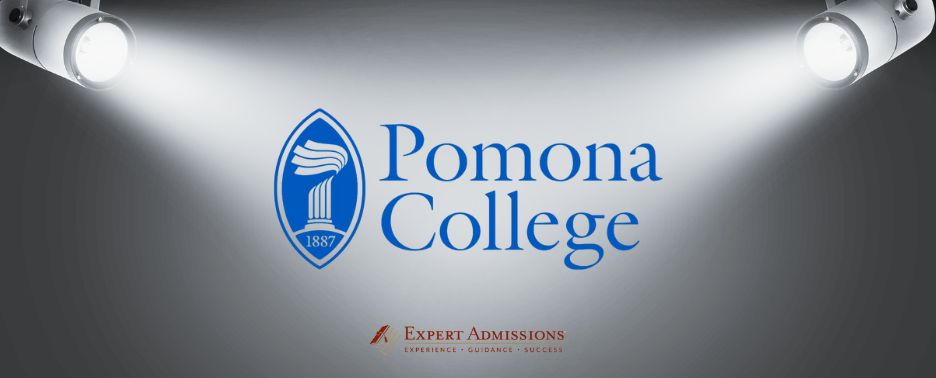 About Pomona College
Location: Claremont, CA
Undergraduate Population: 1,791
Most Popular Majors: Economics, Mathematics, Computer Science, Neuroscience, Public Policy Analysis, International Relations 
Demographics:
White 32%
Asian/Asian American 17.6%
Latinx 11.8%
Black/African American 9.7%
Multiracial 8.3%
Native American less than 1%
History:
Pomona College was founded as a coeducational and nonsectarian Christian institution in 1884 by a group of Californian Congregationalists, who were inspired by the style of their own New England-based alma maters. Students first started their classes at Ayer Cottage, a rental house in Pomona, California, on September 12, 1888—hence the name of the college. Initially, a permanent campus was planned at Piedmont Mesa, four miles north of Pomona. However, when a real estate crisis occurred, the college was offered the site of an unfinished hotel in the nearby town of Claremont, which had just been founded. Despite the move, Pomona kept its name. Pomona admitted its first Asian student in 1897 and its first Black student 1900. In 1911, with the rise of more high schools in the Claremont region, Pomona eliminated its preparatory department, which had taught pre-college courses. In 1912, it adapted a liberal arts model upon turning its previously separate Schools of Art and Music into departments within the college itself. On October 14, 1925, as part of Pomona's 38th anniversary celebrations, the school founded the Claremont Colleges consortium, joining forces with Claremont Graduate University, Scripps College, Claremont McKenna College, Harvey Mudd College, Pitzer College, and Keck Graduate Institute.
During World War II, Pomona hosted an Air Force military meteorology program. It also offered Army Specialized Training Program courses in engineering and foreign languages. Postwar transformation at Pomona included the termination of gender-segregated residential life, the addition of Black and Latino studies programs, and the establishment of the Pomona College Women's Union. The  school has seen an increase in enrollment of students from low-income backgrounds since its 2008 decision to meet the full demonstrated financial needs of students through grants instead of loans. Pomona has also committed to reducing its environmental impact through various sustainability initiatives.
Notable Pomona College alumni include country singer, songwriter, and actor Kris Kristofferson, civil rights activist and journalist Myrlie Evers-Williams, Tony Award-winning playwright and director George Costello Wolfe, American educator and politician Christina Garcia, and professional tennis player Darlene Hard.
Traditions:
When plastic cups are dropped in Pomona's Frary Dining Hall, they create a loud clattering sound due to the acoustics of the room. Whenever someone accidentally drops one of these cups, everyone else in the dining hall has to finish their drink.
As part of Pomona's 10-day orientation, first-year students spend four days off campus completing an "Orientation Adventure" or "OA" trip. Activities range from backpacking in Sequoia National Forest to sea kayaking in Channel Islands National Park.
Each spring, Pomona students take advantage of the college's location near the Pacific Ocean and the San Gabriel Mountains to host an annual "Ski-Beach Day," where students go skiing in the mountains in the morning and then board a bus and spend the rest of the day on the beach. The tradition dates back to 1891.
Noteworthy Features:
Pomona's General Education requirements are known as "Breadth of Study." Students must take one course in each of six areas: criticism, analysis, and contextual study of works of the human imagination; social institutions and human behavior; history, values, ethics, and cultural studies; physical and biological sciences; mathematical and formal reasoning; and creation and performance of works of art and literature.
Approximately 50% of Pomona students participate in an off-campus study program before graduating. This includes study abroad opportunities as well as access to colleges within the US. Students can choose to spend a semester at Colby or Swarthmore, pursue a 3–2 engineering plan with Caltech or Dartmouth, or spend a semester in Washington, D.C., interning for a congressperson.
98% of Pomona students live on campus in co-ed, student-governed dorms. The South campus dorms are family-like and quiet, offer spacious rooms, and house freshmen and sophomores. The residence halls on the North campus, which house juniors and seniors, have smaller rooms with a livelier social scene.
Admissions Profile
Average GPA: Not reported
Test Scores (mid-50% range): 1480-1540 SAT/ 33-35 ACT 
Admit Rate: 7.02%
Test-optional? Yes
Offers Early Admissions? Yes–Early Decision I and II
Supplemental Essays 
Pomona College's required essay prompts:
What do you love about the subject(s) you selected as potential major(s)? If undecided, share more about one of your academic passions. (limit 150 words)
This is a classic example of a "why major" prompt. To make sure your essay aligns with the school's offerings, log on to Pomona's website. Take some time to look at the major you're interested in, and then write a response that shows what you love about that particular subject. Use the 150 words to let the school know how you've explored your interest in the field so far—and how you hope to continue pursuing it.
Short-Response Essay: choose to respond to one of the following three prompts in 150 words or less:
At Pomona, we celebrate and identify with the number 47. Share with us one of your quirky personal, family, or community traditions and why you hold on to it.
What item are you excited to bring with you to college?
Describe a time when you felt empowered or on top of the world.
Quirky prompts like these might seem light-hearted at first sight, but like any other kind of supplemental essays, they help provide important insight into who you are. Admissions officers want to learn about your personality and determine whether you're a good fit for Pomona. Choose whichever question can help them learn most about you, and respond in a way that's honest, clear, direct and shows your personality. You can learn more about tackling quirky supplemental essays in our blog posts here.
Longer-Response Essay: choose to respond to one of the following three prompts in 250 words or less:
In the past few years, is there something you have changed your mind about? Why?
Reflecting on a community that you are part of, what values or perspectives from that community would you bring to Pomona?
What strength or quality do you have that most people might not see or recognize? 
For this essay, think about which prompt would best highlight your strengths. If you have made an impact on a community that you belong to, you could write about your place within it, how long you've been involved, and any skills you've learned that you'll carry with you. Choose the first prompt you've had a difficult conversation that has changed your perspective in a meaningful way.Or, if you want to elaborate on a strength that doesn't fall under the categories of either of the first two prompts—and hasn't appeared in the rest of your application—address it in the third question. Regardless of which option you choose, write your response in a way that allows the reader to easily imagine you on campus.
For more tips on common supplemental essay prompts, see our blog post here.