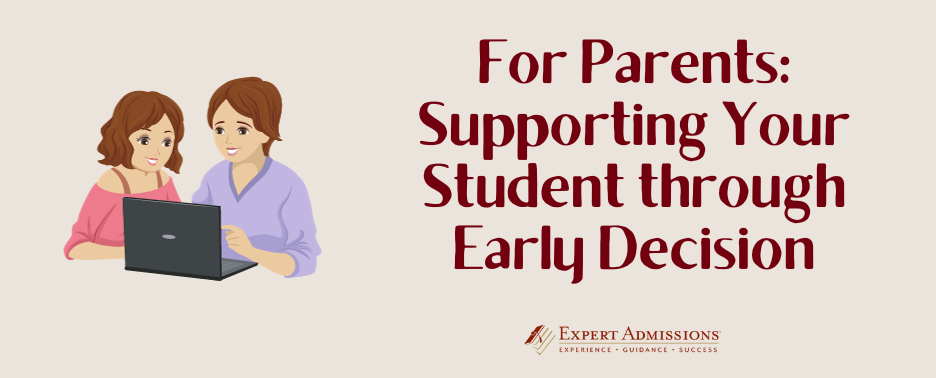 October is a stressful month for high school seniors. For those applying to college early decision or early action it's the time to finalize all materials, as November 1 is the early deadline for most schools. As your teen navigates this crucial period, you may be wondering how you can best support them. With strategic planning and preparation, you can help  your student to have the least anxiety-inducing early application experience possible. 
Create a timeline
Since there are numerous components to the college application process, it's important to be organized throughout the upcoming months and keep track of all the moving pieces. Help your student continue to stay on top of deadlines by creating a calendar or timeline of important dates. You can also help them make a spreadsheet to ensure that they have all of the required materials for each school, from letters of recommendation to supplemental essays.
Complete final campus tours 
Toward the beginning of October, some students may still be deciding between two ED schools. Or, they might be narrowing down their EA options. A campus visit, if manageable for your family, can go a long way toward helping make those crucial final calls.Seeing a campus for a second time (or perhaps the first time) can help solidify whether or not your student  can picture life as a student at the college. Since fall semester has started, your student can even see if they can sit in on a class in their major. If in-person visits are doable, try a virtual info session or campus tour. 
Ensure standardized testing is all set 
If your student is taking the October SAT or ACT, assist them in doing at least one timed practice test. After they've taken a full practice test in the real allotted time, sit down with them and score the test (and make sure to congratulate them on their progress!). Take a close look at the questions your teen got wrong or skipped, and devote extra time to studying in those areas. On test day, make sure they've had plenty of rest and a nutritious breakfast. Encourage them to take a break (for a stretch or a snack) when offered during test time. You can read more about supporting your student through standardized tests here.
Check in on essays
Your student should have a polished Common App essay by now. However, they might still be working on the school-specific supplemental essays. It's important that these show why your student is a good fit for each individual college. Check in to make sure they have enough time to complete multiple drafts of their supplemental essays. Support them in the editing process by proofreading or having them read their response out loud to you. 
Review the Common App  
Before your student submits their ED application, sit down with them to review the basic information on their Common Application or Coalition Application profiles. These platforms ask for students' demographic information such as their name, address, contact information, geographical location, languages they speak, and citizenship. They also ask about students' families, including questions about parents' marital status, their professions, their educational background information (including their schools and graduation years), and their employment status. Go through your teen's profile to make sure they've entered everything correctly. Let them know if there are any errors or inaccuracies, and make sure to correct any spelling mistakes!
Sign the ED agreement
Parents have to sign the Early Decision agreement alongside students. This confirms that students know they're committing to attending the school if they are admitted. Once you've verified that all the information on their Common App or Coalition App profile is correct, go to the URL provided in the invitation, enter your email address, read and sign the ED Agreement, then submit it.
As your teen continues working hard toward their early applications, remind them that self-care is important at a time like this. Encourage them to take breaks, go on walks, spend time with friends and family (especially over the weekends), and get plenty of rest. As long as your student stays organized and submits all of the required materials on time, they should be all set to have a complete early decision application. Your support and encouragement can help them get there!