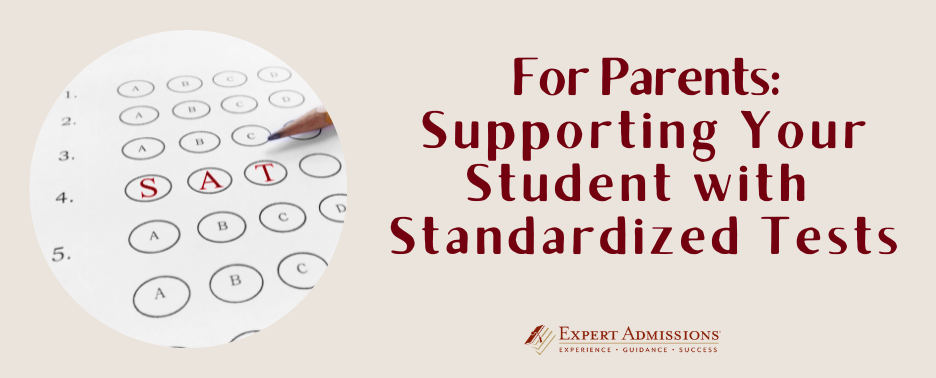 As the parent of a student preparing for the SAT or ACT exam, you may remember taking those exams yourself–the studying, the preparation, and the excitement of the big test day. You may be wondering what's changed and how you, as a parent, can support your teen as they gear up to meet this milestone toward college. With strategic planning and preparation, your family can integrate effective test preparation with the rest of your schedule, allowing your student to have the best test-taking experience possible.
It's a good idea to begin the conversation about standardized tests with your student with an honest reality check: these exams are difficult. Doing well on either test will require consistent preparation, and the better your teen prepares, the more likely they are to achieve a positive result.
When it comes to standardized tests, timing really is everything. According to US News, experts advise taking the SAT or ACT in a student's junior or senior year of high school, after they've completed any coursework (such as advanced math) that will be covered on the exam.
It's a wise move to have your student take the PSAT and/or the PreACT in their sophomore year so they can get a sense of what each test is like; they can also take full practice exams of the regular SAT or ACT as they prepare to sit their exams. The new digital SAT will be available in the US in 2024, and internationally in 2023; this year's class will be taking the traditional SAT. The ACT format remains the same as previous years.
Read up on the differences between the two exams as you and your teen decide which one to take. It's a good idea for students to take practice exams for each test so that they can see how they perform and focus their energies on the one that's best suited to their testing style. Once you and your teen have decided which exam they'll take, it's time to begin planning for when they'll take the test and how to prepare for it. Help your student register for their exam date as far in advance as possible. Then, sit down with them and help them put together a consistent study schedule leading up to the exam date.
Getting creative about studying will make the process much more fun! Help your student choose challenging, interesting books and articles to read in preparation for the reading comprehension portion of either exam. When they find a word they don't know, encourage them to look the word up in the dictionary and write down its definition (hint: this practice will really come in handy in college!).
Make use of test-prep apps on your teen's phone. You can even make good old-fashioned flashcards and bring them along on weekend outings in the car or when walking the dog.
If your student thrives in groups, have them join a study group or exam prep course. Hiring a test-prep tutor for regular meetings is, of course, a great way to build regular in-depth study time into your student's week. Use the resources on the ACT's Prep Guide and the SAT's Practice and Preparation guide. Regardless of your family's approach, make sure your student is studying on a consistent basis as the exam date approaches.
Before the big day arrives, assist your student in doing at least one timed practice test. After they've taken a full practice test in the real allotted time, sit down with them and score the test (and make sure to congratulate them on their progress!). Take a close look at the questions your teen got wrong or skipped, and devote extra time to studying in those areas.
When exam time rolls around, support your teen in making the day a positive one. If you were nervous before you took your standardized tests, you can probably relate to how they feel! Do what you can to ensure they're well-rested, well-fed, and as relaxed as possible going into the exam, and encourage them to take a break (for a stretch or a snack) when offered during test time.
After the test is over, take time to celebrate this achievement with your teen. Many aspects of the college application process, such as building a college list, will be easier after your student has their scores in-hand. The knowledge and study skills they've built in the test-taking process will serve them well as they head on to the next chapter of their lives, and that's something to be proud of!