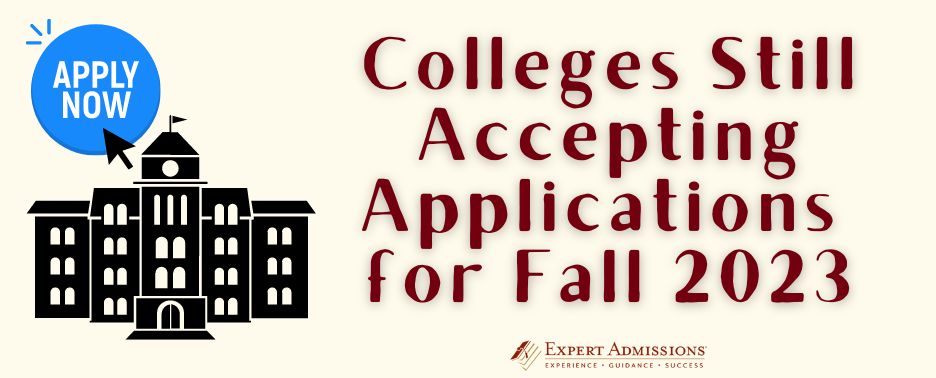 By now, you'll likely have gotten admissions decisions from most schools on your college list. And we hope you're excited about them! But if you started the application process late or didn't end up with the results you hoped for, there are still plenty of colleges and universities accepting applications.
You might have heard that the admissions "season" starts with early application rounds in October and November and concludes with Regular Decision deadlines in January and February. But that's not the whole story.
Many colleges have deadlines well into April and May. And schools with rolling admissions can accept applications even within mere weeks of the start of classes.
We've put together a partial list of colleges and universities that are still accepting applications for fall 2023. Our list includes both public and private four-year residential institutions.
Please note that many of the schools on this list have a rolling admissions policy, and they will only continue to accept applications as long as they have room in the incoming class. These schools also often have priority deadlines that are earlier than the last possible day to apply, and they'll also have earlier deadlines for students applying for financial aid.
If you already used the Common App to apply to other schools, here's a way to make applying to more schools even easier: log into your Common App, click "College Search," and utilize the filtered search. You can add filters for geographic location, testing policies, various required application components, and crucially, schools accepting applications after a date of your choice!
And if you think college might not be the best next step for you, consider taking a gap year.
APRIL
School
Application Deadline

Metropolitan State University of Denver

Denver, CO

April 5

Reno, NV

April 7

Normal, IL

April 11

St. Petersburg, FL

April 15

Baton Rouge, LA

April 15

New Orleans, LA

April 15

Lewiston, NY

April 15

Denver, CO

April 15

Brookings, SD

April 15

Pittsburgh, PA

April 15
MAY
School
Application Deadline

Garden City, NY

May 1

Bowling Green State University

Bowling Green, OH

May 1

Central Connecticut State University

New Britain, CT

May 1

Clemson, SC

May 1

Indiana University–Purdue University Indianapolis

Indianapolis, IN

May 1

Kent, OH

May 1

Marietta, OH

May 1

Oswego, NY

May 1

Lexington, KY

May 1

Tucson, AZ

May 1

Orlando, FL

May 1

University of Nebraska Lincoln

Lincoln, NE

May 1

University of Southern Indiana

Evansville, IN

May 1

Springfield, OH

May 1
JUNE
School

Application Deadline

Terre Haute, IN

June 1

Chicago, IL

June 1

University of Alabama at Birmingham

Birmingham, AL

June 1

University of North Carolina at Charlotte

Charlotte, NC

June 1

Laramie, WY

June 1

William Paterson University of New Jersey

Wayne, NJ

June 1

Worcester, MA

June 1

Houston, TX

June 15

Pembroke, NC

June 17

University of Washington Tacoma 

Tacoma, WA

June 30
JULY
School
Application Deadline

North Carolina Central University 

Durham, NC

July 1

University of Maine at Augusta

Augusta, ME

July 1

Memphis, TN

July 1

Hiram, OH

July 10

Charleston, SC

July 10

Forest Grove, OR

July 15

San Marcos, TX

July 15

University of Massachusetts Boston

Boston, MA

July 15

University of North Carolina Greensboro 

Greensboro, NC

July 15

Olympia, WA

July 20

Queens, NY

July 24

New Wilmington, PA

July 25

Huntington, WV

July 26

University of Missouri St. Louis

St. Louis, MO

July 26

Pittsburgh, PA

July 27

Massachusetts College of Liberal Arts

North Adams, MA

July 27

Prescott, AZ

July 27

Winston Salem, NC

July 27

Lynchburg, VA

July 27

University, MS

July 27

Hempstead, NY

July 28

New York, NY

July 28

Dobbs Ferry, NY

July 28

Decatur, IL

July 28

University Park, PA

July 28

Fairfield, CT

July 28

Louisville, KY

July 28

De Pere, WI

July 28

Orono, ME

July 28

Utica, NY

July 28

Troy, NY

July 29

University of Massachusetts Dartmouth

Dartmouth, MA

July 29

North Andover, MA

July 31

Denver, CO

July 31

Irving, TX

July 31

New Orleans, LA

July 31

Fulton, MO

July 31
AUGUST
School
Application Deadline

Statesboro, GA

August 1

Portland, OR

August 1

South Carolina State University

Orangeburg, SC

August 1

University of Colorado, Colorado Springs

Colorado Springs, CO

August 1

University of Massachusetts, Lowell

Lowell, MA

August 1

University of Michigan-Dearborn

Dearborn, MI

August 1

Morgantown, WV

August 1

Chicago, IL

August 11

Cleveland, OH

August 15

Albuquerque, NM

August 15

Portland, ME

August 15