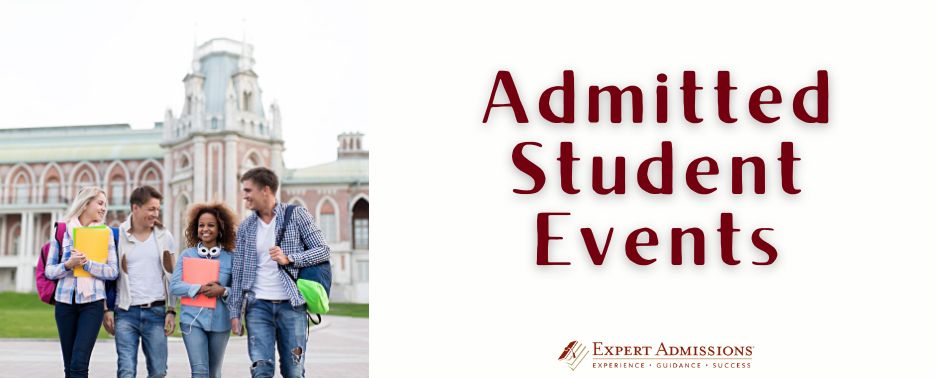 Being admitted to multiple schools can be as confusing as it is exciting! As you're hearing back from schools and getting acceptances under your belt, you may be considering events for admitted students at the schools where you've been invited to attend. Going to these events and getting to know each school from an admitted students' perspective can be an excellent way to strategically decide where you will ultimately enroll.
What are admitted student events? These events are held in the spring as colleges are preparing for the next year's incoming class, and are meant to offer information on the school to admitted students–and encourage them to attend. What happens at these events will vary from school to school, but what they will all have in common is the schools' goal of getting students to choose them. That means the ball is in your court–you already know the school wants you, and you get to decide if this is the school you want to call home for the next four years.
Admitted student events are often tightly scheduled and include focused discussions and panels with Q&A. Find out if there are panels focused on your potential academic interests at the college; opt for events featuring faculty from departments you're interested in as well as current students who can talk about their own experiences. Although it might not be part of the event, see if you can sit in on a class or two in your chosen academic field. The admissions office may even be able to arrange this for you. Academics will be a core part of your college experience, and knowing you're excited by the academic offerings at a college can help you decide where to enroll.
Events for admitted students will also include informative conversations focusing on topics such as financial aid, housing, student resources, and student groups or clubs. Events are likely to include interactive sessions with college officers from admissions, academic advising, career services, and registration. At these sessions–and at all admitted student events–don't shy away from asking tough questions. Want to find out about a particular student community? Need to know about campus accessibility? Curious about work-study options? If you know that something is important to you, now is the time to ask.
One of the best reasons to go to an admitted student event has always been meeting other admitted students to get a sense of who your classmates might be and how you get along. Many colleges have social media groups specifically for admitted students. It's a great idea to join these groups and connect with people online, but experiencing the campus vibe in-person with other students will give you a clear picture of what life will be like at that college. While you're there, take advantage of the opportunity to explore the college and get answers to any lingering questions you may have.
Going to admitted student events can be really eye-opening. You might find that the information you gather at these events changes your perspective on where you want to attend college. A school you had your heart set on might fall short, and one you weren't so sure about might suddenly rise to the top of your list. It's okay to change your mind! As you navigate these events (and the college decision process) be real with yourself. Acknowledging what you really want and need from a college will lead you to where you're meant to be.