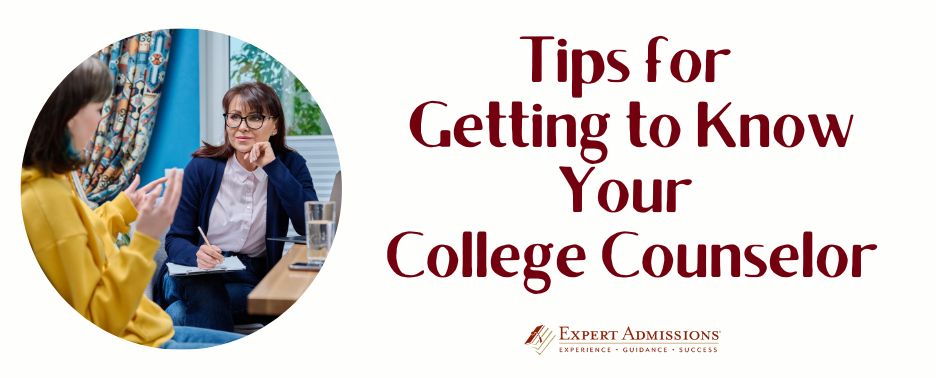 Your high school college counselor serves as an important figure in the application journey. They are the person who helps you choose courses, plan college lists, and prepare for campus visits. They also host admissions visitors to your high school campus, coordinate college fairs, and eventually, write you a letter of recommendation.
The better you get to know your counselor, the better they'll be able to provide you with the support you need on your way to college. Take the time to schedule meetings with them where you can talk to each other and let them get to know your personality, goals, and interests. Engage with them beyond required annual meetings. Be honest and open with them about concerns you have, whether they're about college visits or questions regarding specific sections of the Common App.
Early in your high school journey, pop into your college counselor's office and introduce yourself. Talk with them about your high school courses—those that you are taking this year as well as those you should opt for in the upcoming years to set yourself up for college. Some questions to ask are: "Which elective courses or AP courses do you recommend?" and "How do I maintain a balance between classes and extracurriculars?" As you progress through high school, you might ask, "What classes should I take for my future major?" and "When would be the best time to take the SAT/ACT?" Since this person is familiar with your school's curriculum, they can guide you through the courses needed to challenge yourself and have the best possible transcript when college application time rolls around.
In addition to academic courses, your counselor can also guide you toward meaningful extracurricular activities. Ask them about the best activities to join based on your interests, or how you can initiate new projects or clubs. Work with them to figure out how you can best develop your leadership abilities to help you stand out in your college applications.
As you approach 11th grade, start discussing colleges more seriously with your counselor. Once you begin visiting campuses, make note of factors that stand out to you so that you can later discuss them. What did you like about the school? What majors would you choose at different colleges? How should you pursue classes and extracurriculars in a way that allows you to distinguish yourself? Carefully consider your counselor's suggestions as you're creating your preliminary college list.
If you continue to engage with your counselor over your high school years, by the time you're a senior, they will know you well and can write you a letter of recommendation. This letter plays a key part in helping admissions committees gain a clearer picture of you as a member of your school community. the contributions you've made, and ultimately, how you stand out from your peers.
College counselors are knowledgeable about the admissions process–it's possible that your counselor has even worked in an admissions office before! Even if they haven't, they are well trained in the field and often attend conferences focused on the admissions process. They can be a valuable resource whose knowledge can ease anxieties around your applications