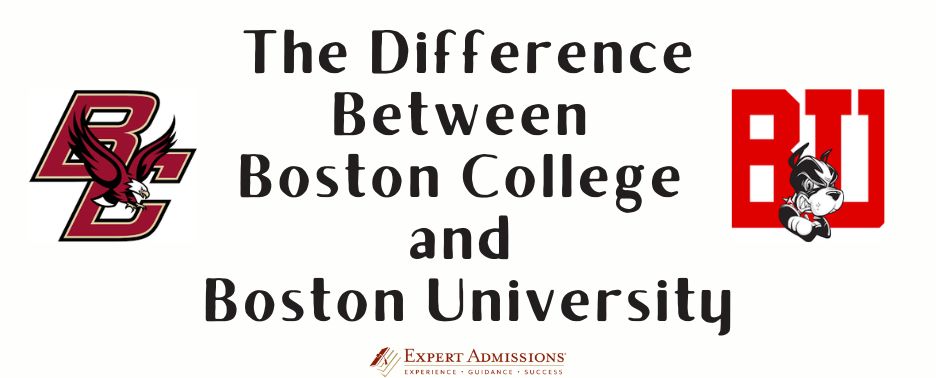 The Boston area is known for its wide array of colleges—from major research universities (such as Harvard and MIT) to smaller liberal arts colleges (such as Emerson in the city and Wellesley 40 minutes away). But there are two well-known schools in the area that students often confuse: Boston College and Boston University.
BC and BU aren't just two separate schools, they're rivals. The competition between BC and BU has been dubbed the Green Line Rivalry, the Battle of Boston, and the Battle of Commonwealth Avenue. If you're in the midst of the college search process and wondering about the difference between Boston College and Boston University, it's important to look into the factors that distinguish each school.
Overview
Boston College is ranked 36th in the U.S. News and World Report rankings, while Boston University is 41st. Rankings are a contentious topic right now, so you're probably looking for more distinguishing factors when it comes to the difference between the two colleges.
Since Boston College has "college" in its name, you might guess that it has more of an undergraduate presence. Although it does offer graduate programs, the school is primarily made up of undergraduates (9,532 undergraduates compared to 3,457 graduate students). At Boston University, there are about an equal number of undergraduate and graduate students (18,229 undergraduates compared to 17,875 graduate students).
Boston College has an acceptance rate of 15.09% for the Class of 2027. Admission into the school has become competitive over the years—the acceptance rate for the Class of 2021 was 32.2%! Boston University has also followed a similar pattern of declining admit rates. BU's acceptance rate dropped to a record low of 10.7% for the class of 2027, down from 22% in 2018.
Boston College has four undergraduate colleges: Morrissey College of Arts and Sciences, Carroll School of Management, Cornell School of Nursing, Lynch School of Educational and Human Development.
At Boston University, there are even more options to choose from:
College of Arts and Sciences
College of Communication
College of Engineering
College of Fine Arts
College of General Studies
College of Health and Rehabilitation Sciences
Frederick Pardie School of Global Studies
Questrom School of Business
School of Hospitality Administration
Wheelock College of Education of Human Development
Location and On-Campus Living
Boston College and Boston University can both be accessed on the Green Line of the MBTA subway system, hence the "Green Line Rivalry."
However, Boston College is actually located in Chestnut Hill, which is west of downtown Boston. Boston College has a larger designated campus of 340 acres, allowing students to feel a greater sense of community. Students live in one of the 29 residence halls and can choose from 13 dining halls. 85% of students live on campus, while the rest live off campus either in Chestnut Hill or other neighborhoods of Boston.
Boston University is located in the heart of the city of Boston. There are two campuses—the main campus, which has most of the academic buildings, and the west campus, which houses the athletic facilities, a large dorm, and the Student Village. The Charles River, which runs toward Cambridge, divides the campus. The campus is a total of 135 acres, making it smaller than BC.
Boston University housing options include large, traditional dorms, smaller brownstones, apartments designated to students, or the residential apartment-style units in the John Hancock Student Village. Students enter a lottery and have the choice to rank their preferences. 75% of the student body lives on campus.
Academics
Boston College has four different undergraduate colleges, including their own nursing program, which Boston University doesn't offer. Boston University, on the other hand, has its own College of Engineering, where students can choose broad concentrations such as Energy Technologies,  and Sustainability, Systems Engineering, and Robotics and Autonomous Systems. While BC doesn't have a separate school for engineering, it offers students a B.S. in Human-Centered Engineering (HCE) through the Morrissey College of Arts and Sciences.
Both colleges have an undergraduate business school. BU's Questrom School of Business offers an Honors Program for highly motivated business students. The Carroll School of Management at Boston College allows students to choose from nine concentrations.
Boston College has a Core Curriculum that requires all students at all of the schools to take classes to explore interdisciplinary options. The BC Core Curriculum requires students to take 15 courses across ten broad categories, including typical writing, arts, and STEM requirements as well as philosophy, theology, and cultural diversity. Some classes you might find yourself interested in include Coming of Age: Crisis and Calm Revealed through Film, Intermediate Photography: Techniques, Formats, or an Education course on Child Growth and Development.
At BU, the College of Arts & Sciences offers a liberal arts Core Curriculum, which is an integrated sequence of liberal arts courses in the humanities, social sciences, and natural sciences. Classes include Reality, Science, and the Modern World and Ancient Worlds. Boston University's College of Engineering offers its own Core, consisting of classes such as Introduction to Programming, Thermodynamics, and Statistical Mechanics and Introduction to Nanotechnology. Other schools, such as the Questrom School of Business have a few mandatory Core classes, but students also rely more heavily on electives.
The most common majors at Boston College are Business Administration, Communication, Economics, Psychology, and Biology while the most popular majors at Boston University are Communication, Economics, Finance, Biology, and Political Science.
Campus Life 
At Boston College, students can choose from more than 300 student organizations in a variety of fields. You can partake in interest-based organizations such as Bike BC, Dramatics Society, Esports Club, and UPrising Dance Crew. Or, you can join cultural organizations such as the South Asian Student Association, Irish Dance, and Japan Club. You can also pursue career-based groups such as Environmental Law Society and Ethos – Student Bioethics Research Journal. The campus comes with its own art museum and theater/arts center, as well as 44 intramural sports programs. There is no Greek Life on campus.
Being at the heart of the city, Boston University students can enjoy shows in Boston's theater district or attend concerts at any of the surrounding venues from BU's Agganis Arena to the House of Blues.
Students can also choose from one of the 500 student organizations at BU. There are niche and specific interest-based clubs you can choose from, including Q (BU's Queer Activist Collective), Shakespeare Society, Snowboard Club, and Knitting Club. BU also offers career-focused organizations, such as Engineers Without Borders, American Hotel & Lodging Association, and International Affairs Association.
BU sponsors dozens of local Boston community service programs. Students can be a big sibling, support immigrant communities, or help plant an urban garden. BU's campus does have Greek Life, with 18 fraternities and 12 sororities.
Both schools boast Division 1 sports teams. Boston College has a more dominant sports scene; attending football games and hockey games is a huge part of BC's campus culture.
The Boston College vs. Boston University debate is one students ponder over, especially if they are looking at colleges in the area, in search of a good undergraduate business school, or eyeing specific programs in either college. Look over the similarities and differences carefully and add either or both schools to your list as you see fit.