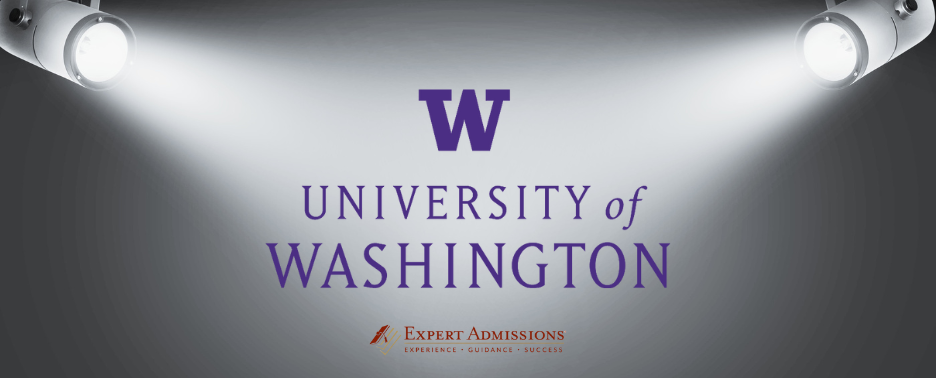 About University of Washington
Location: Seattle, WA
Undergraduate Population: 36,872 
Most Popular Majors: Business, Communication, Psychology, Biochemistry, Economics
Motto: Lux sit ("Let there be light")
Demographics:
White 30%
Asian/Asian American 23.5%
Latinx 8.3%
Multiracial 6.7%
Black/African American 3.1%
Native American less than 1%
History:
In the mid-1850s, a Methodist preacher named Daniel Bagley worked with Arthur Denny—a member of the Washington territorial legislature—to establish a university that would help support Seattle's economic development. On November 4, 1861, a few years after the Seattle and Oregon territories separated, the Territorial University of Washington opened its doors. John Pike, namesake of Seattle's famous Pike Place, was the university's original architect and builder. The first UW graduate was a woman named Clara Antoinette McCarty Wilt, who received a bachelor's degree in science in 1876.
Both Seattle and the University had grown substantially by the time Washington state became part of the Union in 1889. As Seattle continued to develop, a special legislative committee, headed by UW graduate Edmond Meany, was made to find a new campus to suit the school's growing population. In 1895, the university relocated to its new campus to the northeast of downtown Seattle.
In the 1960s and 70s, UW saw a growth in student enrollment, faculty, and operating budget, which went from $37 million in 1958 to over $400 million in 1973. Seattle also became a global technological hub. The establishment of Microsoft, Boeing, and Amazon in the area not only improved career prospects for graduates but also helped bring millions of dollars in funding to the college. In 1990, UW opened additional campuses in Bothell and Tacoma. Since 2012, the university has seen significant increases in student housing and teaching facilities, as well as expanded public transit options, including a light rail station that connects the bustling Capital Hill neighborhood of the city to the UW Husky stadium.
Notable University of Washington alumni include actress Anna Faris, professional basketball player and two-time NBA All-Star Isaiah Thomas, Indian tabla player, composer, and music producer Zakir Hussain, children's book author Beverly Cleary, and WNBA-winning basketball player Kelsey Plum.
Traditions:
Every Friday of the school year, UW students wear purple to show their Husky pride.
On football weekends, the stands are packed for UW's team, the Huskies—especially when fierce rivals Washington State come to town for the prestigious Apple Cup each November.
Dawg Daze, UW's welcome event series for new and returning students, begins before the start of the school year and runs through the first few days of the autumn quarter. Festivities include community-focused events ranging from concerts to academic workshops.
Noteworthy Features:
The University of Washington follows a quarter system. Each quarter is typically 10 weeks long. Quarters consist of four terms: Fall, Winter, Spring, and Summer.
Even as a university with a population of over 30,000 students, the average class size at UW is relatively small at 28 students.
Undergraduate students majoring in Public Health, Pharmacy, and Nursing have access to the resources and faculty at the University of Washington School of Medicine through the Office of Undergraduate Research. Students are connected with specific mentors and labs based on availability and interest, primarily in the summer.
Admissions Profile
Average GPA: 3.83
Test Scores (mid-50% range): 1320-1500 SAT/29-34 ACT
Admit Rate: 46.2%
Test-optional? Yes
Offers Early Admissions? No
Supplemental Essays 
University of Washington's Required Essay Prompts: 
Tell a story from your life, describing an experience that either demonstrates your character or helped to shape it. (limit 650 words)
UW also offers the following tips:
Some of the best statements are written as personal stories. We welcome your imaginative interpretation.
You may define experience broadly. For example, experience could be a meeting with an influential person, a news story that spurred you to action, a family event, or something that might be insignificant to someone else that had particular meaning for you.
If you don't think that any one experience shaped your character, simply choose an experience that tells us something about you.
The personal statement is our best means of getting to know you and your best means of creating a context for your academic performance. When you write your personal statement, tell us about those aspects of your life that are not apparent from your academic record:
a character-defining moment
the cultural awareness you've developed
a challenge faced
a personal hardship or barrier overcome
Even though you can apply to the University of Washington using the Common App, the school does not accept the Common App personal statement. However, if your Common App personal statement fits the UW personal statement prompt, feel free to use it. If you opt to write a new personal statement for UW, consider whether there's a specific experience (impressive or not) that stands out in your memory that you'd like to write about. Why does it stand out? Does it demonstrate a character trait you possess or a belief you have? Did you learn something from this experience, and if so, what? Your essay should showcase who you are and what matters to you. Ask what you value in yourself. Why is it important and how does it affect your beliefs and actions? Our blog post on Common App essay brainstorming can also offer guidance on how to respond to this prompt.
Our families and communities often define us and our individual worlds. Community might refer to your cultural group, extended family, religious group, neighborhood or school, sports team or club, co-workers, etc. Describe the world you come from and how you, as a product of it, might add to the diversity of the UW. (limit 300 words)
This is a classic example of a supplemental essay on identity and background. On their website, UW has added the following tip: "keep in mind that the UW strives to create a community of students richly diverse in cultural backgrounds, experiences, values and viewpoints." On the back of the Supreme Court's ruling on affirmative action, a lot of colleges provide students with the opportunity to talk about race—and other aspects of their identity—through supplemental essays about their background. Consider what you want colleges to know about you.
Supplemental essays provide further context to your application. So, no matter which of your worlds you write about, whether it is a team, an organization, or your family, your response should help admissions officers understand where you come from, what experiences have been meaningful to you, and how you'll contribute to the diversity of the campus community. Don't just mention what your background is—talk about how it has shaped you and your perspective.
For more tips on common supplemental essay prompts, see our blog post here.