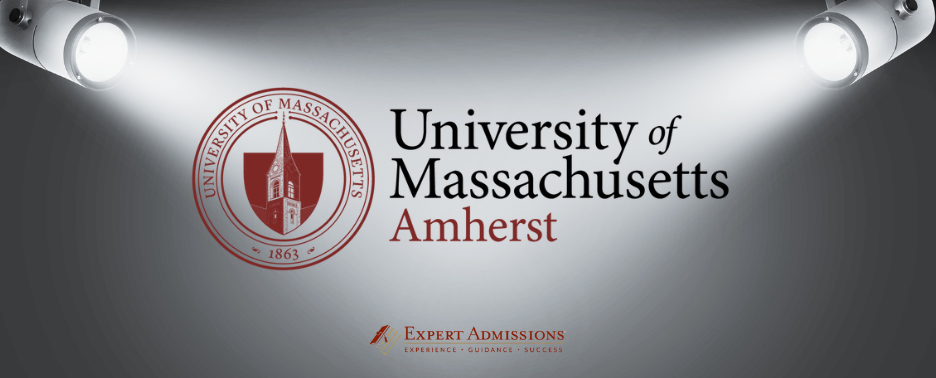 About University of Massachusetts Amherst
Location: Amherst, MA
Undergraduate Population: 24,391
Most Popular Majors: Psychology, Public Health Sciences, Biology, Computer Science, Nursing
Motto: Ense petit placidam sub libertate quietem  ("By the sword we seek peace, but peace only under liberty")
Demographics:
White 59%
Asian/Asian American 12.7%
Latinx 8.4%
Black/African American 4.6%
Multiracial 4%
Native American less than 1%
History:
University of Massachusetts Amherst was founded in 1863 as the Massachusetts Agricultural College under the provisions of the Federal Morrill Land-Grant Colleges Act. It was founded to provide instruction to Massachusetts citizens in "agricultural, mechanical, and military arts." In the fall of 1867, under the presidential leadership of Botany professor William S. Clark, UMass welcomed the first class of approximately 50 students. The first woman enrolled in 1875, while the first Black student enrolled in 1897.
Original campus buildings included Old South College, North College, the Chemistry Laboratory, the Boarding House, the Botanic Museum, and the Durfee Plant House. In the 1880s, the college went through an expansion plan, adding the College Drill Hall in 1883, the Old Chapel Library in 1885, and the East and West Experiment Stations in 1886 and 1890.
By the 1970s, the university had installed a shuttle bus service on campus alongside the Murray D. Lincoln Campus Center. It also opened the W. E. B. Du Bois Library and the Fine Arts Center. Over the next two decades, the building of the John W. Lederle Graduate Research Center and the Conte National Polymer Research Center helped establish UMass Amherst as a major research facility. Today, the college offers over 100 majors within its 11 undergraduate colleges.
Notable University of Massachusetts Amherst alumni include singer Natalie Cole, actor Jeffrey Donovan, American basketball coach Rick Pitino, Irish-American poker player Phil Laak, and mixed martial artist Roxanne Modafferi.
Traditions:
UMass Amherst students put their faith in the Minuteman Statue near the Old Chapel for good luck. Students stop by and give his foot a rub before sharpening up their No. 2 pencils and diving into exams.
The planting of the class tree, or "Shovel and Scoop," is a tradition dating back to 1867. Each year, the graduating class plants a tree, followed by an ice cream social.
To kick off Homecoming festivities, a parade of floats, performing groups and the Minuteman Marching Band marches through campus and around Amherst center.
Noteworthy Features:
Undergraduates enroll at one of 11 colleges within UMass: College of Education, College of Engineering, College of Humanities and Fine Arts, College of Natural Sciences, College of Social and Behavioral Sciences, Commonwealth Honors College, Elaine Marieb College of Nursing, Isenberg School of Management, Manning College of Information & Computer Sciences, and the School of Public Health and Health Sciences.
Students must take General Education courses in the following areas: Writing (two courses), Basic Mathematics (one course), Analytical Reasoning (one course), Biological & Physical World (two courses), Social World (four courses), and Integrative Experience (number of courses depends on the department).
The Exploratory Track Program places undeclared first-years into one of seven academic advising tracks, based on the interests and academic strengths demonstrated in their admissions applications.
Admissions Profile
Average GPA: 4.02
Test Scores (mid-50% range): 1280-1450 SAT/29-33 ACT
Admit Rate: 63.5%
Test-optional? Yes
Offers Early Admissions? Yes—Early Action
Supplemental Essays
University of Massachusetts Amherst's Required Essay Prompts: 
Please tell us why you want to attend UMass Amherst? (100 words)
One hundred words isn't a lot for a "why this college" essay. Go through UMass Amherst's website, attend information sessions—you might even look at social media profiles for school programs and clubs. Seek out academic, extracurricular, and career opportunities that appeal to you and write about those. Make one or two factors or resources you are most excited about the central points of your response.
Please tell us why you chose the Major(s) you did? (100 words)
To make sure your essay aligns with the school's offerings, log on to UMass Amherst's website. Take some time to look at the major and school you're interested in, and then write a response that shows what you love about that particular subject. Use the very short word limit to discuss what led you to choose your major, as well as how your interest has developed over time.
At UMass Amherst, no two students are alike. Our communities and groups often define us and shape our individual worlds. Community can refer to various aspects, including shared geography, religion, race/ethnicity, income, ideology, and more. Please choose one of your communities or groups and describe its significance. Explain how, as a product of this community or group, you would enrich our campus. (100 words)
This is a standard community essay. No matter which group you write about, your response should help the admissions officers understand where you come from, what experiences have been meaningful to you, and how you'll contribute to the diversity of the campus community. Don't just mention what the community is—talk about how it has shaped you and your perspective.
For more tips on common supplemental essay prompts, see our blog post here.