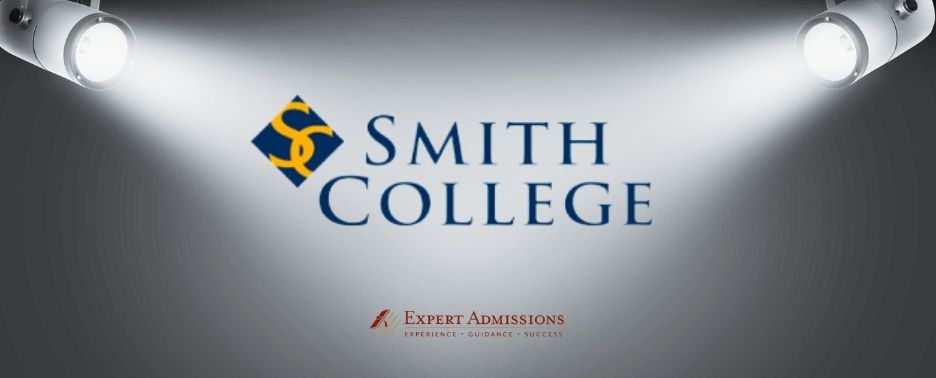 Location: Northampton, MA
Undergraduate Population: 2,554
Most Popular Majors: Psychology, Biological Sciences, Government, Engineering Science, History
Motto: "In Virtue [One Gains] Knowledge"
Demographics:
White 66%
Latinx 12%
Asian/Asian American 10%
Black/African American 6%
Multiracial 5%
Native American less than 1%
History:  
The largest private women's college in the United States, Smith was chartered in 1871 at the bequest of Sophia Smith, a woman local to Hadley, Massachusetts, with a fortune she inherited from her family. In spite of the college being founded, according to Smith's will, for the "maintenance of an institution for the higher education of young women," the school did not officially have a female president until Jill Ker Conway was initiated as president in 1975. Nevertheless, Smith has been home to many pioneers, including Ada Comstock, an early American leader in women's education who would go on to become the president of Radcliffe College. During World War II, Smith hosted training grounds for the US Naval Reserve Midshipmen's School. The School included a Women's Reserve, and a total of 120 women reported there for training in 1942. Among their ranks were LTJG Harriet Ida Pickens and ENS Francis Wills, the first two African-American women commissioned by the US Navy. Today, Smith's pioneering legacy continues, with innovative offerings like Smith's Center for Women in Mathematics.
Notable Smith alumni include Pulitzer Prize-winning writer Sylvia Plath, Civil Rights activist Yolanda King, feminist pioneer Gloria Steinem, chef Julia Child, and Otelia Cromwell, the first African-American graduate of Smith and the first African-American woman to earn a doctorate from Yale University.
Traditions:
Mountain Day happens early each fall semester. On an unannounced sunny autumn day, Smith's president declares the cancellation of classes that day by ringing bells on campus at 7:15am. Students spend Mountain Day in Northampton's beautiful New England mountains hiking, picking apples, and enjoying the autumn leaves–along with box lunches provided by the school.
Rally Day, one of Smith's most popular traditions, has taken place around George Washington's birthday each year since 1894. Smith seniors take the occasion to publicly wear their graduation gowns along with elaborate, symbolic homemade hats. The event also features keynote speakers and a ceremony honoring distinguished Smith college alumnae.
Cromwell Day, named for Otelia Cromwell and her niece Adelaide Cromwell (Smith's first African-American faculty member), is an event focused on conversations about diversity and addressing racism. Students take the afternoon off from class and participate in workshops, lectures, and events centered around a different theme each year.
Noteworthy Features:
Smith is a member of the Five College Consortium, a group of highly selective colleges in the Pioneer Valley of Western Massachusetts that includes Amherst College, Mount Holyoke College, Hampshire College (all fellow liberal arts colleges), and UMass Amherst, a public research university. Smith students may take courses at any of the other consortium colleges, join the other colleges' clubs, and attend sports events.
Smith is also a member of the historic Seven Sisters group of women's colleges. Most of the Seven Sisters schools were founded in the 19th century as academically rigorous counterpoints to male-only Ivy League colleges. They include Smith, Barnard, Wellesley, Bryn Mawr, Mount Holyoke, Vassar (which became coed in 1969), and Radcliffe (which became part of Harvard in 1999).
Smith is home of the Ada Comstock Scholars program, which is dedicated to Smith undergraduates of nontraditional college age. The program's 100+ students range in age from mid-twenties to sixties.
Admissions Profile
Average GPA: 3.75
Test Scores (mid-50% range): 1370-1530 SAT/ 31-34 ACT
Admit Rate: 29%
Test-optional? Yes
Offers Early Admissions? Yes — Early Decision I and Early Decision II