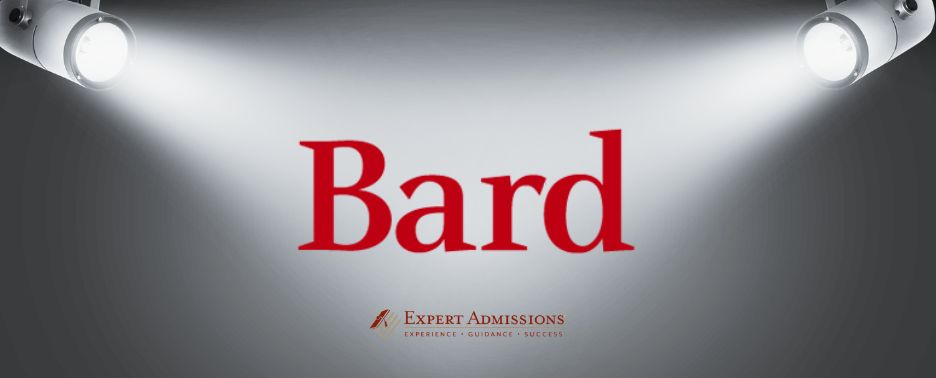 Location: Annandale-on-Hudson, NY
Undergraduate Population: 1,852
Most Popular Majors: Literature, Social Studies, Studio Arts, Human Rights, Biology
Motto: Dabo tibi coronam vitae ("I shall give thee the crown of life" from the King James Bible, Revelation 2:10) 
Demographics:
White 53.4%
Latinx 12.0%
Black/African American 5.4%
Multiracial 5.4%
Asian/Asian American 3.2%
Native American less than 1%
History:
Bard College got its start in 1853 when John Bard–a philanthropist with deep ties to the Episcopal Church–purchased a large estate on New York's Hudson River with plans to open a parish school there. Bard also had significant connections to Columbia University, being the grandson of Samuel Bard, the founder of Columbia's medical school. John Bard's parish school expanded to become St. Stephen's College in 1860, and the following decades saw the construction of Bard's well-known eclectic architecture, with buildings ranging from Gothic to Tudor to Greek Revival styles.
The college continued to expand, and in 1928, merged with Columbia University, serving as an affiliated undergraduate school (much like Barnard College). The school received financial support for its expansion from John D. Rockefeller, George Eastman and the Vanderbilt family. In 1934, school dean Dr. Donald Tewksbury changed the school's name to Bard College. Tewksbury, an educational philosopher, also took the college in a decidedly more progressive direction, secularizing the school and placing a greater emphasis on the arts. During the 1940s, Bard functioned as a haven for intellectuals fleeing war-torn Europe; these included political journalist Felix Hircsh, musician Emil Hauser, and philosopher Hannah Arendt, who is buried at Bard. The school became co-ed in 1944 and severed its ties with Columbia. Enrollment at Bard steadily grew throughout the 20th and early 21st centuries. In 2020, Bard helped create the Open Society University Network, a collaborative global education network, and received a $500 million endowment from George Soros as part of the initiative. Bard continues to innovate in the field of progressive and interdisciplinary education, offering 23 academic programs, 12 interdisciplinary concentrations, and 40 majors–including the nation's first human rights major.
Notable Bard alumni include writer and artist Juliana Huxtable, poet and critic John Yau, neurochemist Elie A. Shneour, and Walter Becker and Donald Fagen of the rock band Steely Dan.
Traditions:
Student-centered culture is big at Bard, and is perhaps most apparent in the school's vibrant club life. There are over 140 student clubs at Bard, ranging from Archery Club to Hot Pot Club to Bard Bollywood. There's truly something for everyone!
Thursday Night Live, a longstanding Bard tradition, brings live musical performances to Bard's Fisher Center for the Performing Arts; student open mics at Bard's Old Gym also make for popular Thursday Night Live happenings.
While Bard is home to an array of Division III sports, one of the most popular–and unique–is Bard's Rugby Football Club. The Club hosts both Men's and Women's rugby teams, and is one of the only clubs in the nation to play year-round. Both teams are also student-led, meaning they're administered by student managers and players.
Noteworthy Features:
All incoming Bard students take part in Language and Thinking, an intensive three-week seminar that takes place before the start of the school year. Students meet in small groups, read in a variety of genres, and participate in discussions with Bard faculty leaders. The experience is meant to help students make the transition into Bard's academic and intellectual culture.
Students can elect to travel south and study in New York City through Bard's Globalization and International Affairs program, which combines rigorous coursework in Global Affairs with internships and private, public, and nonprofit organizations.
Music students can apply for a five-year BA/BS dual-degree conservatory program; Bard also offers dual-degree programs in Finance and in Public Health, as well as a dual-degree Engineering program in collaboration with Dartmouth College.
Admissions Profile
Average GPA: not reported
Test Scores (mid-50% range): 1296-1468 SAT/28-33 ACT
Admit Rate: 60.0%
Test-optional? Yes
Offers Early Admissions? Yes–Early Decision I and II
Supplemental Essay
Bard's Optional Essay Prompt: Why Bard? (250 words)
While this is an exemplary "why this college" essay prompt, Bard applicants would do well to approach it with a thorough understanding of Bard's values and culture. Bard is known for being progressive, student-centered, and very much outside-the-box; when writing this essay, make sure to consider how your values align with Bard's unique culture. This will involve plenty of research into what draws you to Bard and some deep reflection on who you are and where you see yourself in the future. For more advice on this and other supplemental essay prompts, see our blog post here.