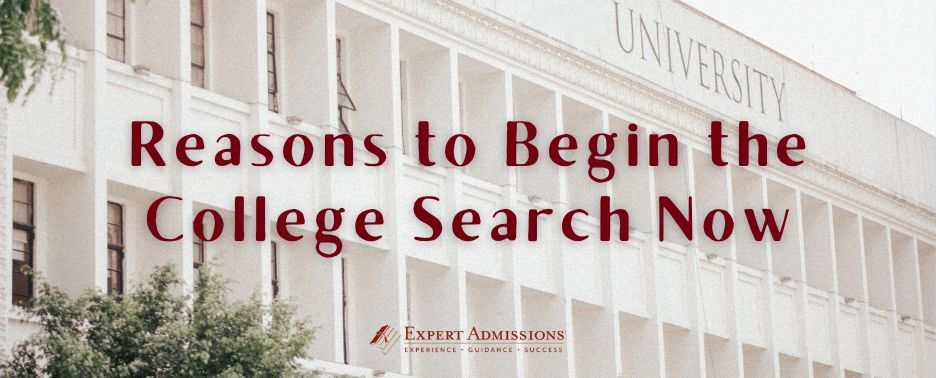 We know you have a lot on your mind as you head into the spring semester of your junior year — summer planning, standardized testing, and keeping up with your schoolwork and extracurricular activities. But we recommend you try to carve out some time to begin your college search, too. It might seem early, but there are good reasons not to wait until summer vacation or the fall of your senior year.
Early Application Deadlines
If you're considering applying to college under an Early Action or Early Decision plan, you'll need to plan to submit those applications in the first half of November. If you wait to begin the college search until the summer or the fall of senior year, you might not have enough time to decide on your top-choice schools and complete your applications with the care and attention they need.
Ideally, you should plan to give yourself a couple of months to work on those applications and to get to know the schools well enough to write compelling supplemental essays.
Spring College Visits 
You might be planning to wait to explore and visit colleges during your summer vacation, when you don't have to worry about missing school or catching up on homework. However, the best time to visit colleges is when the fall or spring semester is in session. That's when most students are around and the campus vibe is at its liveliest.
If you begin your college search now, you can identify a few colleges to visit while school is still in session. If you wait until the summer, college campuses will be much quieter, and it will be harder to get a sense of what it's "really" like to go to school there.
We recommend planning to visit colleges and take campus tours during your spring break. You'll have a full week off, which should allow you to schedule several visits.
Spring College Fairs
Every spring, college fairs are hosted throughout the country by various national and local organizations. These college fairs are a great way to get introduced to many colleges quickly. Ask your school counselor about college fairs happening in your area and check out the NACAC College Fair Schedule for a list of virtual and in-person college fairs and additional resources for conducting your college search.
Many high schools host spring college fairs, so you might look for some that are happening in your school district. Colleges also send admissions officers around the country for spring recruitment. If you already have some colleges you think you might be interested in, you can check their websites or call the admissions office to find out if representatives will be visiting your area this spring.
Speaking with School Counselors 
Getting advice from school guidance or college counselors is another great reason to start the college search now when they're readily available to you at school. Make an appointment with your school counselor and see what resources they have for beginning the college search.
Many school counselors will have surveys that can help you narrow down your college options, and forming a relationship with your counselor will let them get to know you as well as they know the colleges, so that they can help guide your search.
Even though the spring semester of junior year is a busy time, you'll thank yourself later if you make time for your college search. With plenty of time to visit colleges while school is in session, you'll be in great shape to work on your Early Action and/or Early Decision applications. The extra time devoted to the college search now will help make the process more manageable later on.