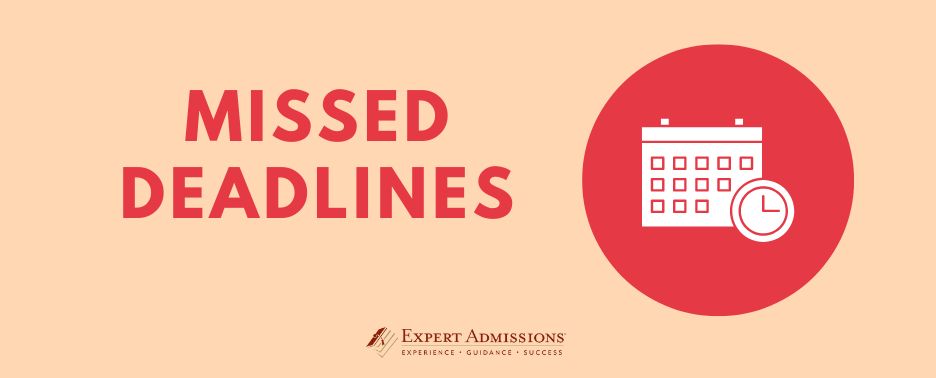 If, for some reason, you've missed a college application deadline and really want to apply, you might still be able to.
Applicants miss deadlines for many reasons. Maybe you had a family emergency or there was a natural disaster in your area. Even if it's after the official Regular Decision deadline, some colleges will still accept your application. If you have a legitimate reason for missing an application deadline and still want to apply, here's some advice for you.
First, call the admissions office and ask if they're still accepting applications. If they are, that's great! Ask when you would need to submit your application for it to be considered, and how you should submit it, including your transcripts, school report, and recommendation letters. You should also ask if you need to rush report your standardized test scores. Lastly, explain to the admissions office why you missed the application deadline, over the phone or in an email. Be clear and brief in your explanation. You don't need to tell them your life story, but your explanation should express your awareness of the importance of meeting deadlines, letting the college know that it's not something that will happen again.
If you can still add the college and submit it through the Common Application, and your teachers and college counselor already uploaded your recommendation letters and transcript to the Common Application for other colleges, you should be all set on that front, and shouldn't need to notify your college counselor.
But at many colleges, you won't be able to submit a late application online, so you'll have to print it out and fax or mail it—and this is if they're willing to accept a late application at all. You'll also need to give your guidance counselor and teachers very clear instructions from the admissions office as to how they should submit their documents. Some colleges have a separate fax number or email address, for instance, for late recommendation letters, or there might be a specific person in the office they should be sent to.
It's possible that you didn't miss an application deadline altogether but did miss the deadline for submitting some portion of your application, such as your test scores or recommendation letters. If this is the case, the steps to take are basically the same. Contact the admissions office, and let them know that you're aware that your application is missing a key credential and that you're in the process of getting it submitted. Ask where and how to submit the missing materials; after you've communicated with the admissions office, let whomever needs to send the missing materials (a letter writer, ACT, etc.) know exactly where and by when to send them. For more information on dealing with an incomplete application, read our blog post here.
For the most part, college application deadlines are final. But we all know that things come up and life can get in the way sometimes. If you think you missed a deadline for a good reason, it's okay to ask the admissions office if you can still apply. You just might get another chance.
And if you missed the deadline for your number-one school, keep in mind that there's always next year. You might consider applying to a college with rolling admissions, taking a gap year, applying for spring admission, or attending community college and getting some general education requirements done before applying to transfer to your top choice school—and making the deadline this time!