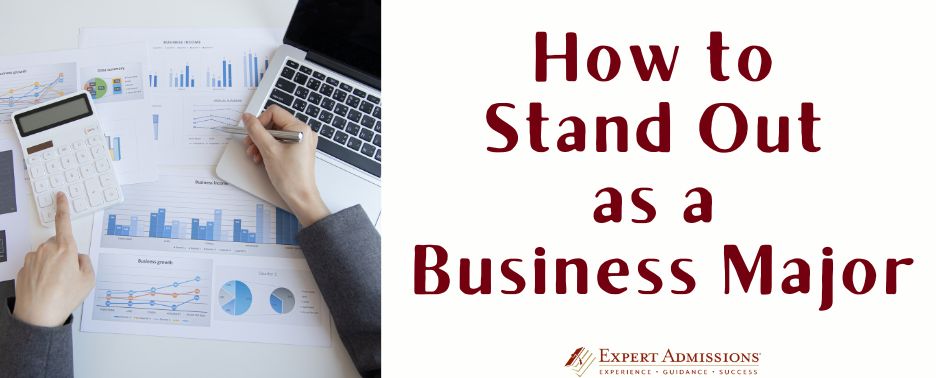 If you're an aspiring leader who is passionate about getting a job in business immediately after college, applying to an undergraduate business school or pursuing a business major might be just the right choice for you.
There are countless ways to apply a business degree to your daily life, which makes it no surprise that business is the most popular undergraduate major. According to the Washington Post, one in five degrees is awarded to a student in a business-related field. For reasons ranging from exposure to hands-on business courses to success in the workforce post-graduation, students are becoming more and more interested in majoring in business. As a result, the applicant pool is competitive.
Below is a list of ways you can stand out as a prospective business major while you're in high school.
Start Your Own Initiative
Colleges appreciate young leaders. To stand out as a business major, consider starting your own business, LLC, or non-profit. Business schools like to see that you have vision and business-minded goals, and starting your own project is one of the best ways to demonstrate your leadership skills. Starting an initiative on your own, however, can feel overwhelming.
The easiest place to start is by looking at your own community. What are some facilities that need developing in your neighborhood? Is there certain technology that your school lacks? What is something you've always been passionate about but don't have access to in your area?
Ask yourself questions to narrow down your interests and solicit information from members of your community to find out what initiative you can start to stand out as a resourceful leader.
Brainstorm Your Own Business—and Follow Through
There is a whole world of options when it comes to thinking about what you might want your business to include. To narrow down your choices, ask yourself the following three questions:
Which subjects and areas are you most passionate about?
What do you think your community lacks or would benefit from the most?
Where can you see yourself thriving in the future?
You need to be observant and open-minded throughout your brainstorming process. First, think critically about what kind of entrepreneurial idea you're hoping to initiate—are you interested in creating a service or a product? You might have a skill that you want to market, such as babysitting, cooking, or computer repair. Any of these could be turned into a business, such as a babysitting group for hire in your neighborhood, a catering service that helps out with events in your community, or fixing computers in your school or area.
Another big part of exploring your idea is to know your target audience. Consider who you're planning to market your product to and how you can help those people. Some factors to consider:
Demographics – Would your business focus on a particular age, ethnicity, or social group?
Location – Do you have to think about the weather or infrastructure when planning your business? What location would be ideal for your business?
Profession – Would your service or product appeal most to people who possess certain skills or work in particular fields?
Make a checklist to ensure that you don't miss any of the necessary steps. You also need to comply with local laws in your area; different cities have different protocols for running a company that you need to be aware of. If you know someone who's an attorney or accountant, consult with them about how to figure out the various financial technicalities. They can inform you about any legal procedures you need to know about, tax forms that you'll need to fill out, and permitting steps to take before launching your business.
Once you have your products or the means of executing your service, it's time to brainstorm how to spread the word about your business. Your first thought might be social media—and naturally so, because using Facebook, Instagram, and TikTok can very quickly promote your product or service and get the word out.
If you're passionate about business and can get creative with your ideas, starting your own business initiative is a great way to give yourself a jump-start in the business world and demonstrate your prowess in the field.
Business Summer Programs
Taking advantage of your summer break is crucial for the college application process. If you have the time and can afford it, admission into a competitive business pre-college summer program will not only add to your resumé but give you an experience to write about in your college applications.
Some programs you could look into are LaunchX, Young Sustainable Impact, UPenn's Leadership in the Business World, Athena Summer Innovation Institute at Barnard, Berkeley Business Academy of Youth, and Business & Leadership Immersion at Georgetown.
High School Business and Entrepreneurship Competitions
An important part of the Common App is the activities list. If you know as early as sophomore or junior year that you want to study business in college, consider business or entrepreneurship competitions, which let your creative and entrepreneurial sides shine.
Blue Ocean and the Diamond Challenge are two of the biggest competitions. If you're interested in the environment as well as business, consider the GENIUS Olympiad, which might be a good fit.
Study Hard and Make Sure You Have Strong Letters of Recommendation
All of the top colleges value strong GPAs and rigorous coursework and often look for even higher grades (and standardized test scores, if they're considered) for business applicants than for general candidates. The competition is tough. Do your best to keep your grades up so you'll have a stellar transcript when you do apply.
Another way to make sure you stand out in the applicant pool is through letters of recommendation from your high school teachers and school guidance or college counselor. Start visiting your school counselor as early as possible and talk to them about undergraduate business schools. Your performance and enthusiasm in and out of class can help build better relationships with your teachers.
Although undergraduate business schools' requirements for letters of recommendation aren't any different from other schools' requirements, make sure your recommender is aware of your interests. If they see your hard work and dedication, they will write letters of recommendation that reflect your character and promise of success in your future as a business leader.
Let your teachers know your goals and what you've done outside of their class so they know what your interests are and can speak to why you'd be a good fit for a business program. Getting a recommendation from a math or economics teacher might be useful in speaking to your potential as a business major.
Be Specific in Your Essays
You will likely apply to multiple schools for business. However, make sure that your "why this school" supplemental essays are as specific as possible to each program. Thoroughly research what makes each school unique, whether it's the option to get a BS in Artificial Intelligence for Business at USC Marshall or the chance to work with a particular professor at UPenn's Wharton School.
It can be tempting to take a quicker route and make one or two tweaks to each essay before sending them to different schools. Do not fall for this. Each of these schools has distinguishing features, and speaking to those differences is key to demonstrating that you're a great fit for each school.
Let's look at an essay prompt. For Babson College, a private business school located in Wellesley, Massachusetts, the "why this school" prompt asks:
Your moment has arrived. Share with us the moments or experiences that have led you to apply to Babson College. (500 words maximum)
You can respond to this prompt with a 500-word-essay or a one-minute video. The admissions office states that there is no preference for either format, so you can really play to your strengths here. If you are a filmmaker or a strong public speaker, you can choose the video route. If you prefer to reflect on your background and interests through writing, you may choose to write the essay.
Whichever you choose, make sure your supplement expresses the leader in you. Since Babson is business-specific, the admissions officers are asking you what appeals to you about Babson—both the business school and in the other unique opportunities the college offers. Be as detailed as possible in talking about what led you to the decision to apply to Babson.
You could talk about the first time you heard about a specific course, or how your campus visit affected your decision to apply. Whatever the answer, make sure your individuality shines through in your application so that admissions officers can understand just how well-suited you would be for their institution.
Getting in as a business major is not easy—business programs are very selective. If you know you want to focus on business, early planning never hurts. Sit down with your guidance counselor and start formulating a plan!