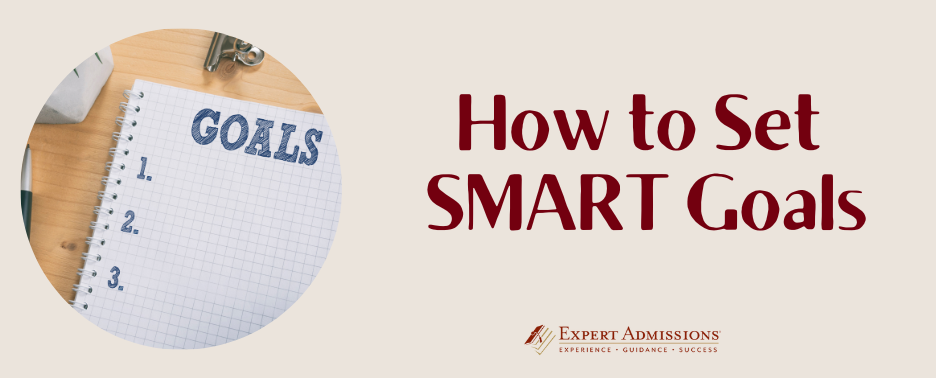 As you dive into the college application process, it can be easy to feel overwhelmed. Between choosing schools, writing essays, understanding application requirements, and meeting deadlines, where do you even begin? One of the best ways to fight the feeling of college application overwhelm is to set clear goals for yourself, and one of the best methods for doing this is to set SMART goals.
A framework with origins in the field of organizational psychology, the term "SMART goals" dates back to 1981. SMART is an acronym that stands for Specific, Measurable, Achievable, Relevant and Time-bound. The overarching objective of SMART goals is to help goal-setters increase their likelihood of realizing their ambitions through clarifying what they'll do and how they'll do it. When it comes to organizing your college application process, setting SMART goals is a great approach. Let's look at what setting goals in this way means in a college application context.
Specific–There's a reason "specific" is the first criteria for this kind of goal-setting. Making your goals as specific as possible will help ensure that they're something you can actually achieve! Rather than telling yourself "I want to get into a good college" or "I want to apply to x number of colleges," take a step back and think about what, specifically, you want. As you're building your college list, pay attention to the unique qualities of each school you're drawn to and think about how those qualities resonate with who you are. Are you loving small liberal arts colleges? Are big state schools with vibrant athletic and social scenes more your thing? Are there schools that feature great programs for your chosen academic discipline? Knowing the particulars of what you want from your college experience will help you set goals for your application process that are tailored to you.
Measurable–With any goal, a huge part of staying motivated is being able to track your progress. Setting a goal that's measurable means you decide in advance how you'll quantify the work you do toward meeting that goal. When it comes to the college application process, this means figuring out how much you can accomplish in the time frame that you have. Some examples of measurable goals could be spending a certain number of hours per week working on your college applications, and writing a certain number of words for your Common Application essays during each session. Make sure to build in rewards for meeting the goals you set for yourself (stickers, an episode of a favorite show, a trip to Starbucks…whatever motivates you!)
Achievable–The satisfaction of setting a goal and achieving it is one of the best feelings in the world. You're much more likely to experience this feeling if you set goals that are realistic. Rather than telling yourself you'll write every supplemental essay for a college in a single sitting, set a goal of writing those essays over the course of a few days. Rather than applying to a long list of colleges, choose a smaller number of schools that actually appeal to you. Understanding what's realistic for you college-wise is also incredibly important when building your college list and choosing reach, target and safer schools. Taking factors like fit into account will help you set goals that are satisfyingly attainable.
Relevant–This piece of the SMART goal framework is about understanding why your goals matter to you. After all, you're not going to feel inspired to work toward an objective if that objective won't meaningfully impact your life in some way. As you're mapping out each of your goals in your college application process–no matter how small or large–check to make sure that the outcome of each goal is something that will benefit you. Don't waste valuable time and energy working toward someone else's goals–take time to recognize why your ambitions matter to you.
Time-bound–This is perhaps the most pragmatic part of the SMART goal framework, and can be really helpful with planning things like timelines and schedules. Make sure each of your goals has a specific time frame associated with it. Are you applying Early Decision or Early Action? With your EA/ED deadlines in mind, set goals for finishing portions of your applications with time to spare. When sitting down to research, study, or write, do so with a clear sense of when you want to finish what you set out to accomplish. Creating goals with a specific expiration date will go a long way toward helping you realize them.
When getting started with SMART goals, it's a good idea to start small. Choose one area of your application process (such building your college list or completing the application to your top-choice school) and create a set of SMART goals for that one project. As you move through your process and meet your goals, you'll learn more about how the SMART framework works for you personally, and what you need to articulate goals that you can accomplish. Best of all, you'll get to enjoy that amazing feeling that comes with finishing what you set out to do!