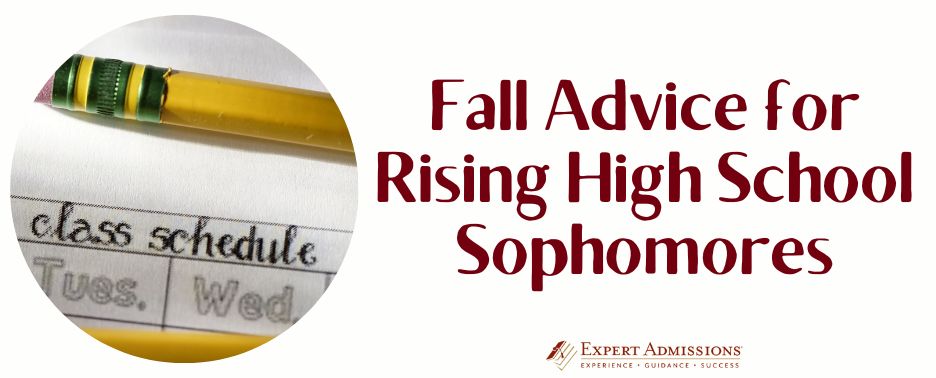 As you head into your second year of high school, you may be considering what you'll need to do to prepare for college. The "sophomore slump" is notorious for bringing students down, but if you keep your head up and stay organized, hopefully you can conquer it. Here are some suggestions for making the most of your sophomore year.
Finalize your course schedule—and keep your grades up.
You'll want to take a rigorous course load throughout high school, and sophomore year is no different. See what your school offers in terms of honors, AP, IB, or other advanced courses, and make sure you find a balance between rigor and good grades. It's also a good year to get required high school courses on the books. Schedule a meeting with your school's academic advisor or guidance counselor, and make sure you're signed up for a curriculum that rounds out those requirements (and also excites you!).
Once the school year begins, commit yourself to keeping up with your academic work. Regardless of your grades freshman year, a strong academic performance in your sophomore year can be of great benefit when college application time arrives.
If your grades freshman year were less than stellar, better grades sophomore year will demonstrate to colleges that you're able to improve over time. If your grades last year were excellent, keep that momentum going, avoiding any dips in your academic performance.
Consider your extracurricular activities.
Take stock of the extracurricular activities you're involved in, including things like jobs and significant family responsibilities. Write each activity down, followed by a short description, and keep this list handy as you head into sophomore year; it will grow into your resume in the future.
Consider which activities you're passionate about and want to continue, and be on the lookout for leadership opportunities related to those pursuits in the next couple of years. If there's something you've been thinking about giving up, now is a good time to let go and apply your energy elsewhere. Hopefully you were able to explore many different extracurricular activities in your freshman year so that you have a good sense now of where you want to narrow your focus.
Think about your summer plans.
Although summer is in full swing, it's not too soon to start thinking about next summer—in fact, it's an excellent idea. The summer after your sophomore year is an important time to get engaged in something meaningful that will show colleges your commitment to personal growth.
Many opportunities like internships, camps, summer classes, and pre-college programs have applications that are due in January and February, so fall is the perfect time to scope out opportunities and prepare to apply (if they accept applications on a rolling basis, it's better to apply earlier, when there are more spots available). The exception to this rule is for summer job applications, which tend to occur closer to the hiring date.
You may find that planning in advance for next summer eases your mind and allows you to focus fully on your sophomore year. As summer approaches, you'll enjoy knowing that you have something lined up that will not only help when you're applying to college but will enrich your life as well.
Start planning for standardized tests.
Find out if and when your school administers the PSAT and PreACT and register if possible. Both preliminary tests can predict future outcomes on the SAT and ACT, giving you valuable information on areas of strength and weakness. Whether or not you can take the PSAT or PreACT, it's a very good idea to schedule full-length diagnostic tests for both the SAT and ACT in your sophomore year.
You should ideally take these tests under official testing conditions (this will familiarize you with the process so you'll be more comfortable when it's time for the real exam). Taking these preliminary tests in your sophomore year will allow you to discover which test best fits your learning style and decide how you'll study and prepare for the SAT or ACT when the time comes. To start learning about the differences between these tests, see our guide here.
Hold off on looking into specific colleges.
While you may be tempted to start setting your sights on particular colleges this year, it's still a bit too soon, and here's why: the likelihood that you'll evolve and change in the next two years is high, and what appeals to you now may be totally different when you start your applications. Instead of looking at specific colleges, do some research into the different types of colleges. What's the difference between a liberal arts college and a research university? A public college and a private one?
Understanding the differences between colleges will help you when you do start looking into colleges in earnest. Consider this year a fact-finding mission. Gather some general information about what kinds of colleges and programs are available so that you have the data at your fingertips when you're ready to build your college list.
As you prepare for sophomore year, you should also start thinking about which teachers you want to build strong relationships with so you can open the door for glowing letters of recommendation. Whether through academic or extracurricular preparation, consider what you'll need in order to apply to college and you will set yourself up for success in the coming years.