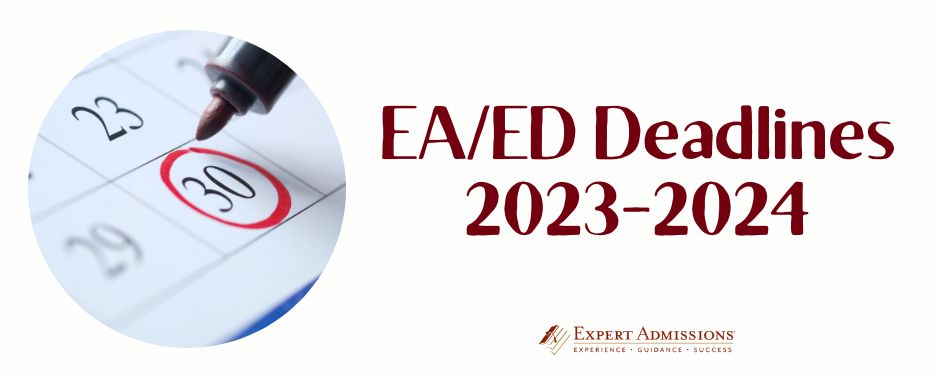 As the fall semester begins, it's time for seniors to finalize their college list. For some 12th graders, this is also when you decide whether you will apply to one or more schools early. To ease your process, we have put together a table to help keep track of early deadlines for colleges that offer EA or ED routes. Below, you can find Early Decision (ED), Early Decision II (ED2), Early Action (EA), and Restrictive or Single-Choice Early Action (REA/SCEA) application deadlines for colleges across the US. To learn the differences between these application plans, see our guide here.
Notes:
* This school offers a Restrictive or Single-Choice Early Action Plan.
† Georgia Tech offers a separate Early Action plan with a deadline of October 16th reserved for students who attend a Georgia high school or are Georgia residents living outside the state.
| School | Early Decision | Early Action | Early Decision II |
| --- | --- | --- | --- |
| American University | November 15 | | January 15 |
| Amherst College | November 1 | | |
| Babson College | November 1 | | January 2 |
| Bard College | November 1 | | |
| Barnard College | November 1 | | |
| Bates College | November 15 | | January 10 |
| Baylor University | November 1 | November 1 | |
| Bentley University | November 15 | | January 15 |
| Binghamton University | | November 1 | |
| Boston College | November 1 | | January 3 |
| Boston University | November 1 | | January 4 |
| Bowdoin College | November 15 | | January 5 |
| Brandeis University | November 1 | | January 2 |
| Brown University | November 1 | | |
| Bryn Mawr College | November 15 | | January 1 |
| Bucknell University | November 15 | | January 15 |
| California Institute of Technology (Caltech) | | November 1* | |
| Carleton College | November 15 | | January 15 |
| Carnegie Mellon University | November 1 | | January 3 |
| Case Western Reserve University | November 1 | November 1 | January 15 |
| Claremont McKenna College | November 1 | | January 10 |
| Colby College | November 15 | | January 2 |
| Colgate University | November 15 | | January 15 |
| College of Charleston | | November 1 | January 15 |
| College of William and Mary | November 1 | | January 5 |
| Colorado College | November 1 | November 1 | January 15 |
| Columbia University | November 1 | | |
| Connecticut College | November 15 | | January 15 |
| Cornell University | November 1 | | |
| Dartmouth College | November 1 | | |
| Davidson College | November 15 | | January 2 |
| Dickinson College | November 15 | | January 15 |
| Drexel University | November 1 | November 1 | |
| Duke University | November 1 | | |
| Elon University | November 1 | November 1 | |
| Emerson College | November 1 | November 1 | January 3 |
| Emory University | November 1 | | January 1 |
| Fordham University | November 1 | November 1 | January 3 |
| Franklin and Marshall College | November 15 | | January 15 |
| George Washington University | November 1 | | January 5 |
| Georgetown University | | November 1* | |
| Georgia Institute of Technology | | November 1† | |
| Grinnell College | November 15 | | January 5 |
| Hamilton College | November 15 | | January 3 |
| Harvard University | | November 1* | |
| Harvey Mudd College | November 15 | | January 5 |
| Haverford College | November 15 | | January 5 |
| Indiana University - Bloomington | | November 1 | |
| Ithaca College | November 1 | Decmeber 15 | |
| Johns Hopkins University | November 1 | | January 2 |
| Kenyon College | November 15 | | January 15 |
| Lafayette College | November 15 | | January 15 |
| Lehigh University | November 1 | | January 1 |
| Loyola Marymount University | November 1 | November 1 | January 8 |
| Macalester College | November 1 | November 1 | January 1 |
| Middlebury College | November 1 | | January 3 |
| MIT | | November 1 | |
| Mount Holyoke College | November 15 | | January 3 |
| New York University (NYU) | November 1 | | January 1 |
| Northeastern University | November 1 | November 1 | |
| Northwestern University | November 1 | | |
| Oberlin | November 15 | | January 2 |
| Ohio State University | | November 1 | |
| Pennsylvania State University | | November 1 | |
| Pitzer College | November 15 | | January 5 |
| Pomona College | November 15 | | January 8 |
| Princeton University | | November 1* | |
| Providence College | November 1 | November 1 | January 15 |
| Purdue University | | November 1 | |
| Reed College | November 1 | November 1 | December 20 |
| Rensselaer Polytechnic Institute (RPI) | November 1 | December 15 | December 15 |
| Rice University | November 1 | | |
| Rochester Institute of Technology (RIT) | November 1 | | January 1 |
| Rutgers University | | November 1 | |
| Santa Clara University | November 1 | November 1 | January 7 |
| Sarah Lawrence College | November 1 | November 1 | January 15 |
| Scripps College | November 15 | | January 8 |
| Skidmore College | November 15 | | January 15 |
| Smith College | November 15 | | January 1 |
| Southern Methodist University (SMU) | November 1 | November 1 | January 15 |
| Stanford University | | November 1* | |
| Swarthmore College | November 15 | | January 4 |
| Syracuse University | November 15 | | |
| Texas Christian University (TCU) | November 1 | November 1 | February 1 |
| The New School | | November 1 | |
| Trinity College | November 15 | | January 17 |
| Tufts University | November 1 | | January 4 |
| Tulane University | November 1 | November 15 | January 15 |
| University of Chicago | November 1 | November 1 | January 2 |
| University of Delaware | | November 1 | |
| University of Illinois at Urbana-Champaign | | November 1 | |
| University of Maryland, College Park | | November 1 | |
| University of Massachussetts-Amherst | | November 5 | |
| University of Miami | November 1 | November 1 | January 1 |
| University of Michigan | | November 1 | |
| University of North Carolina-Chapel Hill | | October 15 | |
| University of Notre Dame | | November 1* | |
| University of Pennsylvania | November 1 | | |
| University of Richmond | November 1 | November 1 | January 1 |
| University of Rochester | November 1 | | January 5 |
| University of San Francisco | November 1 | November 1 | |
| University of Southern California (USC) | | November 1 | |
| University of Vermont | November 1 | November 1 | |
| University of Virginia | November 1 | November 1 | |
| University of Wisconsin, Madison | | November 1 | |
| Vanderbilt University | November 1 | | January 1 |
| Vassar College | November 15 | | January 1 |
| Villanova University | November 1 | November 1 | January 15 |
| Virginia Institute of Technology (Virginia Tech) | | November 1 | |
| Wake Forest University | November 15 | November 15 | January 1 |
| Washington and Lee University | December 1 | | January 15 |
| Washington University in St. Louis | November 1 | | January 3 |
| Wellesley College | November 1 | | January 1 |
| Wesleyan University | November 15 | | January 1 |
| Williams College | November 15 | | |
| Worcester Polytechnic Institute | November 1 | November 1 | January 5 |
| Yale University | | November 1* | |