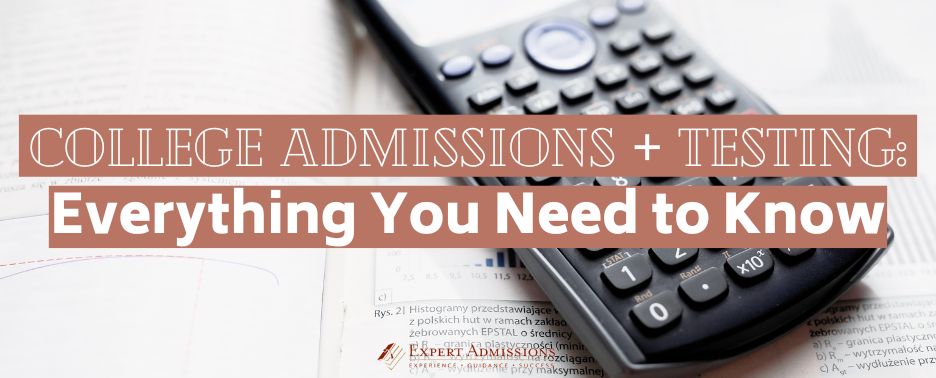 Expert Admissions co-hosted a webinar to discuss the latest trends and updates in college admissions and standardized testing. We answered questions about test-optional policies, test prep, the new SAT, and more. Keep reading for highlights from the conversation, and watch the webinar above.
Submitting Test Scores
Test-optional policies are continuing to impact the admissions landscape with lower admit rates and higher average test scores for admitted students. And most schools seem to be extending their test-optional policies, at least for the next few years. While this gives students additional flexibility in their applications, it's important to think strategically about whether and where to submit test scores.
As we discussed in a previous webinar with Cornell and Middlebury admissions officers, there are schools where test scores really don't weigh heavily in admissions, and there are others where a strong score seems to make a difference. Your best bet is to work toward submitting strong test scores. How do you know what a strong score is? Check the data for each school on your list. Colleges publish data on the test scores of the 25th to 75th percentiles of admitted students. You'll want to submit scores that are at the top of that range or higher.
Also keep in mind how your scores are being seen at different colleges and universities. Some schools will see each individual section score from the SAT or ACT, while others will only see a superscore (that's the highest combined total of your section scores across test dates). Most schools will superscore the SAT, but it's less common for the ACT. Make sure you know what each college will see before you elect to send your scores.
You should also know that if you're indicating a major or applying to a particular school within a college, your scores could be considered a little differently — for example, if you're applying to a business or pre-med program, schools will look more closely at your math and/or science scores.
Ultimately, you have a lot of control over what schools see. Self-reporting your scores has become the norm, and even where official reports are required, you can decide which scores you want to send.
Standardized Testing: SAT or ACT?
At the end of sophomore year, students preparing to take standardized tests should sit for full-length diagnostic versions of both the SAT and the ACT (with the accommodations they'll use when they test). After receiving scores on each test, students and their parents should review both tests in order to make an informed decision about which test to take junior year.
The SAT and ACT both test similar skills and bodies of knowledge, but they do so in very different ways. You can learn more about the differences here. Ultimately, the decision of which test to take depends on a few factors: which diagnostic test the student performed better on, which test they feel will be easiest to improve upon, and which test feels like it best fits the student's own testing style. It's important that students choose one test or the other and commit their time to preparing for one test.
Students should choose which test to take as early on as possible. For more tips for parents on how to handle test preparation, read our recent blog post.
The New SAT
Students who are currently sophomores or freshmen will take the new digital PSAT in the fall of 2023 and will take the new digital SAT in the spring of 2024 (and later). The new SAT will be administered on computers at testing centers and will be two hours long instead of three. It will also be adaptive, meaning the test questions you get on later sections will be based on the student's performance on earlier sections. You can read more about the new digital SAT on our blog here.
Current juniors should prepare for the current SAT. Current sophomores, however, should not prepare for the current SAT, as the new digital SAT is too different from the current version. The College Board has not yet released preparation materials for the digital SAT; students seeking those materials should check back with the College Board this fall.
In addition to our discussion of standardized testing, we also took questions on AP exams, high school curriculum, college visits, and more. For all the details, watch the webinar at the top of the page.