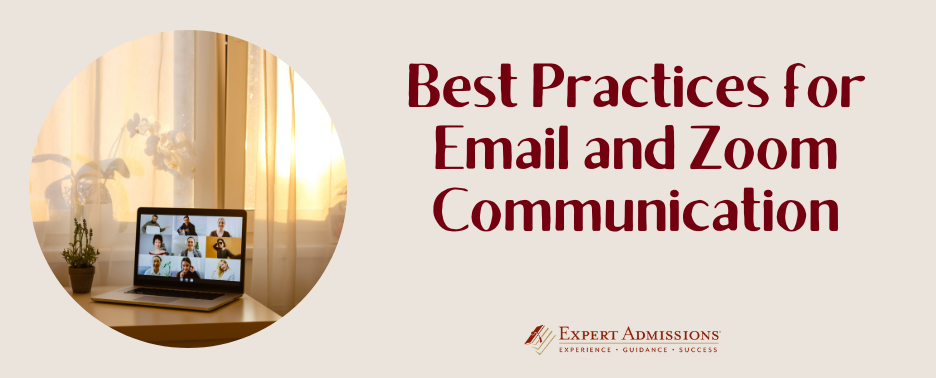 As you embark on your college admission journey, you'll probably find yourself communicating over email and Zoom with teachers, counselors, admissions representatives, and even college professors. Whether you're asking for a letter of recommendation, following up after a college info session, or taking part in a virtual college interview, you want your communication to be clear and professional. Read on for some pointers on making sure your email and Zoom communications skills let your best self shine through.
When composing an email:
Always include a salutation. "Dear" is the most formal; "Hello" is less formal, and "Hey" or "Hi" are less formal still. When in doubt, err on the side of more formal. Think of a salutation as your first impression: your first chance to show kindness and respect to the person you're writing to. Readers are much more likely to respond positively to an email that begins with an appropriate salutation.
Make sure you know the title of the person you're writing to. Using the correct title shows that you're genuinely interested enough to do the research into who you're addressing.
If the person has a doctorate (Ph.D.), address them as "Dr." If they are a professor, address them as "Professor." Only if you don't know if they have a title should you call them "Mr." or "Ms." Use "Ms." when writing to a woman; only use "Mrs." if you are positive the person is married and uses her married name. Only address someone by their first name if you're already on a comfortable first-name basis with them. When in doubt, use a more formal title.
If you don't know the name of the person reading your email, you can use "To whom it may concern." You can also use "Dear _______ department at ________" if you're writing to a general department. (Examples: "To whom it may concern at the MIT Admissions Office ; "Dear members of the NSU Summer School Admissions Committee.")
Write in complete, grammatically correct sentences.
Keep your email short and informative. A nice greeting such as "I hope this email finds you well" is fine to include. Gauge your level of formality by how well you know the person. Are you writing to a teacher you have a friendly relationship with? If so, it's fine to include some friendly banter–but not too much. If you've met the person, you may want to remind them–briefly–where and how you met. If you don't know the person, keep the email as to-the-point as possible.
It's a great idea to end the email with an acknowledgement such as "thank you for your consideration."
End with a signature. "Sincerely" and "Best" or "My Best" are good formal options. Use your first and last name. If you're writing to a college rep, you might also want to include the name of your high school.
Always proofread your email before hitting send. Asking a friend, family member, teacher or counselor to help you proofread is great–much better to be safe than sorry!
When joining a Zoom meeting (or other virtual meeting platform):
Make sure to arrive at your meeting on time and prepared. Many meetings that would otherwise have been in-person have gone virtual during the pandemic; make sure you treat your virtual interviews the same way you'd treat a regular, face-to-face interview.
Be seated somewhere quiet where you can focus without being interrupted. Minimize distractions; don't join a video call while you're in a car, at school or work, or trying to do something else.
In terms of your appearance, it's best to err on the side of formality. (Pro tip: keep a simple, clean button-up shirt handy. It takes seconds to put on before a Zoom meeting, where the viewer will only be able to see you from the chest up).
Choose your background wisely. If what's behind you is relatively plain and undistracting, great! If not, use a background filter, and keep it simple. You want the focus to be on you.
It can be very easy to get distracted during virtual meetings. As best as you can, relax, speak clearly, and stay focused on the conversation happening in the meeting.
Conducting your communications in a clear and professional way will show the people you're communicating with that you're serious. Now is a great time to begin practicing these skills–you'll need them in college, and beyond!